Minisodes

Artists Among Us
Minisodes feature brief conversations about artworks and events in and around the Whitney. In these 5–10 minute episodes we explore top-of-mind art and ideas and what is happening now at the Museum.
The series is ongoing.
---
Rose B. Simpson on Counterculture

Minisode 2
"They are watching, they show us, they embody, they personify the inanimate that our modern culture often forgets is constantly witnessing us." In this minisode, Rose B. Simpson discusses Counterculture on view on the Whitney's Floor 5 terrace from June 3–August 13, 2023.
Released June 2, 2023
0:00
Counterculture, 2022
0:00
Rose B. Simpson: My name is Rose B. Simpson, and I'm from Santa Clara Pueblo in Northern New Mexico, where I live and work on my ancestral homelands with my six-year-old daughter.
This iteration of Counterculture is five of the original twelve large-scale figurative pieces that are made to witness. They're made out of cast cement and they actually have handmade clay beads. And one of the most important features about these pieces is that they have eyes that are drilled all the way through the head. And so, they are standing as witnesses for the inanimate. They are watching, they show us, they embody, they personify the inanimate that our modern culture often forgets is constantly witnessing us.
It could be the natural world, it could be ancestral beings, it could be supernatural things. It could be the wind, it could be clouds, it could be weather, it could be the parts of our world that we don't necessarily consider conscious and aware of our movement and decisions as post-modern beings.
The holes that go through the heads where the eyes are, you might notice light coming through, you might see the wind pass through. I think that's an important thing. When I was drilling the holes through the head, the dust was blowing. As soon as the bit went through to the other side, the wind would come and the dust would blow out, and it was this incredible moment of allowing. I broke through to the other side, feeling almost inter-dimensionally.
You might notice fingerprints in the clay beads. You might notice relics of animal interaction with the pieces, maybe birds have found a place to perch or rest. We might see rust, we might see moss, we might see moments where the pieces have been in place and will grow in relationship to place and transform because of place. And I think we begin to notice how place begins to affect everything that we're trying to control. In a sense, we're in collaboration with and not in a controlling state of nature and our relationship to it.
I've been thinking a lot about empowerment. Empowerment in the past has always been very masculine centered for me, and I've looked towards a warrior mentality to feel empowered. And more recently, especially since becoming a parent, I have found a lot of power in the feminine or that which is self-aware and self-adorned, and that putting a necklace on or taking a moment to adorn oneself with grace is actually an incredible sense of empowerment.
And so, the necklaces are not warrior-making, but they're objects of empowerment and that they give a sense of self-respect and a moment of aesthetic consideration, which gives it a sense of power that I have been looking for in my life. And I look forward to transforming my power from aggression to grace.
I also think that the forms became sort of inherently feminine. And I think that most of my work is a self-portrait of sorts. As someone who is two-spirit or has always struggled with gender and trying to understand it, I feel like my story is best told from my own bodily experience. So I'm making myself in a sense, and this is how we empathize in the world, is when we see ourselves in something else. It's easy to see oneself in another person, maybe of the same gender or the same race or the same community, and can we push ourselves to begin empathizing with something that doesn't look like us, be it a person, a gender, or even something like a tree or a bird or an animal, or even weather patterns or something that's part of our natural world?
That capacity to build an empathetic response, I believe, is how we begin to build community and a relationship with things bigger than what we are taught to do.
When I'm in New York City, I think often about history. There's so many layers of experience, of life, of stories that exist in every single place. I mean, you see that so viscerally in the buildings that are actual layers and piles of stories. But I think about the history of the Indigenous peoples that once lived and had thousands of years of history in place, and also of all the plants and animals and landscape features that are now obscured and gone from this place.
There's also the trauma of communities of enslaved peoples, who were used to build this country and the infrastructure of the country that we now take for granted, that being enslaved African people, enslaved Chinese people, enslaved Indigenous people, and also the communities of migrants from different countries that have been exploited and abused. And I think a lot of those stories, when they're not honored or understood or haven't had the means to tell that story, they're still there. They're still questioning, they're still wondering what happened and they might still be watching. I think about that everywhere I go.
And so, these beings I think stand as a witness and as a voice and as a way to bring consciousness to the stories of the past and the beings of all kinds that have existed and have been from genocide to different types of traumatic extermination, even environmental catastrophe. And then to our daily life, I think about the birds that live in the city, the river that flows through. I think about the trees that have these little holes in the concrete and they reach up towards the sky trying to compete with these large buildings for sunlight. I think about their stories and how they maintain and still have this heart to be and how we're still in relationship and we forget we're in relationship when we navigate the world, like we're the ones in charge.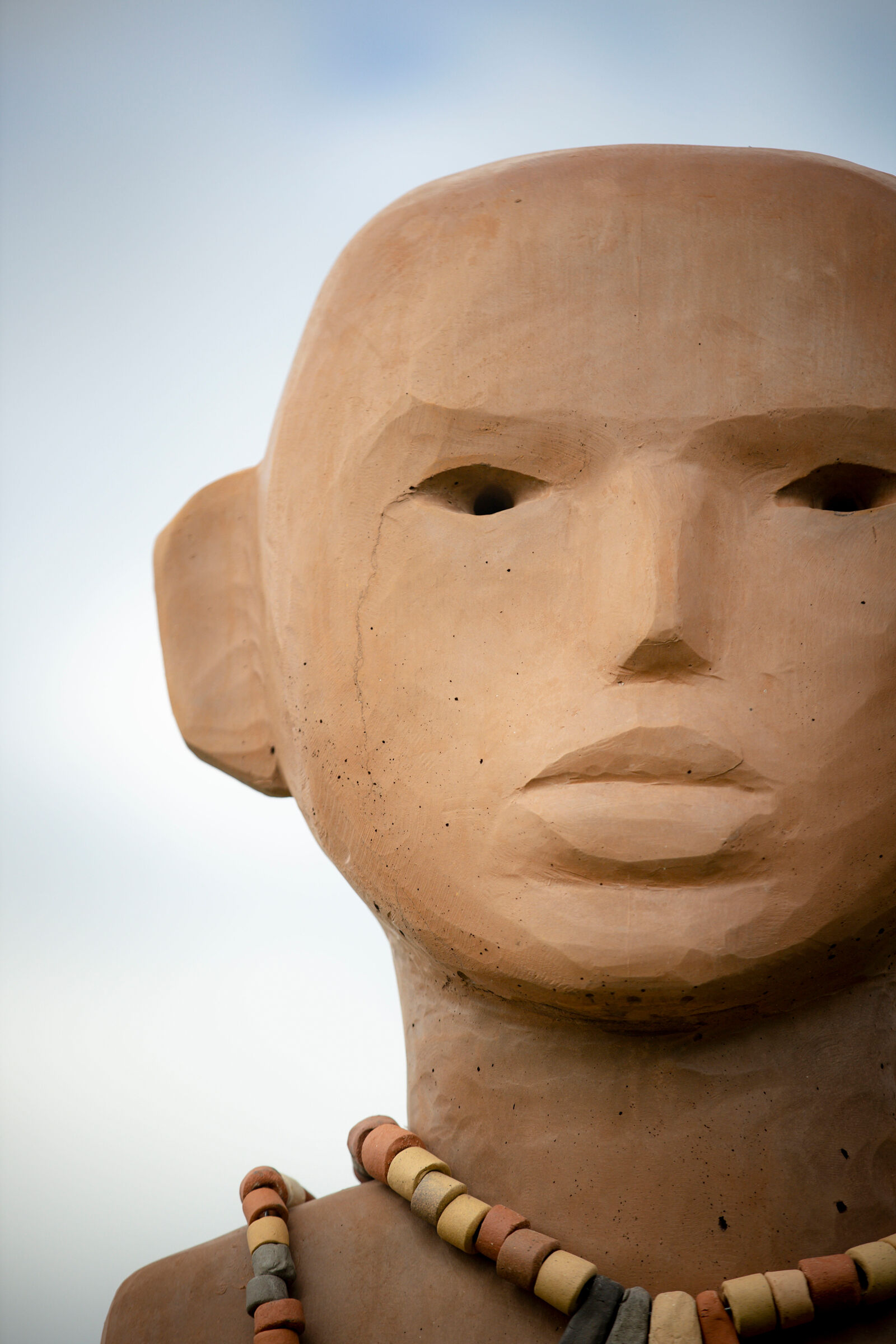 ---
"The earliest computer interfaces always had blackness as a sort of basis of what could be done on a computer." In this minisode American Artist considers the inception of the computer interface and asks how the origin story has shaped computation today. For whom were computers created? What purpose do they serve?
Released March 31, 2023
American Artist, Mother of All Demos III, 2022. Dirt, monochome CRT monitor, computer parts, Linux operating system, subwoofer cable, wood, asphalt, 50 × 59 1/8 × 30 1/2 in. (127 × 150.2 × 77.5 cm). Whitney Museum of American Art, New York; purchase with funds from the Painting & Sculpture Committee 2022.116. © American Artist
Minisode: American Artist on Mother of All Demos III
0:00
Minisode: American Artist on Mother of All Demos III
0:00
American Artist: So the earliest computer interfaces always had blackness as a basis of what could be done on a computer.
My name is American Artist. That is not the name I was born with. I changed my name in 2013. I grew up in Southern California, but I moved to New York around the time that I changed my name and I've been living here ever since. I'm an artist and an educator.
This work is a functional computer that is made out of dirt. It has this material of asphalt that's been poured onto it and it's dripping and sticky with this black material. And it's on this standard desk. What you see on the monitor of the computer is white text on a black interface.
The shape of the computer is modeled after the Apple II, which was the last commercial personal computer that used this all black interface. So the earliest computer interfaces always had blackness as a basis of what could be done on a computer. I wanted to make a computer that was really rooted in this moment where blackness served as the basis of what could be done in virtual space.
This work is called Mother of All Demos. The name is based off of an event that's pretty well known in the computer science field. This moment in 1969 when Doug Engelbart gave a first demonstration of this new computer interface that he had created alongside the use of a mouse and being able to click around.
Doug Engelbart worked for Stanford Research Institute and he led a lot of innovations around computer technology and interfacing and how they were networked. He pioneered a lot of ideas that were central to the development of Silicon Valley.
And in that moment across the industry, computers began to use this white background as the backdrop for a computer interface. Prior to that, all computer interfaces just used text based languages and you would just type code into a computer screen. When interfaces were text based, they always had this black background on them.
And so whiteness pushed blackness aside as the original background of the interface to bring in this new era of computation. And in that moment it was said, blackness on the computer, it's bad for reading, it's not good for your eyes. And yet nowadays, we see a lot of that formal language of the black aesthetic coming back into computation.
I was thinking about the beginnings of the computer interface and ways in which anti-Black racism had been present in the decisions around what an interface would look like. This piece is part of the series Black Gooey Universe. There's hand prints next to where the keyboard of the computer would be. It appears that someone has just used this computer and they've touched the sticky surface and gotten their hands covered in this black material.
This word gooey is a way of saying this acronym GUI, which means graphical user interface. And that is a type of interface where you have windows and folders, and a mouse and a cursor, and you can click around. And so the Black Gooey was really about thinking about what a computation rooted in Blackness could look like and what kind of material manifestations it might have.
It was a return to that moment, but also wanting to rethink all of the values that we associate with computing that things need to be fast or pristine or mimic an office space—wanting to question what that idea of use even means and for who. For who are these things productive? Is productivity the only desired outcome of a device like this?
I do imagine someone having just used this computer, not someone that actually exists. It's a speculative person for whom this looks like a very inviting computer. This is a type of computer that represents their values and understanding of computation. And what I was really trying to do was make something that for anyone entering the gallery this would look uninviting.
I wanted to make something that felt dirty, sticky, things that you wouldn't necessarily want to touch, but then to show that someone actually is using this thing. And that was really about showing how much different computer technology could be if someone else had been in the room deciding what these different visual and formal design strategies would be.
And so if, let's say, a group of straight cis white men in the 1960s designed this office space device to mimic what they saw as a average way that someone might engage with information and visual information, what does it mean for that to then inform the way that everyone will engage with it from that point forward in perpetuity?
This work very much does feel like a thought experiment because it's pulling together these different histories and trying to flip them on their head and get us to really question how we even relate to computer technology. So much of what I'm trying to do in art doesn't really feel like how most people think about art, but it feels like it's trying to do a lot more in terms of shifting culture, raising consciousness about different political issues, and trying to use these formal and visual strategies as much as possible to really embed all of these deep thoughts into a material object.
Mother of All Demos is providing an alternative that is not necessarily attempting to resolve an issue. It's just provoking. It's saying, what if this computer is almost not useful? What if use isn't the main goal or deliverable of this object? But rather, it's merely intent on expressing different ways to exist or communicate that fall outside of everything we understand a computer to be able to do.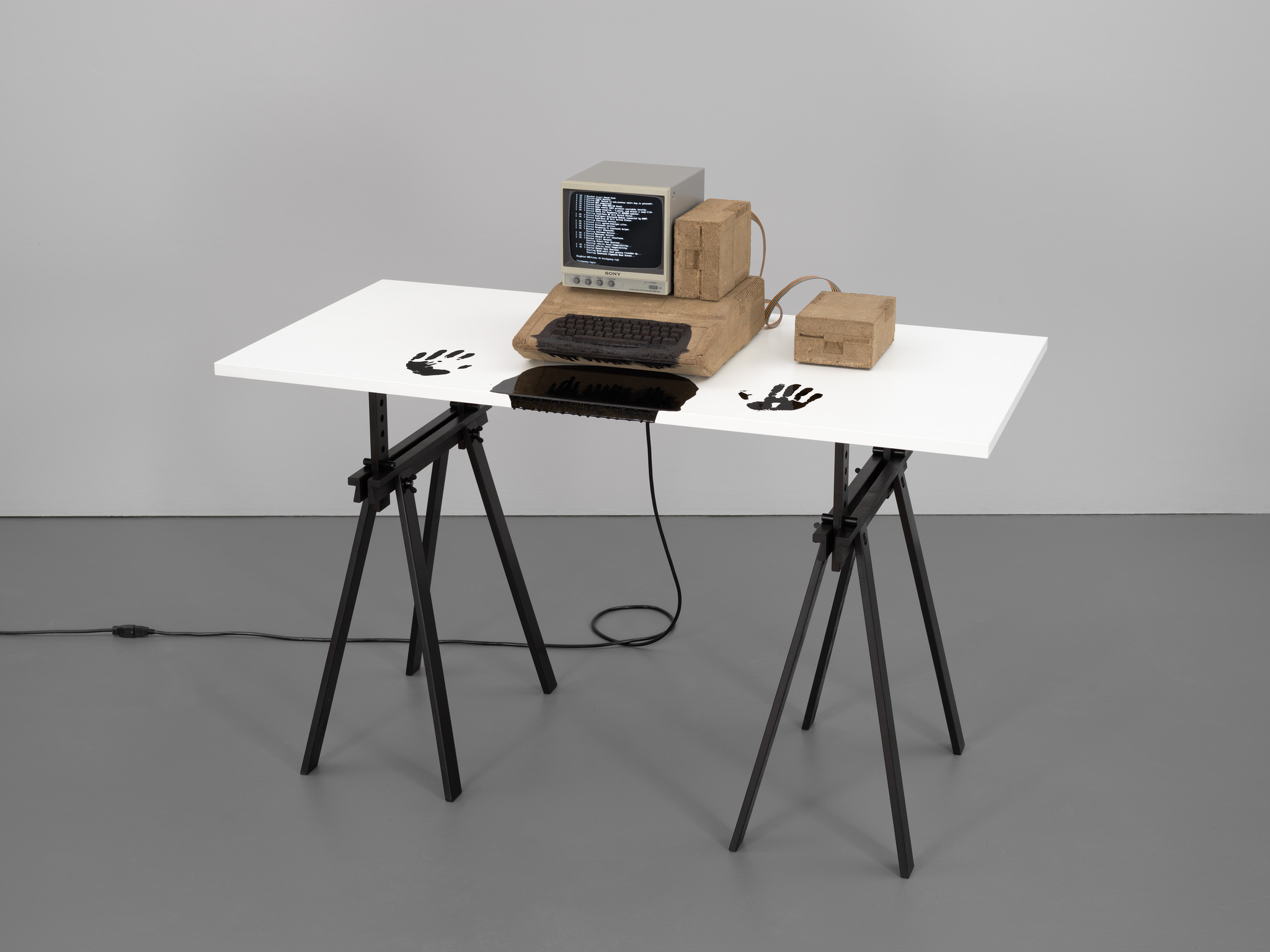 ---