Whitney Contemporaries
The Whitney Contemporaries is a dynamic group of art enthusiasts, supporters, and advocates, ages twenty-one to forty.
Members choose from two levels of support. Contemporaries ($750 for two) can access artist studio visits as well as talks and discussions with Whitney curatorial staff. Contemporaries Patrons ($1,250 for two) enjoy additional opportunities such as private collection visits, and insider experiences with artists, curators, and tastemakers.
Get in touch with us at (212) 570-3641 or at memberinfo@whitney.org.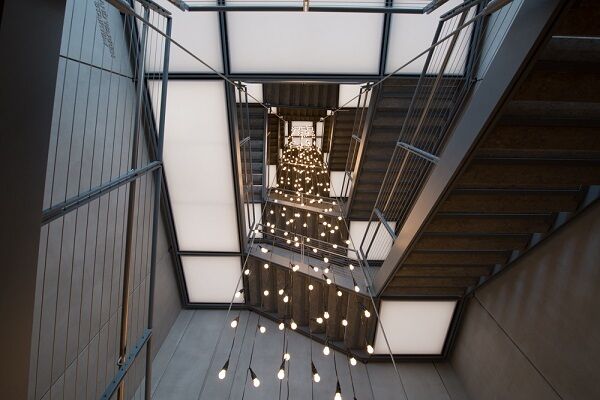 Visit As Often As You Like
We are happy to provide unlimited free admission using your member card. Don't have your card? You're welcome to book your tickets in advance.
Visiting with friends or family? Contemporaries Members enjoy complimentary admission for two accompanied guests with their membership card. Contemporaries Patron Members enjoy complimentary admission for four accompanied guests
Before you head to the Museum, please review our up-to-date visitor policies
Getting Around the Museum
We've implemented enhanced health and safety measures to help you enjoy the Whitney's exhibitions. Take the time to review our new circulation map.
Elevators are reserved for museumgoers who are not able to use stairs
We have additional staircases in use. Please follow signs and instructions from Whitney staff
Use your own mobile device and log onto the Whitney's free WiFi to access our Mobile Guide
Learn and Connect—Online
There are so many ways to enjoy the Whitney from the comfort of home.
---
Executive Committee
Co-Chairs
Micaela Erlanger, Adam Fields, Flora Irving
Trustee Liaison
Joanne Leonhardt Cassullo
Curatorial Liaison
Laura Phipps
Executive Committee
Michael Carl, Amy Davis, Jessica Gersh, Alexander Hankin, Molly Krause, Suzanna Lee, Joey Lico, Jessica Sherman, Catherine Smith Licari