Green Coca-Cola Bottles
1962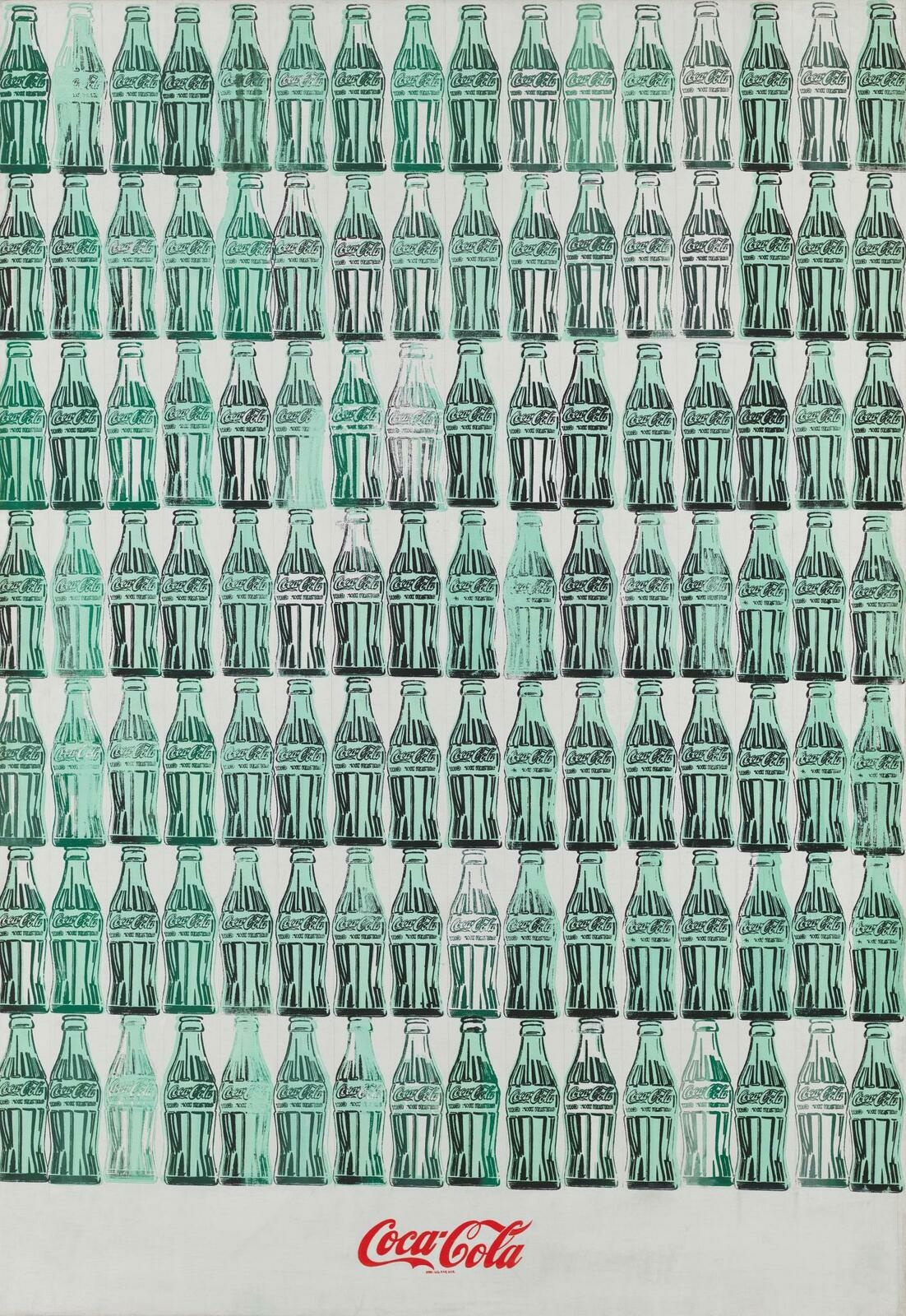 Not on view
Date
1962
Classification
Paintings
Medium
Acrylic, screenprint, and graphite pencil on canvas
Dimensions
Overall: 82 3/4 × 57 1/8in. (210.2 × 145.1 cm)
Accession number
68.25
Credit line
Purchase, with funds from the Friends of the Whitney Museum of American Art
Rights and reproductions
© The Andy Warhol Foundation for the Visual Arts, Inc. / Licensed by Artists Rights Society (ARS), New York
Green Coca-Cola Bottles was created the year that Andy Warhol developed his pioneering silkscreen technique, which allowed him to produce his paintings through a mechanical process that paralleled his use of mass culture subjects. Here, the image of a single Coca-Cola bottle is repeated in regular rows, seven high by sixteen across, above the company's logo. The repetitive imagery and standardized format evokes the look of mechanical reproduction, but the black outlines were probably stamped by hand from a single carved woodblock onto green areas printed in a grid pattern. This engenders subtle differences in the work's pattern; each of the bottles differs in both the evenness of the green underpainting and in the clarity of its stamped profile. The bottles are also often slightly askew, disturbing the overall regularity of the grid and making them appear simultaneously handmade and individualized, streamlined and mass-produced. In his deadpan and ironic way, Warhol at once criticized and glorified the consumerist idols and surface values of America's media-saturated postwar culture. "A Coke is a Coke," he explained, "and no amount of money can get you a better Coke than the one the bum on the corner is drinking."    
---
Audio
Green Coca-Cola Bottles, 1962

Green Coca-Cola Bottles, 1962

0:00

Michael Lobel: Aquí se muestra una serigrafía pintada de Andy Warhol. Se titula Coca-Cola Bottles, realizada en el verano de 1962.

Narrator: Michael Lobel es profesor de historia del arte en Hunter College y en el Centro de Graduados de la Universidad de la Ciudad de Nueva York.

Michael Lobel: Antes de que Warhol usara la técnica de la serigrafía para realizar pinturas, la serigrafía había sido básicamente una técnica comercial.

Narrator: Warhol hizo, deliberadamente, cada botella distinta, trabajando cada serigrafía por separado. Al enfocarnos en la totalidad de la pintura, esta parecería casi una obra abstracta. Warhol era muy ambicioso: quería que su obra se tomara seriamente y, por entonces, la abstracción dominaba el mundo del arte. Pero también quería que la obra fuera radical y provocadora.

Michael Lobel: Dejó una franja de espacio en el extremo inferior de la pintura, y ahí colocó el logotipo de la Coca-Cola.

Eso, en mi opinión, es interesante porque el extremo inferior de los lienzos suele estar reservado para la firma del artista.

Y creo que esto dice mucho acerca de Warhol y de su relación con estas imágenes. En su calidad de artista inmerso en la cultura del consumo, viviendo en los tiempos de los medios masivos, Warhol consideró que era más significativo sustituir su firma con el logotipo de un producto común.

Narrator: En la sala siguiente, regresaremos en el tiempo hasta la década de los cincuenta, cuando Warhol trabajaba como ilustrador comercial, experiencia que influyó profundamente en su desarrollo en el arte Pop tal como se observa en las obras de esta sala.

Green Coca-Cola Bottles, 1962

Green Coca-Cola Bottles, 1962

0:00

Michael Lobel: What we're looking at here is an early silkscreen painting by Andy Warhol. It's titled Green Coca-Cola Bottles, and Warhol made this painting in the summer of 1962.

Narrator: Michael Lobel is Professor of Art History at Hunter College and the Graduate Center, CUNY.

Michael Lobel: Prior to Warhol's use of the silkscreen technique to make paintings, silkscreening had basically been a commercial technique.

Narrator: Warhol screened each bottle one at a time, deliberately making each different from the next. If you focus on the overall visual patterning, it almost reads as an abstract painting. Warhol was very ambitious—he wanted his art to be taken seriously, and abstraction dominated the art world at the time. But he also wanted the work to be perceived as radical and provocative.

Michael Lobel: He did leave a band of space at the bottom of the painting, and as you'll see, within that band he placed the logo of Coca-Cola. And for me, that's interesting because usually the bottom of a canvas is where we expect to find an artist's signature.

And I think this tells us a lot about how Warhol was thinking about his own relationship to these images, and that as an artist in the age of mass media, as an artist immersed in consumer culture, it might make sense for him to remove his signature and replace it with a common product logo.

Narrator: In the next gallery, we'll step back in time to the 1950s, when Warhol was working as a commercial illustrator—an experience that deeply informed his development of the Pop art style on view in this room.




Andy Warhol, Green Coca-Cola Bottles, 1962

Andy Warhol, Green Coca-Cola Bottles, 1962

0:00

Narrator: I bet you've seen one of these before—and drank one too. Who hasn't? That familiarity was part of Andy Warhol's thinking when he made Green Coca-Cola Bottles.

"The President drinks coke," said Warhol, "and you can drink Coca-Cola, too. . .A coke is a coke and no amount of money can get you a better Coke."

The Coke seems to make a promise. Each of us has access to everything our neighbor has—we just go to the store! But, can everyone, really? And is that actually so great? Do you really want the EXACT same thing as everyone around you?

Warhol created this piece by silkscreening ink onto canvas, the same method used to mass-produce products like T-shirts. But, while each of the Cokes in Warhol's silkscreen looks nearly identical, there are subtle variations. Some bottles are askew, some are darker green. What other variations can you spot? Do these variations make this look more machine-made, or handmade?
---
---