Felix Partz, June 5, 1994
1994/1999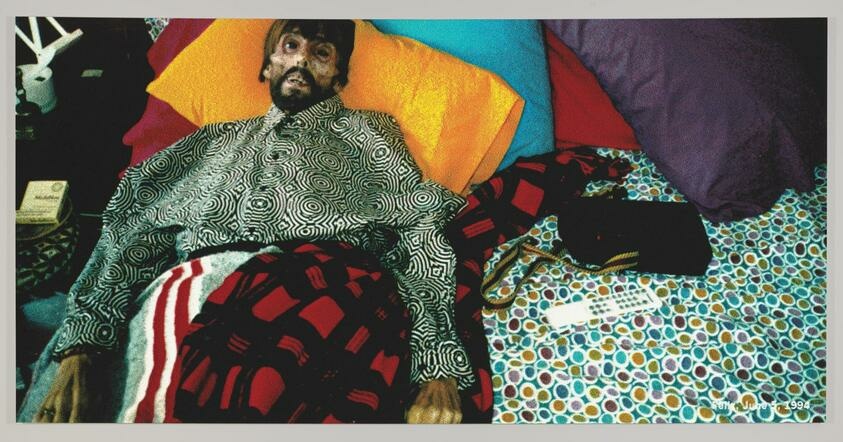 Not on view
Date
1994/1999
Classification
Photographs
Medium
Inkjet print on vinyl
Dimensions
Overall: 84 × 168in. (213.4 × 426.7 cm)
Accession number
2003.268
Edition
AP | Ed. 3
Credit line
Gift of Mark J. Krayenhoff van de Leur
Rights and reproductions
© 1999 AA Bronson
AA Bronson's Felix Partz, June 5, 1994 depicts its subject just a few hours after his death from AIDS-related illness. Positioned as if to receive visitors, Partz's ravaged figure was so emaciated upon dying that his eyes could not be closed, and they stare at us hauntingly from hollow sockets. Yet his ashen body is surrounded by brightly colored bedding and clothing as well as tokens of comfort such as a remote control, cigarettes, and his beloved tape recorder. These personal effects bespeak joy and compassion in the face of a harrowing death, which Partz's dear friend Bronson memorialized with both unflinching candor and great sensitivity. In printing Partz's portrait in the manner of a commercial billboard, Bronson referred to their past work as members of the art collaborative General Idea, while also creating a startling monument that forces us to confront our often repressed feelings about our own mortality. "We need to remember," Bronson said, "that the diseased, the disabled, and, yes, even the dead walk among us. They are part of our community, our history, our continuity."
---
---
Audio
AA Bronson, Felix Partz, June 5, 1994, 1994/1999

AA Bronson, Felix Partz, June 5, 1994, 1994/1999

0:00

AA Bronson: Desde finales de los años sesenta, en 1969 específicamente, comencé a trabajar en grupo con dos personas: Jorge Zontal y Felix Partz. Nos llamábamos General Idea (Idea general).

Narrator: El artista AA Bronson.

AA Bronson: Trabajamos juntos durante 25 años, hasta 1994, año en que ambos murieron. Y esta es una imagen tomada de Felix en el momento de su muerte. En sus últimas semanas comenzó a rodearse de más y más colores y patrones. Sábanas de color, almohadones de colores, ropa de colores. Todo se hizo cada vez más colorido; de alguna manera, cada vez más lleno de vida. Y por eso lo quise documentar y tomé una fotografía de él yaciendo allí, esperando al primer visitante.

Felix murió de debilidad. Murió de sida y la única enfermedad que tuvo fue básicamente debilitarse hasta morir. No sufrió de infecciones oportunistas. Tuvo muchísima suerte. Pero eso también significó que no le quedaba suficiente carne en el cuerpo como para cerrarle los ojos. Por eso se encuentran abiertos. Y puede verse a su alrededor… realmente, lo dejamos como cuando murió, con los cigarrillos a mano, con el control remoto de la televisión, con su grabadora, porque quería grabar los pensamientos que le pasaban por la cabeza.

En cierta forma, pienso en el cuerpo como una casa. Es una casa que habitamos como si fuera el mundo real. Por la noche, nos dejamos llevar por los sueños. Y, al dormir, también creemos que esos sueños son el mundo real. Y, en verdad, no tenemos forma de discernir qué es real y qué no lo es. En este mundo, este mundo… somos incapaces de determinar su realidad; creo que debemos recordar que los muertos siguen aquí, entre los vivos.

AA Bronson, Felix Partz, June 5, 1994, 1994/1999

AA Bronson, Felix Partz, June 5, 1994, 1994/1999

0:00

AA Bronson: Starting in the late 60s, in '69 actually, I started working with two people, Jorge Zontal and Felix Partz in a group, and we called ourselves General Idea.

Narrator: The artist AA Bronson.

AA Bronson: We worked together for twenty-five years, until 1994. That's the year that both of them died. And this image is taken of Felix, at that moment of his death. In the last few weeks of his life he started surrounding himself with more and more color and pattern. Colored sheets, colored pillows, the clothing he wore. Everything became sort of more and more vivid, in a way more and more full of life. And so I wanted to document that, and I took this picture as he was lying there waiting for the first visitor to arrive.

Now Felix died of wasting. He died of AIDS and the only illness he had was basically wasting away. He had no opportunistic infections. He was very very lucky. But what that meant was that there wasn't enough flesh left on the body to be able to close his eyes. So that's why the eyes are open. And you can see around him—really, we, we left him as he was when he died, with his cigarettes at hand, with his channel changer for the television, with his tape recorder, because he wanted to record—the thoughts that went through his head.

In a way I think of the body as a house. It's a house that we inhabit as if it's the real world. At night we fall into dreams. And while we're asleep we think those dreams are the real world too. And really we have no way of judging which is real and which is not. In this world, this world that—we're unable to judge the reality of this world, I think we have to remember that along with the living, the dead are still with us.
---
---