Line Describing a Cone
1973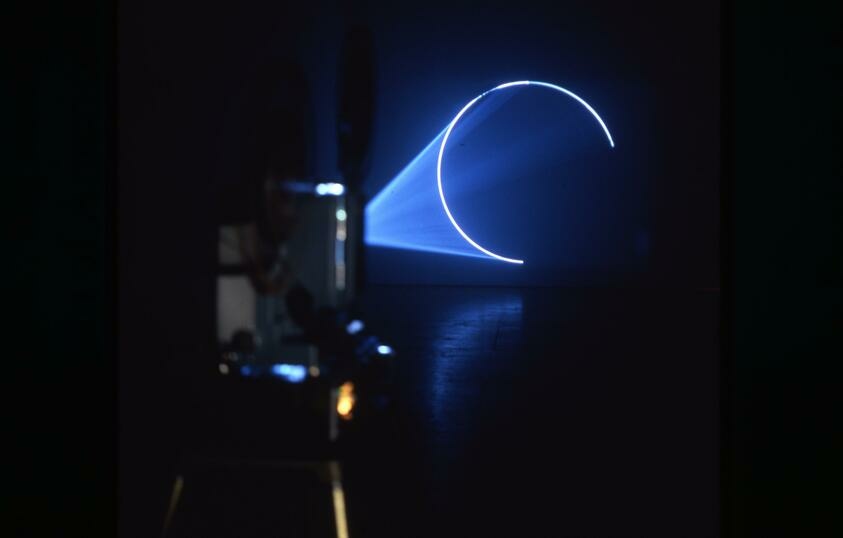 Not on view
Date
1973
Classification
Installations
Medium
16mm film, black-and-white, silent, 30 min.
Dimensions
Overall: 9 3/4 × 18 × 35in. (24.8 × 45.7 × 88.9 cm)
Accession number
2001.248
Credit line
Purchase, with funds from the Film and Video Committee
Rights and reproductions
© 1973 Anthony McCall
During the 1970s, Anthony McCall was one of a number of filmmakers who rejected the narrative demands of Hollywood cinema as well as the more abstract content of independent films, addressing instead the specific properties of the film medium itself–light, surface, projection, frames, and time. McCall's Line Describing a Cone was the first film to occupy a three-dimensional presence in space. The audience stands in a darkened art gallery, rather than a cinema auditorium, watching the film by looking at the light beam as it emanates from the projector. Over a period of thirty-one minutes, a slim pencil of light slowly evolves, first into a curved plane of light and then into a large hollow cone. The forward plane of the cone takes the form of a circle in the process of being drawn and projected onto the wall. The film invites us to look into the hollow cone, to lie under it, stand inside it, or walk through it, disappearing into its volume like mist, only to reappear on the other side. As McCall observed, the process of the film's realization becomes its content. In dismantling the space of conventional cinema, the fleeting yet tangible solidity of Line Describing a Cone fuses the properties of film, sculpture, performance, and Conceptual art.
---
---