Kevin Beasley: A view of a landscape

Dec 15, 2018–Mar 10, 2019
Kevin Beasley (b. 1985, Lynchburg, VA) engages with the legacy of the American South through a new installation that centers on a cotton gin motor from Maplesville, Alabama. In operation from 1940 to 1973, the motor powered the gins that separated cotton seeds from fiber. Here, the New York-based artist uses it to generate sound as if it were a musical instrument, creating space for visual and aural contemplation. Through the use of customized microphones, soundproofing, and audio hardware, the installation divorces the physical motor from the noises it produces, enabling visitors to experience sight and sound as distinct. As an immersive experience, the work serves as a meditation on history, land, race, and labor. This is Beasley's first solo exhibition at a New York museum, and his most ambitious work to date.
This exhibition is organized by Christopher Y. Lew, Nancy and Fred Poses Curator, with Ambika Trasi, curatorial assistant.
Kevin Beasley: A view of a landscape is part of the Whitney's emerging artists program, sponsored by

Generous support for this exhibition is provided by Helen Zell.
Significant support is provided by Candy and Michael Barasch, Further Forward Foundation, and Marie-Josée and Henry Kravis.
Additional support is provided by Bill Block, Lonti Ebers, Elise Jaffe and Jeffrey Brown, Miyoung Lee and Neil Simpkins, Gerald and Jody Lippes, Laura Rapp and Jay Smith, Komal Shah and Gaurav Garg, and Jackson Tang.
Curatorial research and travel were funded by Rosina Lee Yue and Bert A. Lies, Jr., MD.
Production support is made possible by Casey Kaplan.
The creation of this work is made possible by a generous contribution from VIA Art Fund.
---
Performances
Live performances are scheduled throughout the run of this exhibition:
Saturday, January 12
6 pm
Kevin Beasley with Taja Cheek, multi-instrumentalist, songwriter, and vocalist
Saturday, January 26
6 pm, 7 pm, 8 pm
Eli Keszler, artist, composer, and percussionist
Saturday, February 16
6 pm
Kevin Beasley
Saturday, March 2
6 pm, 7 pm, 8 pm
Jlin, electronic musician and producer
---
---
---
---
Essay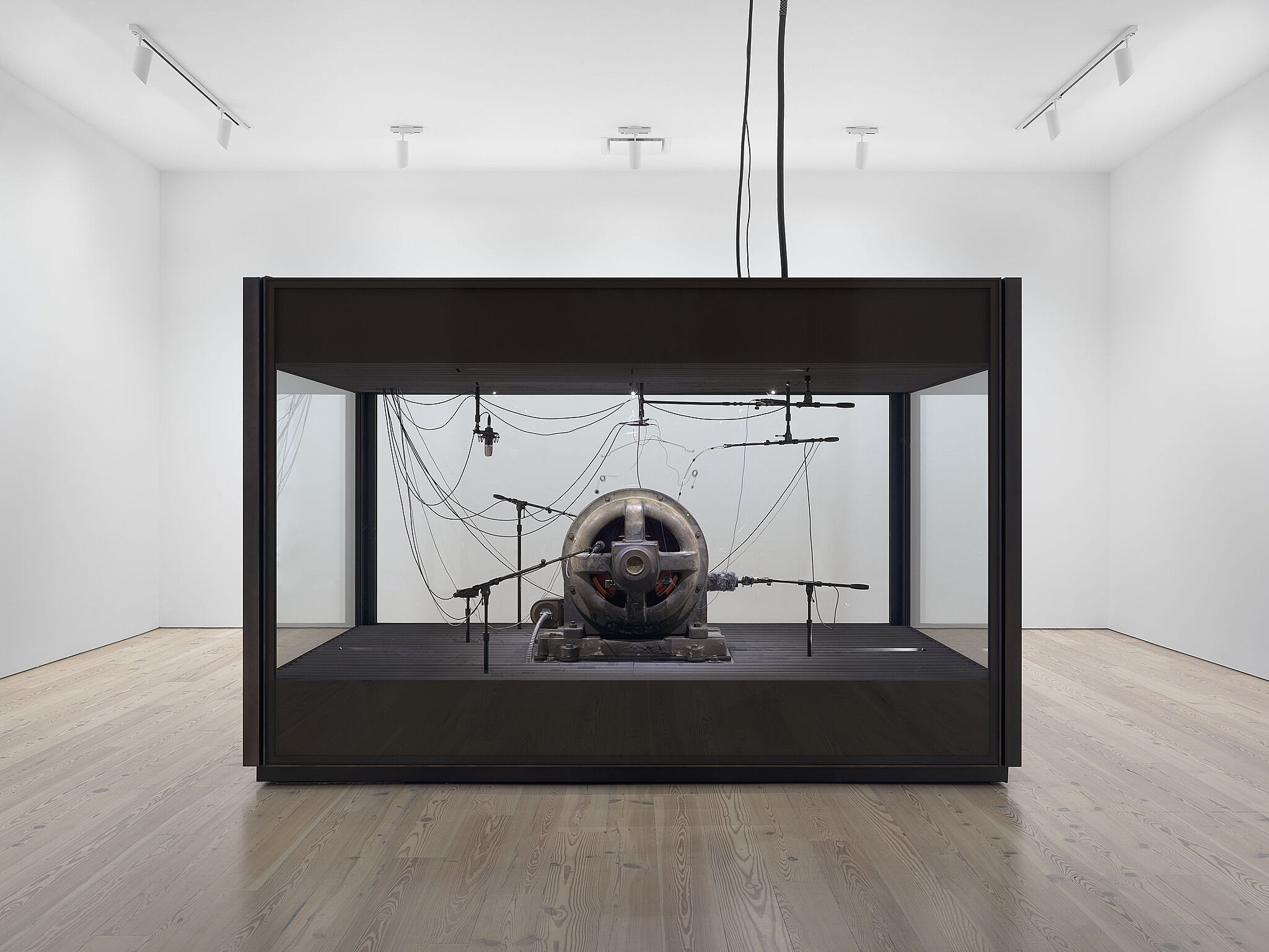 Low End Theory
By Christopher Y. Lew, Nancy and Fred Poses Associate Curator
The harvest had happened but some remained, white airy bolls speckling the field amid the trampled branches. This was Kevin Beasley's first direct encounter with living cotton, on break from graduate school in 2011, during one of his family's annual summer reunions in Valentines, Virginia, a little more than a hundred miles from the town of Lynchburg where he grew up.
Read essay
---
Perspectives
Kevin Beasley has assembled materials and research related to the installation and sculptures featured in his exhibition. The interviews, articles, videos, and audio works selected by the artist touch on a variety of subjects including art, music, technology, and U.S. history.
---
---
In the News
"Kevin Beasley confronts King Cotton's legacy in his solo museum show."
—The New York Times
---