Grant Wood: American Gothic and Other Fables

Mar 2–June 10, 2018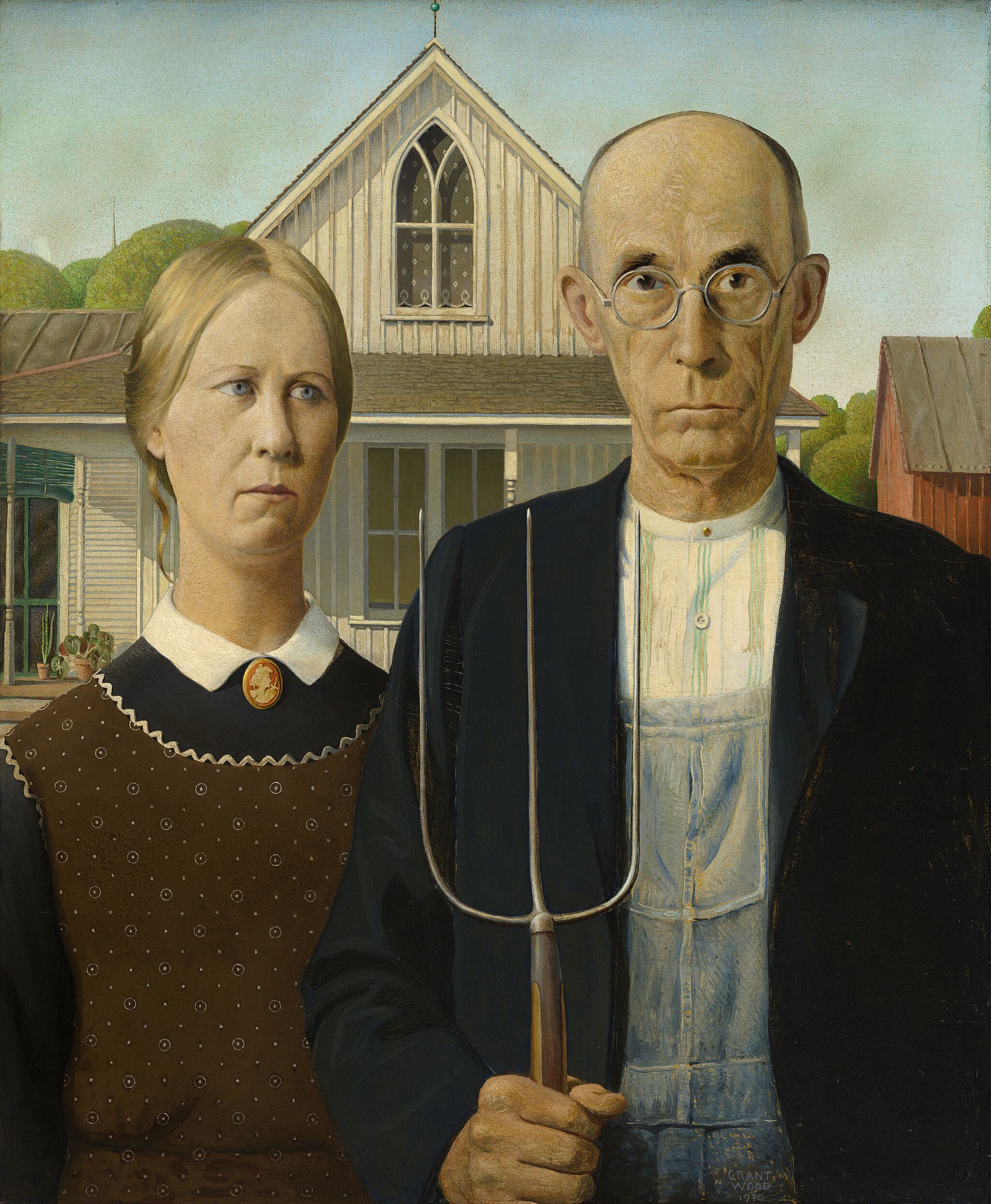 Grant Wood's American Gothic—the double portrait of a pitchfork-wielding farmer and a woman commonly presumed to be his wife—is perhaps the most recognizable painting in 20th century American art, an indelible icon of Americana, and certainly Wood's most famous artwork. But Wood's career consists of far more than one single painting. Grant Wood: American Gothic and Other Fables brings together the full range of his art, from his early Arts and Crafts decorative objects and Impressionist oils through his mature paintings, murals, and book illustrations. The exhibition reveals a complex, sophisticated artist whose image as a farmer-painter was as mythical as the fables he depicted in his art. Wood sought pictorially to fashion a world of harmony and prosperity that would answer America's need for reassurance at a time of economic and social upheaval occasioned by the Depression. Yet underneath its bucolic exterior, his art reflects the anxiety of being an artist and a deeply repressed homosexual in the Midwest in the 1930s. By depicting his subconscious anxieties through populist images of rural America, Wood crafted images that speak both to American identity and to the estrangement and isolation of modern life.
This exhibition is organized by Barbara Haskell, Curator, with Sarah Humphreville, Senior Curatorial Assistant.
Grant Wood: American Gothic and Other Fables is sponsored by Bank of America.


Major foundation support is provided by the Henry Luce Foundation.

Major support is also provided by the Barbara Haskell American Fellows Legacy Fund.
Significant support is provided by The Brown Foundation, Inc., of Houston; The Mr. and Mrs. Raymond J. Horowitz Foundation for the Arts; and public funds from the New York City Department of Cultural Affairs in partnership with the City Council.
Generous support is provided by John and Mary Pappajohn and the Robert Lehman Foundation, Inc.

This exhibition is supported by an indemnity from the Federal Council on the Arts and the Humanities.
---
---
---
---
---
Audio guides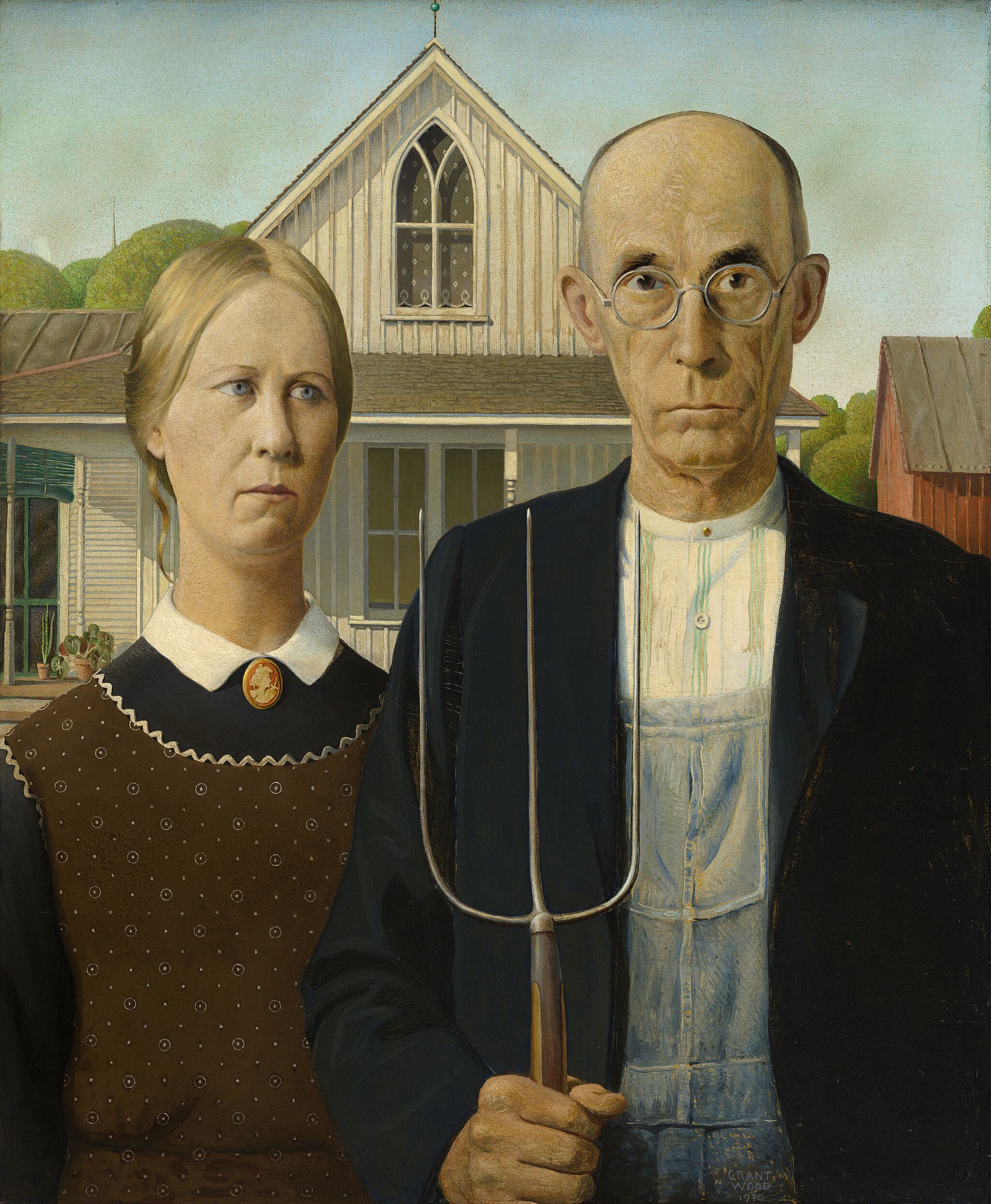 Hear directly from artists and curators on selected works from the exhibition.
View guide
---
---
This comprehensive study of Grant Wood provides new insight into the career of one of the key figures of twentieth-century American art. Exploring Wood's oeuvre from a variety of perspectives, the catalogue presents the artist's work in all of its subtle complexity and eschews the idea that Wood can be categorized simply as a Regionalist painter.
The excerpt featured here includes a selection from Barbara Haskell's overview essay as well as a preview of the plate section and illustrated chronology.
---
In the News
"A new exhibit at the Whitney Museum of American Art reveals the complexities of the Iowa-born Wood."
—The Wall Street Journal
"Feels right on time."
—The New Yorker
"Wood was much more than American Gothic."
—artnet
"As this exhibition demonstrates, he is an artist fated to be perpetually rediscovered."
—The Washington Post

"Wood had altogether weirder, more singular ambitions than any of his modernist counterparts."
—Artforum
"A fascinating retrospective."
—WNYC
"This is no regionalist proponent of clean, country living but an artist of a much darker and more sensual vision, one for whom normalcy was delightfully perverse."
—The Art Newspaper
"It will be a surprise for people who think they know Grant Wood."
—The New York Times
"The most extensive Grant Wood exhibition that's ever been mounted."
—CBS News
---