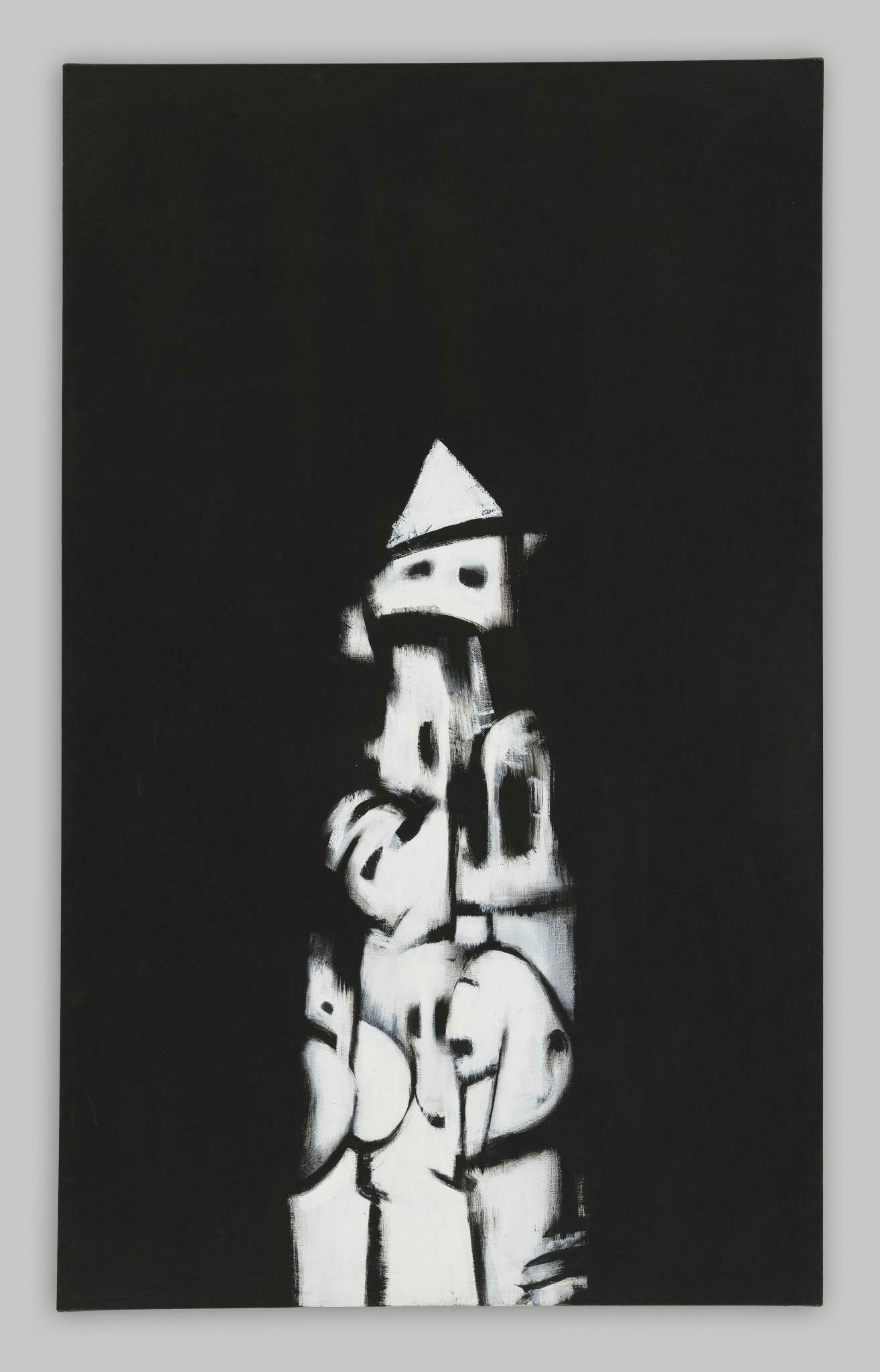 On view
Floor 7
Date
1960
Classification
Paintings
Medium
Oil on canvas
Dimensions
Overall: 73 11/16 × 43 1/8in. (187.2 × 109.5 cm)
Accession number
2018.141
Credit line
Purchase, with funds from the Laurie M. Tisch Illumination Fund in memory of Preston Robert and Joan Tisch, the Painting and Sculpture Committee, Director's Discretionary Fund, Adolph Gottlieb, by exchange, and Sami and Hala Mnaymneh
Rights and reproductions
© Norman Lewis
---
Audio
Norman Lewis, American Totem, 1960

Norman Lewis, American Totem, 1960

0:00

Narrador: Norman Lewis creó esta obra, American Totem, en 1960. En lugar de abordar la inequidad racial mediante estilos representativos, Lewis recurrió a la abstracción, como muchos de sus contemporáneos. Veía la pintura de acción, o el expresionismo abstracto, como una manera de hablar sobre cuestiones de derechos civiles.

Norman Lewis: Antes pintaba gente negra despojada y discriminación, y poco a poco me fui dando cuenta de que esto no movilizaba a nadie... Descubrí que la única forma de resolver algo era actuando y reaccionando físicamente. Entiendo que los derechos civiles me afectan, entonces ¿qué voy a pintar? ¿Qué voy a hacer? No lo sé. Y estoy seguro de que no tendrá nada que ver con los derechos civiles de forma directa, pero simplemente espero que me sea posible materializar un poco de toda esta frustración como artista negro en Estados Unidos, y creo que la acción tiene que provenir de artistas negros.

Narrador: Las figuras blancas triangulares en esta pintura hacen referencia a las capuchas que utilizaban los miembros del Ku Klux Klan, un grupo de odio conformado por supremacistas blancos.

Norman Lewis: Nací en Nueva York, concretamente en Harlem. Alguien dijo alguna vez que la violencia en Estados Unidos es tan homogénea como el pastel de manzana. Y es cierto, sabes, pero no nos damos cuenta. El Estados Unidos blanco es tan jodidamente agresivo que niega todo lo que se interponga en su camino.

Norman Lewis, American Totem, 1960

Norman Lewis, American Totem, 1960

0:00

Narrator: Norman Lewis made this artwork, American Totem, in 1960. Instead of addressing racial inequality through representational styles, Lewis turned to abstraction, like many of his contemporaries. He saw action painting, or Abstract Expressionism, as a way to speak to Civil Rights issues.

Norman Lewis: I used to paint Negroes being dispossessed, discrimination, and slowly I became aware of the fact that this didn't move anybody. I found the only way to solve anything was to go out and take some kind of physical action. I find that civil rights affects me, so what am I going to paint, what am I going to do. I don't know. I am sure it will have nothing to do with civil rights directly but possibly I just hope that I can materialize something out of all this frustration as a black artist in America. I think it has to come from black artists.

Narrator: The white, triangular shapes in this painting refer to hoods worn by members of the Ku Klux Klan, a white supremacist hate group.

Norman Lewis: I was born in New York, Harlem. Somebody said violence is as homogenous as apple pie to America. And this is true, you know, but we don't realize it. White America is so goddamn aggressive that it negates anything that gets in its way.

[Oral history interview with Norman Lewis, 1968 July 14. Archives of American Art, Smithsonian Institution.]

Norman Lewis, American Totem, 1960

Norman Lewis, American Totem, 1960

0:00

Narrator: Norman Lewis called this painting American Totem. You've probably heard of totem poles, sculptures made by the Indigenous peoples of the Pacific Northwest. But a totem can be anything that a group of people find spiritually meaningful, and use as a symbol of their identity. Usually, we think of a totem as being an animal or an object—something pretty easy to identify. But if this painting is a totem, it's a pretty abstract one. A lot of its meaning lies in the shapes, and how Lewis chose to paint them. One thing you might notice is that some of the white forms fade into black, so it's hard to tell where their edges are—which creates a sense of mystery. You could also observe Lewis packed a lot of irregular shapes into a tight outline. This might create a feeling of tension.




There may be some recognizable imagery in this painting. The two forms at the top look a bit like eyes peering out from beneath a white hood. Together they look like the costumes worn by the Ku Klux Klan, a violent white supremacist group. Lewis was an African American painter working at the height of the Civil Rights movement,which fought for racial equality. He believed that he could use abstraction to communicate his experience—including the frustration of being a Black man in segregated America.
---
---