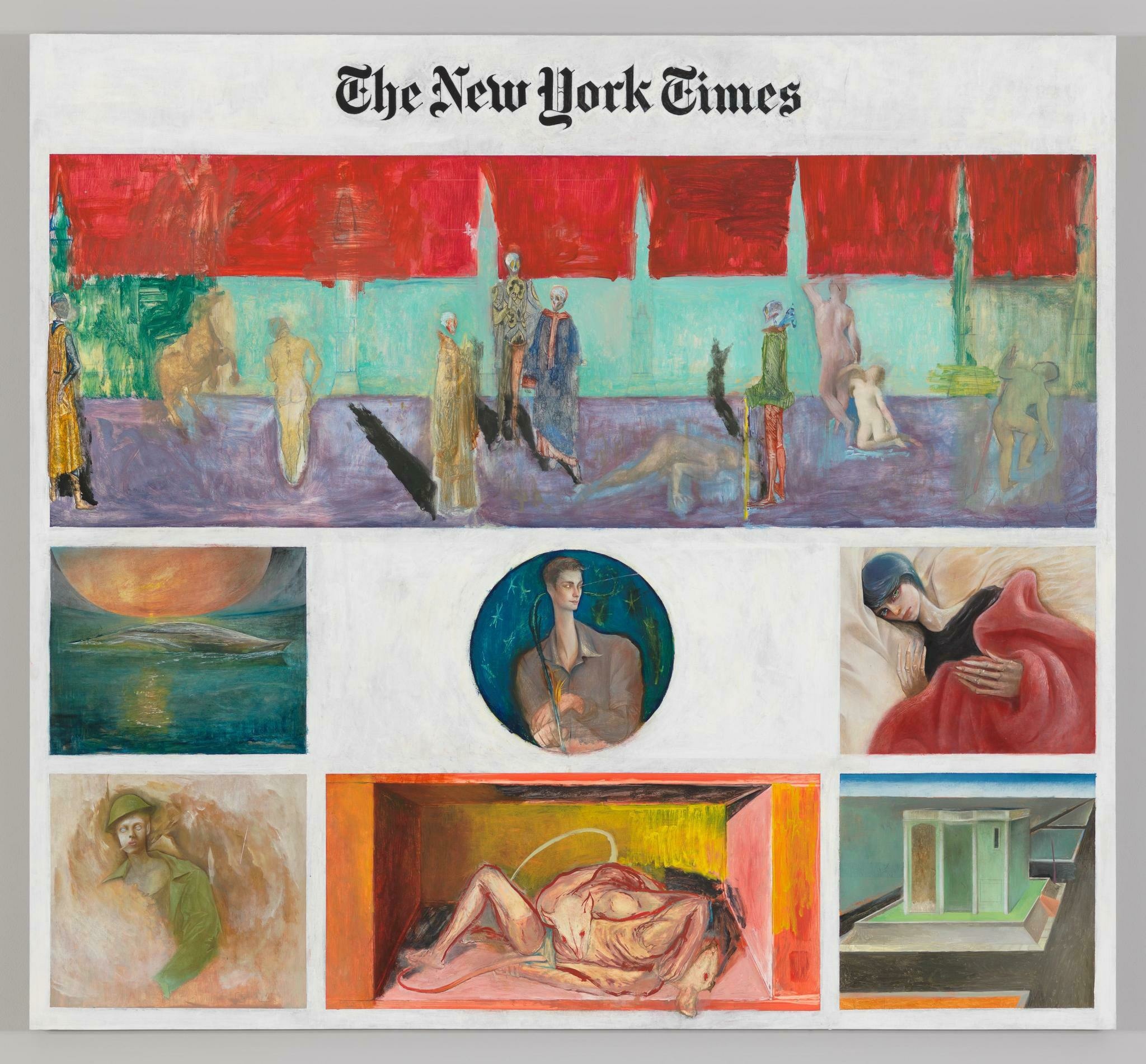 Not on view
Date
2017
Classification
Paintings
Medium
Oil and encaustic on linen mounted on panel
Dimensions
Overall: 63 5/16 × 69 1/16in. (160.8 × 175.4 cm)
Accession number
2017.202
Credit line
Purchase, with funds from the Painting and Sculpture Committee
Rights and reproductions
© Julien Nguyen
---
Audio
Julien Nguyen

Christopher Lew: Julien Nguyen es uno de los artistas más jóvenes en esta exposición. Creó dos nuevas pinturas que juegan con el diseño gráfico de la versión impresa del periódico New York Times.

Narrator: Christopher Lew.

Christopher Lew: En estas pinturas, el artista trabajó con encáustica. Incrustó pigmento directo en la cera a medida que esta se endurecía. Es una técnica que han usado artistas como Jasper Johns, pero que se remonta a la pintura egipcia.

Las pinturas de Julien en cierta forma conjugan verdaderamente ese sentido del pasado con el presente. Por tanto, remiten a un largo linaje de la pintura que se remonta al Renacimiento, pero, al mismo tiempo, el artista piensa en distintos tipos de imaginería que surgen de la cultura popular, como el anime o el manga y las caricaturas, y los fusiona para hablar de nuestro momento actual.

Mia Locks: Son espacios sumamente construidos que resultan muy arquitectónicos.

Narrator: Mia Locks.

Mia Locks: Son muy detallados en cuanto a las referencias a la pintura renacentista o a al menos a la perspectiva racional de la pintura renacentista. Sin embargo, con frecuencia —o siempre— están poblados por estas figuras emocionales muy complejas que aparecen tensas, angustiadas o muestran añoranza. Siempre se observa un sentido real de exceso de emoción que se halla contenida o enmarcada en distintos lugares en la pintura.

Julien Nguyen

Christopher Lew: Julien Nguyen is one of the younger artists in the exhibition, and he's created two new paintings that play off of the graphic design of the print New York Times newspaper.

Narrator: Christopher Lew.

Christopher Lew: For these new paintings he's working with encaustic, so he's actually embedding pigment right into wax as it hardens. And it's a technique that artists such as Jasper Johns have used, but it goes all the way back to Egyptian painting.

Julien's paintings really kind of bring together this sense of the past and the present. So he's making references to the long lineage of painting going back to the Renaissance, but also thinking about different types of imagery coming from popular culture, such as anime or manga and cartoons, and kind of conflating these things together to kind of speak about our current moment.

Mia Locks: They're highly constructed spaces that are very architectural.

Narrator: Mia Locks.

Mia Locks: They're very detailed in this way that references Renaissance painting or at least that rational perspective of Renaissance painting. But they're often or always filled with these very complex emotional figures that are either fraught or anguished or yearning. There's always this real sense of excess of emotion that's being contained or framed in various places in the painting.
---