Untitled (Opening Image from Valediction)
1944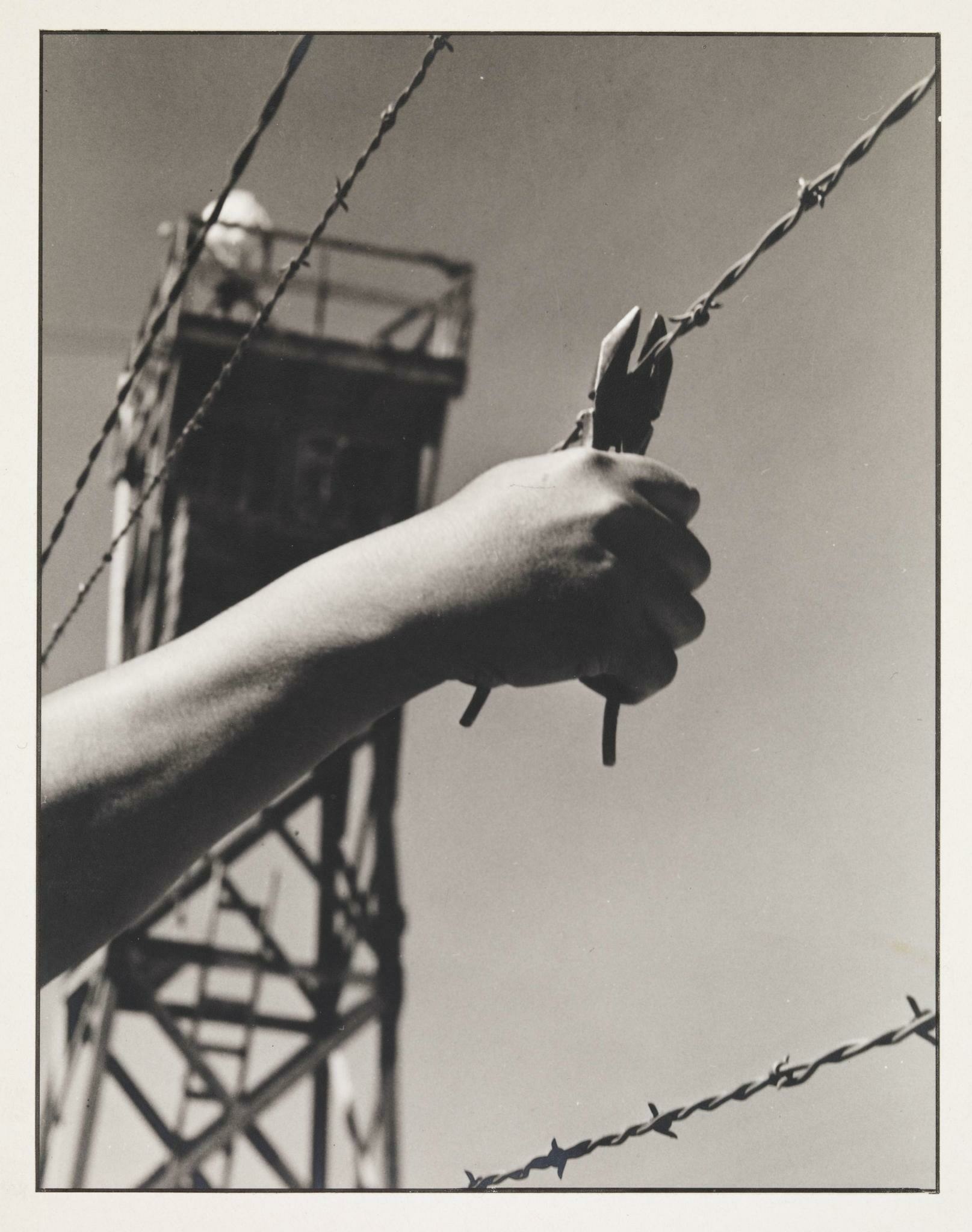 Not on view
Date
1944
Classification
Photographs
Medium
Gelatin silver print mounted on board
Dimensions
Sheet: 9 7/16 × 7 5/16in. (24 × 18.6 cm) Image: 9 3/8 × 7 1/4in. (23.8 × 18.4 cm) Mount: 17 × 13 15/16 × 1/16in. (43.2 × 35.4 × 0.2 cm)
Accession number
2014.243
Edition
Vintage
Credit line
Purchase, with funds from the Photography Committee
Rights and reproductions
© Toyo Miyatake Studio
---
Audio
Toyo Miyatake, Untitled (Opening Image from Valediction), 1944

Toyo Miyatake, Untitled (Opening Image from Valediction), 1944

0:00

Narrator: Toyo Miyatake tomó estas fotografías en Manzanar, un campo en el que se detuvo a los japoneses-americanos tras el bombardeo de Pearl Harbor. Más de 120 000 personas —entre las que se cuenta a hombres, mujeres y niños— estuvieron presas allí. Más de dos tercios eran ciudadanos estadounidenses.

Alan Miyatake: Me llamo Alan Miyatake. Soy dueño y director del Estudio Toyo Miyatake, fundado por mi abuelo, Toyo Miyatake.

Narrator: En un principio, Toyo Miyatake introdujo a escondidas su equipo fotográfico en el campo.

Alan Miyatake: Debió haber sido al principio de sus días en el campo que apartó a mi padre y le dijo: "Tengo que mostrarte algo". Lo llevó dentro y sacó la lente y la parte posterior de una cámara y dijo: "Voy a armar una cámara". Y mi padre le respondió: "¿Por qué haces esto? Te van a arrestar". "No, este es mi deber como fotógrafo, documentar todo esto para que nunca vuelva a ocurrir algo así", le respondió mi abuelo.

Narrator: Con el tiempo, Miyatake pudo tomar fotografías abiertamente y se convirtió en el fotógrafo oficial de Manzanar. Incluso sus imágenes oficiales podían ser muy críticas del campo. En una vemos una mano sosteniendo alicates sobre el alambre de púas.

Alan Miyatake: Se tomó para el anuario de la escuela secundaria de Manzanar. Estoy seguro de que debía de expresar sentimientos muy simbólicos y un mensaje sobre lo que era realmente Manzanar. Ahora que lo pienso, es una gran muestra de valentía que alguien usara esto como pieza principal de un anuario, en una escuela organizada dentro de un campo de internamiento. Te hace pensar en qué tanta censura había por parte del personal y el gobierno porque es obviamente muy simbólica.

Toyo Miyatake, Untitled (Opening Image from Valediction), 1944

Toyo Miyatake, Untitled (Opening Image from Valediction), 1944

0:00

Narrator: Toyo Miyatake took these photographs in Manzanar, a camp where Japanese-Americans were interned after the bombing of Pearl Harbor. Over 120,000 people—men, women, and children—were imprisoned there. More than two-thirds were Americans citizens.

Alan Miyatake: My name is Alan Miyatake. I own and operate Toyo Miyatake Studio, which was founded by my grandfather, Toyo Miyatake.

Narrator: Initially, Toyo Miyatake snuck his photography equipment into the camp.

Alan Miyatake: It must have been early on in camp that he took my father aside and said, "I got to show you something." He took him inside and he pulled out the lens and a back of a camera and said, "I'm gonna make a camera." My dad said, "Why are you doing this? You're gonna get arrested." And he said, "No, this is my duty as a photographer to document this so something like this never happens again."

Narrator: Eventually, Miyatake was able to take pictures openly, and became Manzanar's official photographer. Even his official images could be very critical of the camp. One pictures a hand holding wire cutters up to barbed wire.

Alan Miyatake: It was taken for the Manzanar high school yearbook. I'm sure it was supposed to have very symbolic feelings and a message about what Manzanar was all about. Now that I think about it, it seems courageous for somebody to put this as a main piece in a yearbook, in a school that was conducted in an internment camp. You kind of wonder how much the camp staff and government, how much censoring they had because it's obviously pretty symbolic.
---