The Non-War Memorial
1970/1972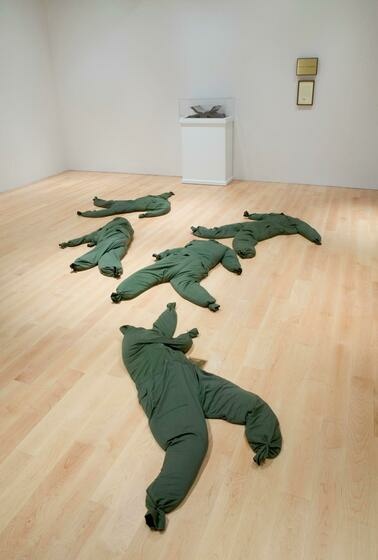 ---
Audio
Edward Kienholz, The Non War Memorial, 1970

Edward Kienholz, The Non War Memorial, 1970

0:00

Narrator: Edward Kienholz, el artista responsable de Non War Memorial (No monumento a la guerra), se opuso vehementemente a las acciones militares por parte de Estados Unidos en Vietnam.

Jennie Goldstein: Como muchas de las instalaciones de Kienholz, es realmente como un cuadro.

Narrator: Curadora Adjunta Jennie Goldstein.

Jennie Goldstein: Entras en el espacio y te encuentras cara a cara con estas formas desparramadas, parecidas a cuerpos. En realidad son uniformes excedentes del ejército rellenos de arena. El cuadro es casi como un bosquejo o un modelo para algo que nunca llegó a realizar.

Su idea era ir a un campo de unas treinta hectáreas y colocar 50 000 de estos uniformes excedentes, los cuales, en lugar de estar rellenos de arena, estarían rellenos de un tipo de arcilla. Y, en su concepción, la arcilla y los uniformes se deteriorarían. La arcilla se dispersaría y se descompondría, y lo mismo ocurriría con los uniformes, que se descompondrían con el paso del tiempo. Así que se pasaría de tener un monumento real, algo que pudiera visitarse, a tener básicamente nada.

Y eso es lo que resulta tan interesante del título de la obra. De alguna manera, es realmente una suerte de no monumento a la guerra. No quedaría nada de él, nada que visitar, nada que conmemorar. Creo que es una forma apropiada de pensar en el sinsentido de toda esta muerte desde su perspectiva.

Edward Kienholz, The Non War Memorial, 1970

Edward Kienholz, The Non War Memorial, 1970

0:00

Narrator: Edward Kienholz, the artist behind the Non War Memorial, vehemently opposed American military action in Vietnam.

Jennie Goldstein: Like many of Kienholz's installations, it's really like a tableau.

Narrator: Assistant Curator Jennie Goldstein.

Jennie Goldstein: You walk into the space and you find yourself face-to-face with these strewn, body-like forms. It's actually sand stuffed inside of surplus army fatigue uniforms. The tableau is almost like a sketch or a model for something he was never able to realize.

His idea was that he would go to this seventy-five-acre meadow and there he would take 50,000 of these surplus uniforms, and instead of being filled with sand, they would be filled with slurred clay. And what he'd envisioned was that the clay and the uniforms would essentially go to seed. The clay would kind of dissipate and start to decompose, so too the uniforms would kind of decompose over time. So you would go from having an actual memorial, something you could visit, to essentially nothing.

And that's what's so interesting about the title of the work. In a way, it really is this kind of non-war memorial. There would be nothing left, nothing to visit, nothing to memorialize. I think that's a kind of apt way of thinking about the uselessness of all of this death from his perspective.
---