American Legends: Common Threads across Generations

Jun 11, 2014
Stuart Davis, Owh! in San Paõ, 1951. Oil on canvas, 52 1/4 × 41 3/4 in. (132.7 × 106 cm). Whitney Museum of American Art, New York; purchase 52.2. © Estate of Stuart Davis / Licensed by VAGA, New York, NY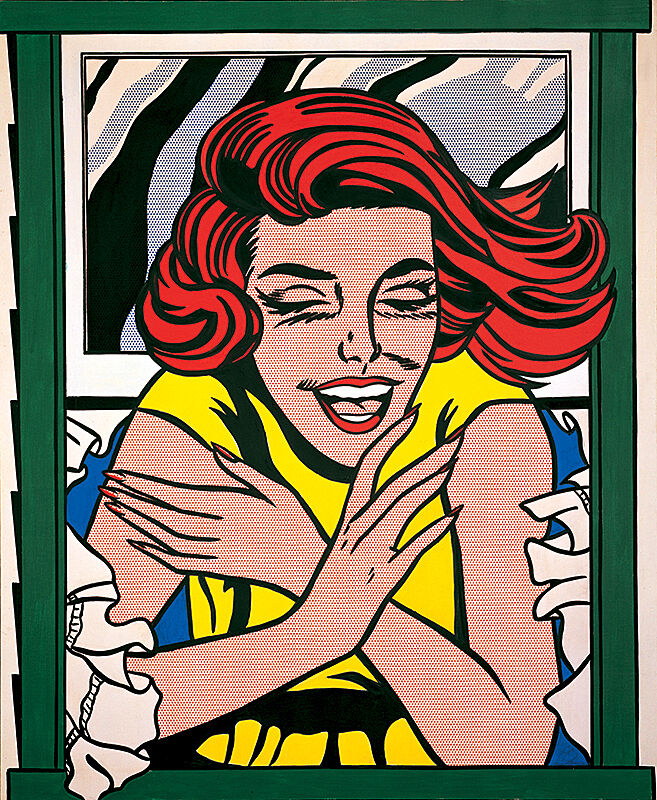 Roy Lichtenstein, Girl in Window (Study for World's Fair Mural), 1963. Oil on canvas, 68 3/16 × 56 1/8 in. (173.2 × 142.6 cm). Whitney Museum of American Art, New York; gift of The American Contemporary Art Foundation Inc., Leonard A. Lauder, President 2002.254. © Estate of Roy Lichtenstein
When American Legends: From Calder to O'Keeffe opened in 2012, the exhibition focused on the first half of the twentieth century, a time when artists used various approaches and media to question their relationship to Europe, American identity, and the boundaries of art. A year into the show's run, curator Barbara Haskell decided to expand the exhibition's scope by including postwar artists who came to prominence after Abstract Expressionism. Over the past year and a half, the artists and individual works on view in American Legends have rotated for various reasons, among them conservation requirements (works on paper and photographs can typically be on view for only six months) and loan commitments (for example, Marsden Hartley paintings are on view in Berlin and the White House is borrowing work by Edward Hopper), but the inclusion of postwar artists was a substantive change, inspired in part by our simultaneous work on the Whitney's Robert Indiana retrospective.
Though most closely associated with Pop Art, Indiana embraced prewar American modernists, namely Marsden Hartley, Charles Demuth, and Joseph Stella. He had a lifelong interest in these artists and their contemporaries, sought to insert himself into the American canon by borrowing their imagery, and drew on conceptual similarities to advance his subject matter. For instance, Indiana appropriated certain devices from Hartley's series The War Motifs, a suite of portraits that symbolically depict a German officer who was killed in World War I, and whom Hartley loved. Indiana uses Hartley's coded references to homosexuality to mourn the end of a relationship, and also draws on biographical coincidences between the two artists to forward his own position in American art history. Indiana's fascination with prewar artists was unusual among his Pop peers, but critics at the time observed formal and thematic parallels between that work and American modernism. Indiana's practice and these critical writings provoked us to wonder if these broader connections could be investigated and demonstrated by using objects in the Whitney's collection.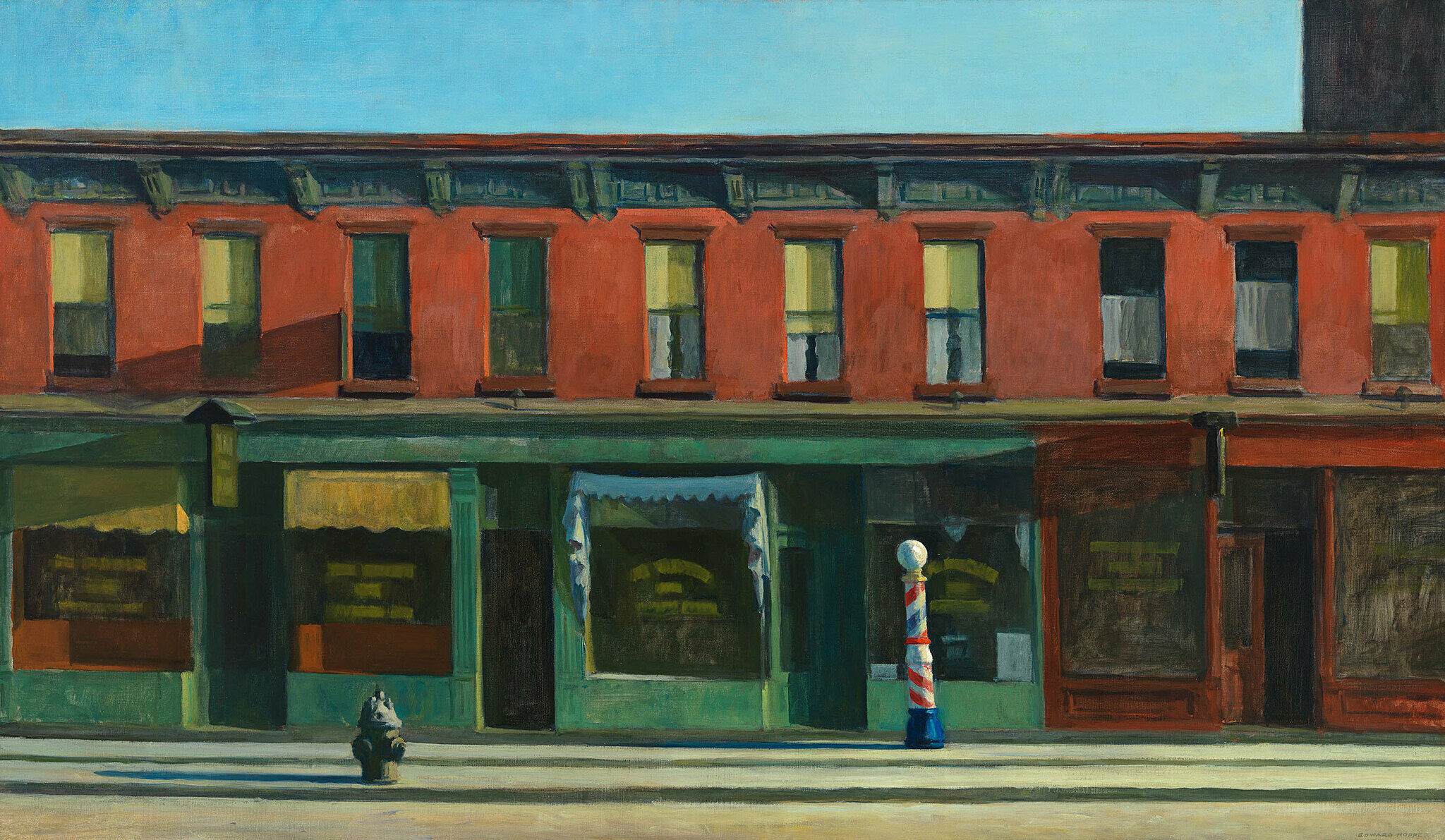 Edward Hopper, Early Sunday Morning, 1930. Oil on canvas, 35 3/16 × 60 1/4 in. (89.4 × 153 cm). Whitney Museum of American Art, New York; purchase with funds from Gertrude Vanderbilt Whitney 31.426. © Heirs of Josephine N. Hopper/Licensed by VAGA, New York, NY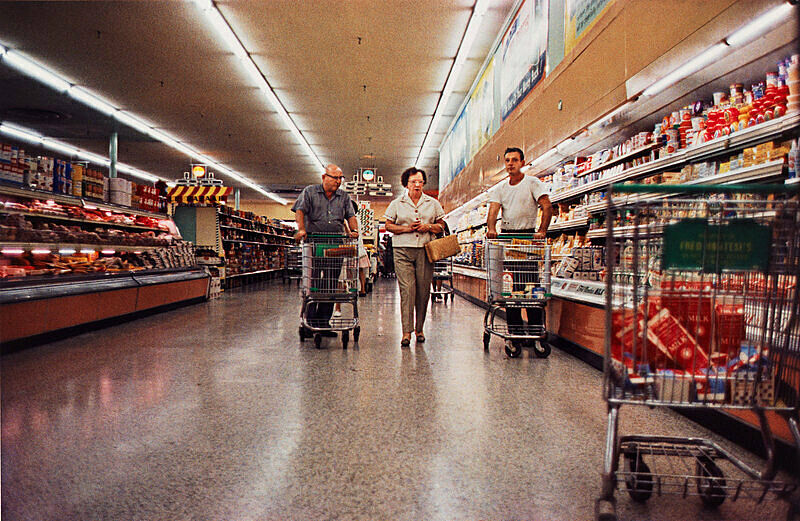 William Eggleston, Untitled (Grocery Store), c.1965-1974. Dye transfer print. Whitney Museum of American Art, New York; purchase, with funds from Marcia Dunn and Jonathan Sobel 2009.101
The Whitney's postwar holdings revealed that thematic continuities existed across generations, not just between American modernism and Pop Art, but also between a number of prewar and postwar approaches. The three middle galleries of American Legends explicitly examine this idea by pairing artists from different periods: Stuart Davis with Roy Lichtenstein, Edward Hopper with William Eggleston, and Georgia O'Keeffe with Ellsworth Kelly. The postwar artists appear stylistically different from their prewar predecessors, but both groups engaged with similar themes and subjects as they sought to define American art and identity. Davis's seemingly abstract and often chaotic compositions at first glance share little with Lichtenstein's cool, clean approach, but upon examination of their subjects, the artists' shared interest popular culture, everyday goods, and consumerism is clear. Hopper and Eggleston might present the greatest gap in method, with the former dedicated to oil paint on canvas and the latter famous for making color photography an accepted medium for fine art. However, each uses light in a poetic fashion to lend poignancy and drama to everyday life. O'Keeffe's saturated canvases contrast with Kelly's contoured depictions of plant leaves, but both artists used nature as a springboard for investigating the possibilities of abstraction.
Expanding American Legends beyond a generation of artists allowed for a curatorial exploration of the collection that revealed its flexibility. When the Whitney moves to its new building in the spring of 2015, our galleries will grow, and much more of the permanent collection will be on view. With the expanded opportunities for display come new chances for visitors to engage with the multiple narratives in the Whitney's collection, and also build some of their own.