William Eggleston:
Democratic Camera
Photographs and Video, 1961-2008

Nov 7, 2008–Jan 25, 2009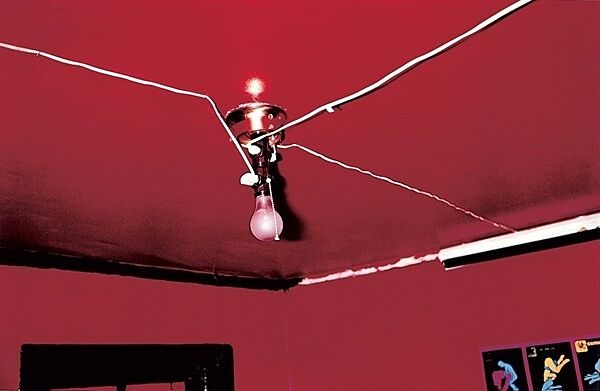 One of the most influential photographers of the last half-century, William Eggleston has defined the history of color photography. This exhibition is the artist's first retrospective in the United States and includes both his color and black-and-white photographs as well as Stranded in Canton, the artist's video work from the early 1970s.
William Eggleston's great achievement in photography can be described in a straightforward way: he captures everyday moments and transforms them into indelible images. William Eggleston: Democratic Camera, Photographs and Video, 1961–2008 presents a comprehensive selection from nearly fifty years of image-making.

Born in 1939 in Sumner, Mississippi, a small town in the Delta region, Eggleston showed an early interest in cameras and audio technology. While studying at various colleges in the South, he purchased his first camera and came across a copy of Henri Cartier-Bresson's book The Decisive Moment (1952). In the early 1960s, Eggleston married and moved to Memphis, where he has lived ever since. He first worked in black-and-white, but by the end of the decade began photographing primarily in color. Internationally acclaimed and widely traveled, Eggleston has spent the past four decades photographing all around the world, conveying intuitive responses to fleeting configurations of cultural signs and moods as specific expressions of local color. Psychologically complex and casually refined, bordering on kitsch and never conventionally beautiful, these photographs speak principally to the expanse of Eggleston's imagination and have had a pervasive influence on all aspects of visual culture. By not censoring, rarely editing, and always photographing, Eggleston convinces us of the idea of the democratic camera.
This exhibition was organized by the Whitney Museum of American Art, New York, in association with Haus der Kunst, Munich.
Presented by W Magazine
In partnership with

CLARINS - LEVIEV - MAX MARA - VERA WANG LOOK
Generous support is provided by The Robert Mapplethorpe Foundation, Norman and Melissa Selby, The John and Annamaria Phillips Foundation, Marcia Dunn & Jonathan Sobel, Diane and Tom Tuft, and the National Endowment for the Arts.
Additional support is provided by the Stephen C. and Katherine D. Sherrill Foundation, Lauren and Louis DePalo, the William Talbott Hillman Foundation, The Gage Fund, and The Chisholm Foundation.
---
---
---
---
In the News
"Eggleston emerges from the Whitney retrospective confirmed as a living national treasure"
--San Francisco Chronicle
Dennis Hopper, Juergen Teller, and others talk about Eggleston
--Vanity Fair, Society & Style blog
"[a] grand and glorious retrospective"
--The Nation
Interview with curator Elisabeth Sussman
--The Village Voice
Eggleston retrospective named Best Photography Show of 2008
--New York
"Shooting like a shutterbug and printing like a painter, the slumming aristocrat is a master of American art."
--The New Yorker
"he forces you to see beauty where you hadn't thought to look. He quickens your awareness of the world around you."
--Newsweek
Eggleston retrospective named one of the top ten museum exhibits of 2008
--Time
Eggleston interviewed by Harmony Korine
--Interview
"this year's most splendid photography retrospective"
--The Boston Globe
"his concerns are testing the limits of subject matter for an art photograph"
--Time Out New York
"a retrospective devoted to the sumptuously hued visions of a decadent Southern gentleman"
--The Village Voice
"A contemporary artist who captures the ethereal beauty of light"
--Christian Science Monitor
"leaves you confused and happy, and perhaps convinces you that you don't understand photography nearly as well as you thought you did."
--The New Yorker
"The scene turned meta before too long. The famous photographer guests started taking pictures of the hired photographers who were taking pictures of them."
--WWD
"combination joy ride, funeral march and bad-trip bender."
--The New York Times
Slideshow: William Eggleston at the Whitney
--The New York Times
"Looking at Eggleston's photos in the gorgeous, captivating new Whitney retrospective, there's just no disputing their aesthetic authority or their eerie power."
--The Financial Times
"William Eggleston is even more colorful than his groundbreaking photographs."
--New York
"Eggleston's spare and richly hued pictures . . . have cast a spell on everyone from Sofia Coppola, David Lynch, and Larry Clark to Nan Goldin, Wolfgang Tillmans, and Juergen Teller."
--Style.com
"sets Eggleston's place in the generation of American photographers that followed Robert Frank."
--The New York Observer
"few can argue with his place among the greats of photography."
--International Herald Tribune
"These black-and-white shorts captured his nighttime ramblings in Memphis and New Orleans from 1973–74. Like his photographs, they are both mundane and devilishly transcendent"
--The New York Times, The Moment blog
"Eggleston deserves the Whitney's royal treatment--a 150-work career retrospective--because of the deep veins of content he has managed to tap, most running right under his feet."
--Artforum
"Once vilified for his color images of humdrum daily life, the enigmatic man who turned art photography on its ear is getting his due."
--W
"one of the most original artists of your lifetime"
--Time
"A Talk with William Eggleston"
--Time, Looking Around blog
---
---