Toyin Ojih Odutola:
To Wander Determined

Oct 20, 2017–Feb 25, 2018
For her first solo museum exhibition in New York, Toyin Ojih Odutola presents an interconnected series of fictional portraits, chronicling the lives of two aristocratic Nigerian families.
Ojih Odutola (b. 1985) creates intimate drawings that explore the complexity and malleability of identity. Depicted in her distinctive style of intricate mark-making, her sumptuous compositions reimagine the genre and traditions of portraiture.
Rendered life-size in charcoal, pastel, and pencil, Ojih Odutola's figures appear enigmatic and mysterious, set against luxurious backdrops of domesticity and leisure. They, and the worlds they inhabit, are informed by the artist's own array of inspirations, which range from art history to popular culture to experiences of migration and dislocation. Highly attentive to detail and the nuances of space, class, and color—whether of palette or skin—Ojih Odutola continues her examinations of narrative, authenticity, and representation.
Toyin Ojih Odutola: To Wander Determined presents a significant new body of work alongside a small selection of earlier works, produced in the last year. The exhibition is on view in the John R. Eckel, Jr. Foundation Gallery on the Museum's first floor, which is free and open to the public.
This exhibition is organized by Rujeko Hockley, assistant curator and Melinda Lang, curatorial assistant.
Toyin Ojih Odutola: To Wander Determined is sponsored by Audi of America.
Major support is provided by John R. Eckel, Jr. Foundation.
Generous support is provided by Jackson Tang.
Additional support is provided by Bernard I. Lumpkin and Carmine D. Boccuzzi.
---
---
---
---
Essay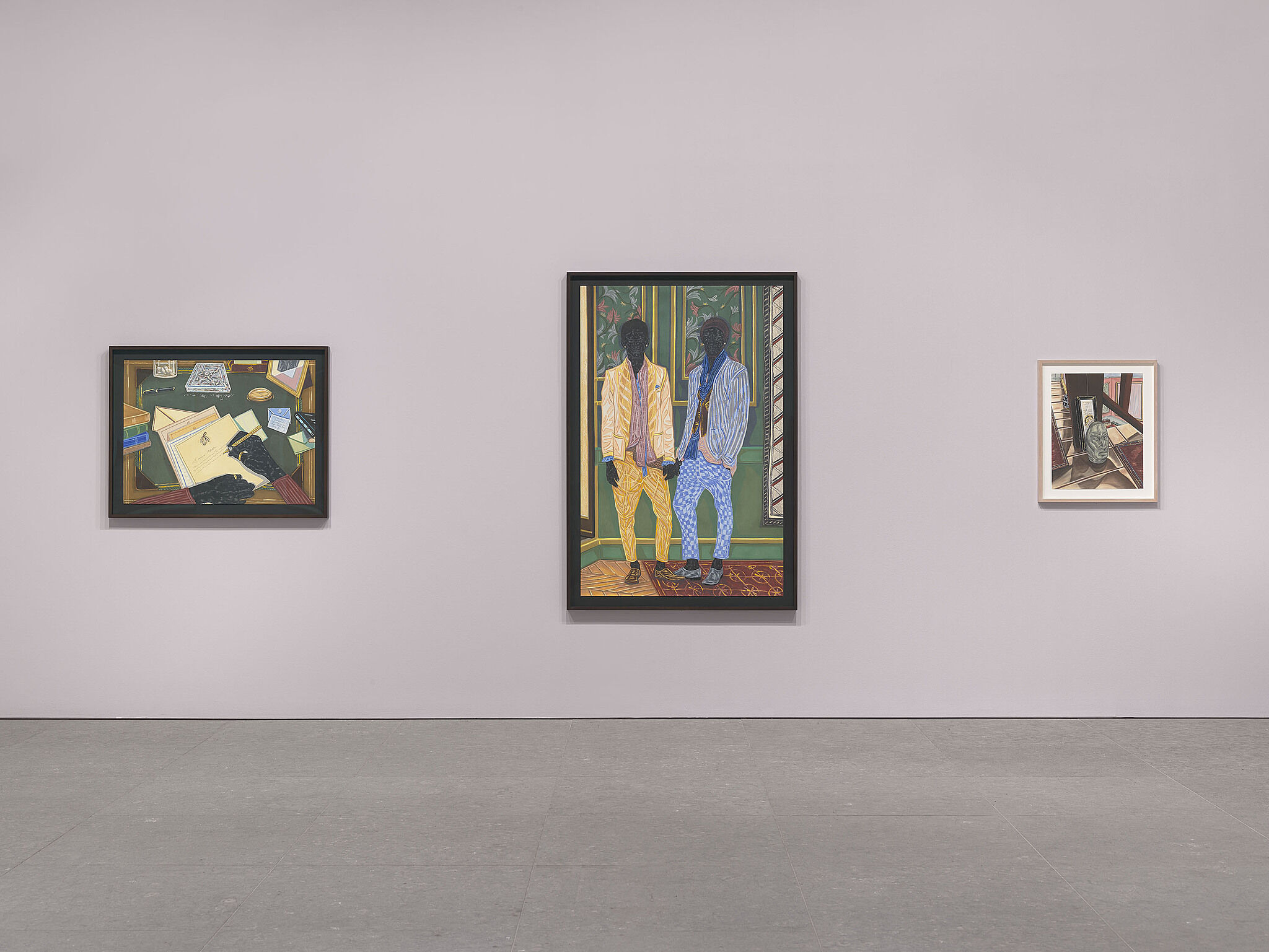 By Rujeko Hockley, assistant curator, and Melinda Lang, curatorial assistant
"Toyin Ojih Odutola—draftswoman, writer, keen observer, creator of worlds—was born in Ife, Nigeria, in 1985. An exemplar of what she has described as the 'wandering immigrant' tradition, she has been itinerant, a determined wanderer, in her locations and interests for much of her life."
---
Audio Guides
Hear directly from artists and curators on selected works from the exhibition.
---
---
In the News
"Her signature mark-making and compositions give a different dimension to the traditional genre and style of portraiture"
—Artinfo
"Fictional Portraits painted in a style verging on magic realism create a haunting impression in Odutola's NYC museum debut."
—Time Out
"At the Whitney, a Vision of Africa—Without the Colonialist Meddling."
—Vogue
"This show has the potential to influence and recharge the momentum in conversations around immigration in America."
—Elle
"Toyin Ojih Odutola asks us to imagine a world just different enough from the one we live in to be a little uncanny and tremendously revealing."
—Vice
"The attention to detail in each of Ojih Odutola's compositions hearkens back to the iconography of Renaissance portraiture."
—artnet
---