Toyin Ojih Odutola:
To Wander Determined

Oct 20, 2017–Feb 25, 2018
For her first solo museum exhibition in New York, Toyin Ojih Odutola presents an interconnected series of fictional portraits, chronicling the lives of two aristocratic Nigerian families.
Ojih Odutola (b. 1985) creates intimate drawings that explore the complexity and malleability of identity. Depicted in her distinctive style of intricate mark-making, her sumptuous compositions reimagine the genre and traditions of portraiture.
Rendered life-size in charcoal, pastel, and pencil, Ojih Odutola's figures appear enigmatic and mysterious, set against luxurious backdrops of domesticity and leisure. They, and the worlds they inhabit, are informed by the artist's own array of inspirations, which range from art history to popular culture to experiences of migration and dislocation. Highly attentive to detail and the nuances of space, class, and color—whether of palette or skin—Ojih Odutola continues her examinations of narrative, authenticity, and representation.
Toyin Ojih Odutola: To Wander Determined presents a significant new body of work alongside a small selection of earlier works, produced in the last year. The exhibition is on view in the John R. Eckel, Jr. Foundation Gallery on the Museum's first floor, which is free and open to the public.
This exhibition is organized by Rujeko Hockley, assistant curator and Melinda Lang, curatorial assistant.
Toyin Ojih Odutola: To Wander Determined is sponsored by Audi of America.
Major support is provided by John R. Eckel, Jr. Foundation.
Generous support is provided by Jackson Tang.
Additional support is provided by Bernard I. Lumpkin and Carmine D. Boccuzzi.
---
---
---
---
Essay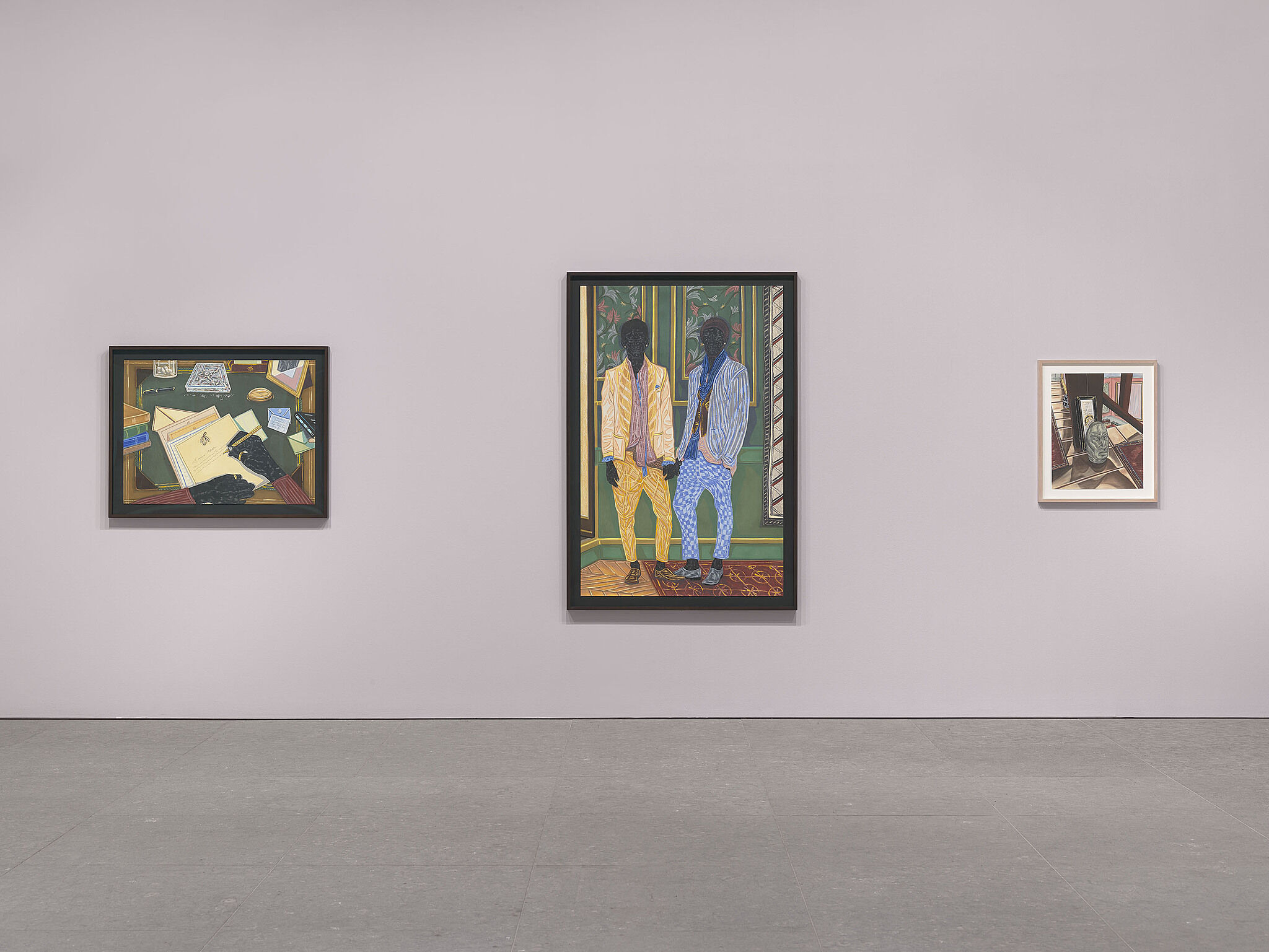 By Rujeko Hockley, assistant curator, and Melinda Lang, curatorial assistant
"Toyin Ojih Odutola—draftswoman, writer, keen observer, creator of worlds—was born in Ife, Nigeria, in 1985. An exemplar of what she has described as the 'wandering immigrant' tradition, she has been itinerant, a determined wanderer, in her locations and interests for much of her life."
---
Audio Guides
Hear directly from artists and curators on selected works from the exhibition.
---
0:00
Hear from Toyin Ojih Odutola
0:00
Toyin Ojih Odutola: I am Toyin Ojih Odutola.
To Wander Determined is the combination of two chapters in a fictionalized story I've been developing over the past year. It started out with a series, I call it chapter one, where it was called A Matter of Fact and it was about this wealthy family called the UmuEze Amara. They're an Igbo, landed-gentry family that live in Lagos and Southeastern Nigeria. It was an opportunity for me to explore wealth through the lens of color and race, to see how we can move a very contested history of Black bodies being capital to Black bodies owning themselves and their selfhood and owning the spaces that they're in and what that would look like.
From that exploration, I transitioned into newer works that I've made this year and they're a separate family, but they're connected to the UmuEze Amara. They are the Obafemi, they're Yoruba, and they are a minor aristocratic family and they, too, have a history with nobility but they are explorers. They're middle class. This was now about the question of not only wealth and owning one's wealth but owning the right to travel freely. Oftentimes in history, particularly in fine art history and the visual arts, you see Black bodies traveling in the purpose of servitude. They're not traveling for themselves. It's very rare to see that kind of depiction in art and so to have a family that not only are known to travel but want to and are adventurers and explorers in their own accord was really an exciting potential series for me.
That's where this next chapter started and so now To Wander Determined is the combination of the two, bringing in the wealth of the first chapter with the need or the wanting to travel and how both of those impetuses or desires can form a narrative about a family or two families.
The skin for me, that's where my career kind of started. The skin was an access point. I started drawing in this patterned style back in 2004 and all I wanted to do—not really thinking a lot about race but it became race—was this idea of "what does skin feel like?" when you're defined by something. I came to the U.S. when I was five years old from Nigeria and had no knowledge of American history and was crash-coursed into it.
And that was really problematic when you're a kid. So growing up I always questioned that, but then as I got older and I started getting into art I was like, "I just want to mess it, see what I can do with this material," skin as a material, and not just the socioeconomic aspect, which is very real and does inform my work. I always loved the potential for narrative in this so whenever I create the skin, it's sort of like a world, this idea of the multifaceted self, the layered self, and how we are so many selves in so many different ways but I'm creating a singular picture and so how do I get at that point with this picture and reveal the lie of the singular person?
The only way I could think about it was to break up the face and to break up the surface, and to make the surface feel mercurial, feel like it could be anything at any given time.
---
In the News
"Her signature mark-making and compositions give a different dimension to the traditional genre and style of portraiture"
—Artinfo
"Fictional Portraits painted in a style verging on magic realism create a haunting impression in Odutola's NYC museum debut."
—Time Out
"At the Whitney, a Vision of Africa—Without the Colonialist Meddling."
—Vogue
"This show has the potential to influence and recharge the momentum in conversations around immigration in America."
—Elle
"Toyin Ojih Odutola asks us to imagine a world just different enough from the one we live in to be a little uncanny and tremendously revealing."
—Vice
"The attention to detail in each of Ojih Odutola's compositions hearkens back to the iconography of Renaissance portraiture."
—artnet
---