Rachel Harrison Life Hack

Oct 25, 2019–Jan 12, 2020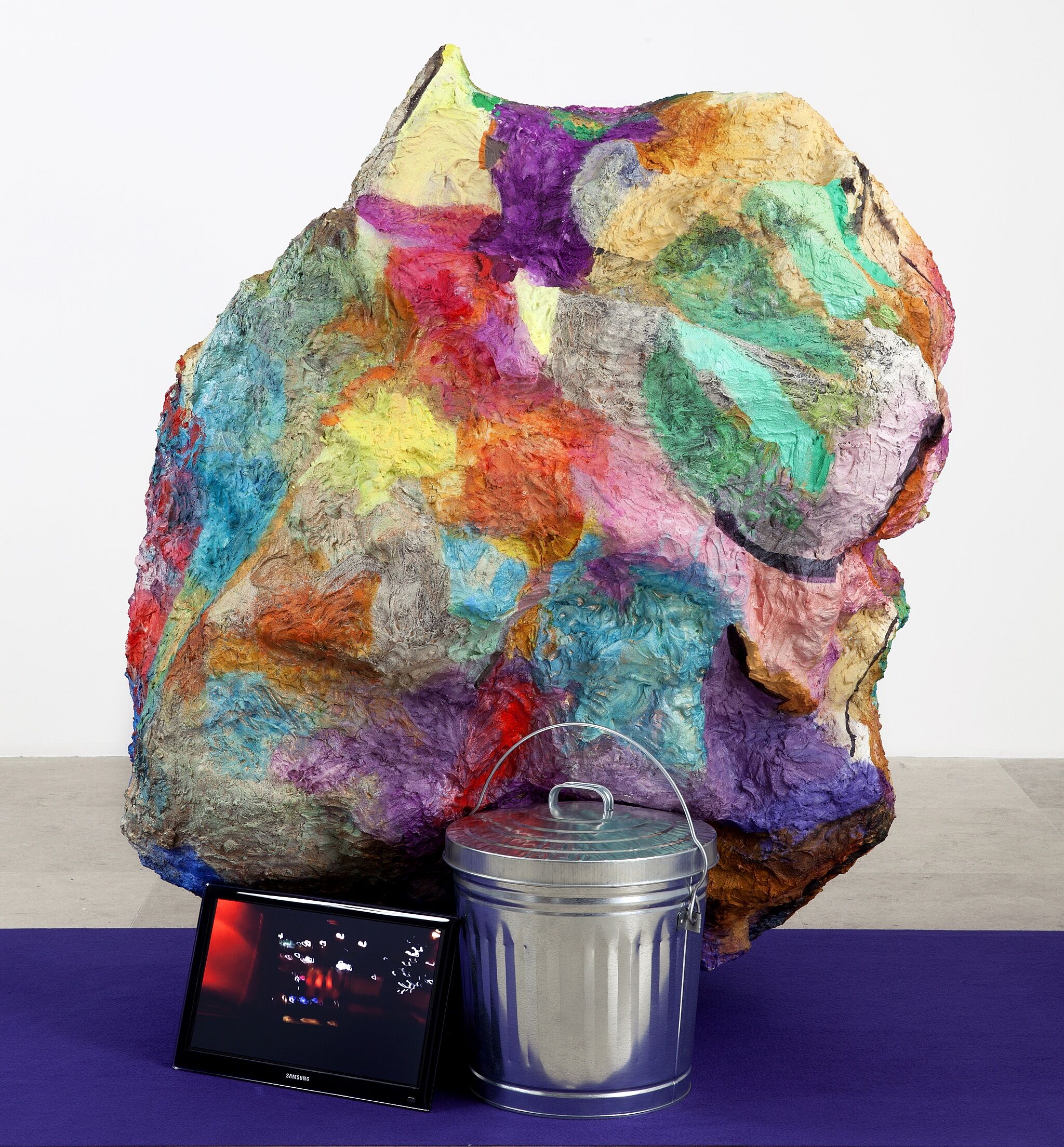 Rachel Harrison's (b. 1966) first full-scale survey will track the development of her career over the past twenty-five years, incorporating room-size installations, autonomous sculpture, photography, and drawing. Harrison's complex works—in which readymades collude with invented forms—bring together the breadth of art history, the impurities of politics, and the artifacts of pop and celebrity culture. The exhibition will include approximately one hundred works spanning the early 1990s to the present, drawn from private and public collections throughout the world.
This exhibition is organized by Elisabeth Sussman, Curator and Sondra Gilman Curator of Photography, and David Joselit, Distinguished Professor, Graduate Center, City University of New York, with Kelly Long, curatorial assistant.
Major support for Rachel Harrison Life Hack is provided by The Andy Warhol Foundation for the Visual Arts and the Whitney's National Committee.
Generous support is provided by Candy and Michael Barasch and The Morris A. Hazan Family Foundation, Sueyun and Gene Locks, and Susan and Larry Marx.
Significant support is provided by Constance R. Caplan, Fotene Demoulas and Tom Coté, Krystyna Doerfler, The Keith Haring Foundation Exhibition Fund, Ashley Leeds and Christopher Harland, Han Lo, Diane and Adam E. Max, and Chara Schreyer.
Additional support is provided by Eleanor Cayre, Suzanne and Bob Cochran, The Cowles Charitable Trust, Rebecca and Martin Eisenberg, Wilma and Howard Kaye, and Emily Rauh Pulitzer.
Generous exhibition production support is provided by Greene Naftali, New York, with additional support from Regen Projects, Los Angeles.

---
---
---
---
Audio guides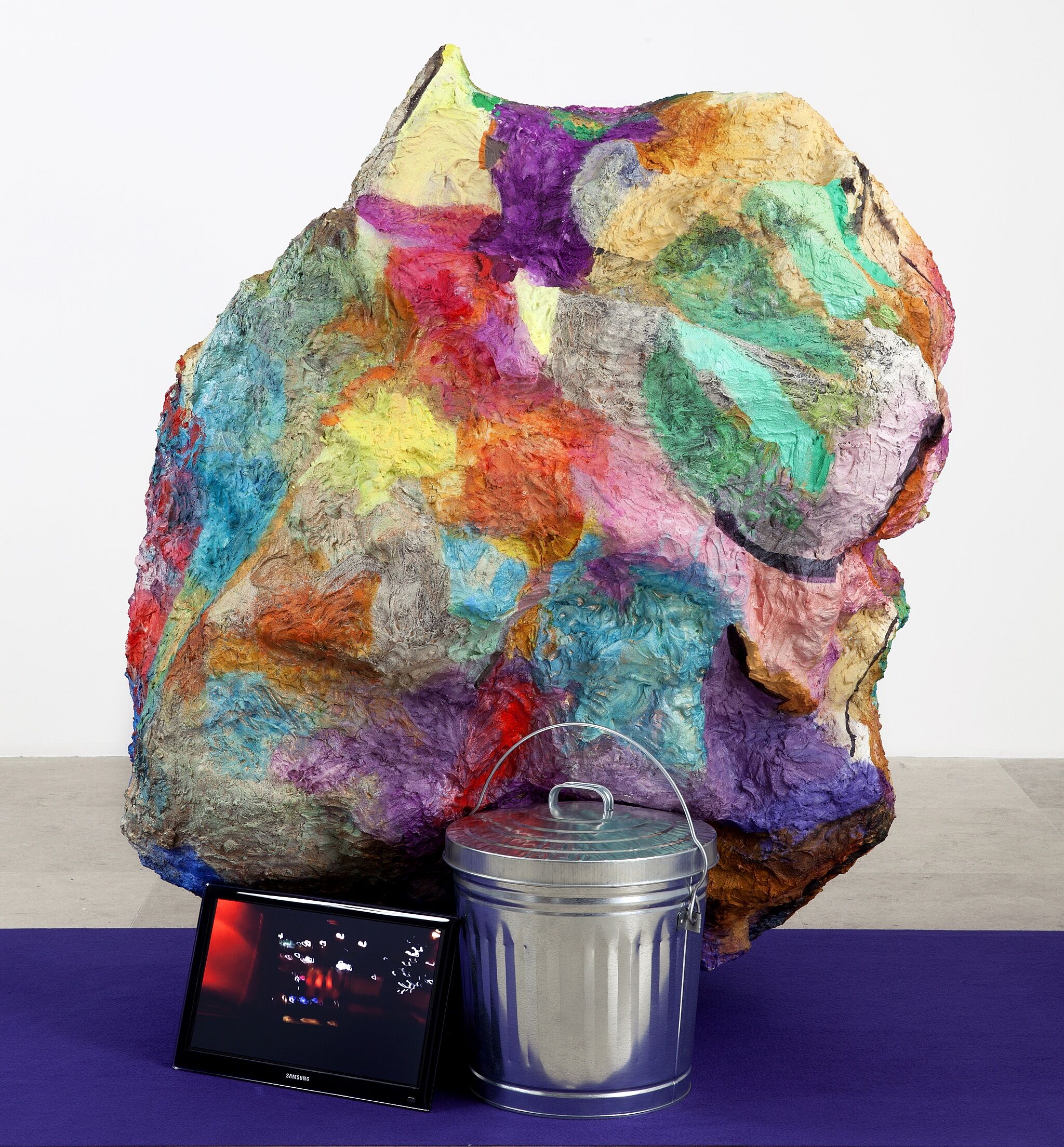 Find sound descriptions for select works in Rachel Harrison Life Hack.
View guide
---
---
This publication, the first comprehensive monograph on Harrison in nearly a decade, centers on an in-depth plate section that doubles as a chronology of her major works, series, and exhibitions. The book also includes six accompanying essays, covering Harrison's earliest works to her most recent output, and a handful of photo-collages that the artist created specifically for this project, published here for the first time.
---
In the News
"Brainy, funny, eye-catching, and compellingly strange, the sculptures and installations of the New York-based mid-career artist Rachel Harrison are some of the most influential American art works of the past quarter century." —The New Yorker
"In undoing expectations of what art should look like, of how it should tidy up the world, the work eats through definitions of art and non-art like a rat burrowing through museum insulation. There is plenty of humor here, but the laughter is dark." —The Washington Post
"While countless artists today take up the legacy of assemblage, few do it with as much panache as Rachel Harrison." —Art in America
"The artist's first museum survey and its catalogue will present twenty-five years of her sculptures, installations, drawings, and photographs, taking stock of how and why her gloriously unsettling and invigorating work works." —Artforum
"The New York artist's tipsy combos of household hardware, distressed furniture and cement-coated Styrofoam lumps add up to a kind of post-Costco Surrealism. Its character is goofy, sinister, and complex. She's major." —The New York Times
"Incorporating diverse materials—sneakers, ropes, jars—her sculptures are puzzles; her first full-career survey, featuring some 100 works, will offer lots to ponder." —ArtNews
"Rachel Harrison Life Hack is less a staid representation of her masterpieces and more an audacious, rambunctious artwork all in itself." —Interview Magazine
"Famous for humorous, electric-colored mashups that draw deeply on pop culture, Harrison creates a complex language that's singularly her own." —Cultured
"Harrison's complex works—in which readymades collude with invented forms—bring together the breadth of art history, the impurities of politics, and the artifacts of pop and celebrity culture." —ArtDependence Magazine
"Harrison encourages us all to become avid hoarders, glimpsers of random moments and strange possibilities." —Garage
"Rachel Harrison's midcareer survey at the Whitney Museum includes pieces that defy description. You feel things will come clear if you just hang out longer. And people do." —The New York Times
"As a sculptor, Harrison is playful, tough, funny, a visually promiscuous found-object maven whose aesthetic is rooted in the double-take." —Los Angeles Review of Books
---