Claes Oldenburg: Early Sculpture, Drawings, and Happenings Films

Claes Oldenburg and Coosje van Bruggen: The Music Room

May 7–Sept 6, 2009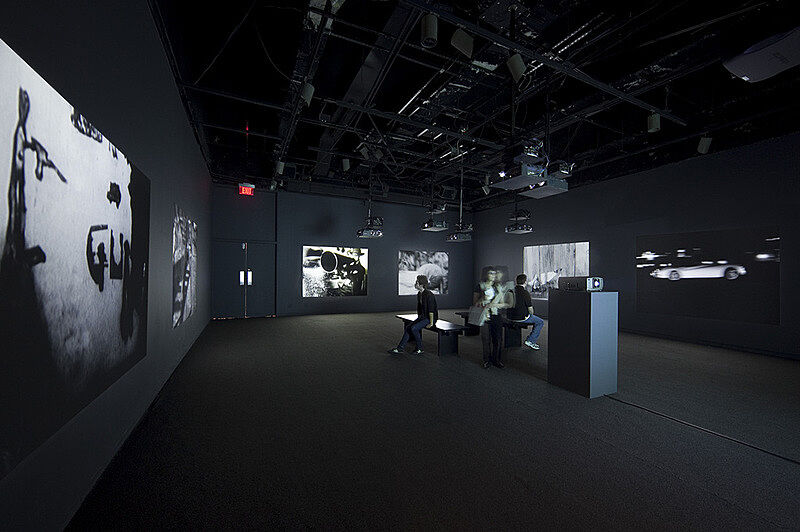 One of the most innovative artists of the postwar period, Claes Oldenburg (b. 1929) is best known for sculptures and drawings that disrupt our expectations of how ordinary objects "behave." In 1976, he began an extraordinary creative partnership with the art historian and curator Coosje van Bruggen (1942–2009) that continued for more than thirty years. The Whitney has championed their work for several decades and now possesses one of the world's largest collections. Drawn primarily from the museum's extensive holdings of drawings, sculpture, film, and archival material, this presentation illuminates the themes of metamorphosis and artistic collaboration that are at the heart of their practice.
Iconic examples of Oldenburg's early sculpture on view include Giant BLT (Bacon, Lettuce, and Tomato Sandwich) (1963), French Fries and Ketchup (1963), and Soft Toilet (1966). A highlight of the exhibition is Oldenburg's Ice Bag - Scale C (1971), which has undergone extensive conservation work in preparation for this exhibition. These and other early sculptures are complemented by several dozen works on paper by Oldenburg and by Oldenburg with van Bruggen. Also, for the first time, rare films of Oldenburg's Happenings will be shown together in the Whitney's Kaufman Astoria Studios Film & Video Gallery, projected in loops around the walls. Two of the films—Fotodeath (1961) and Autobodys (1967)—have not been seen since they were first screened in the 1960s, and have been restored especially for the exhibition.
A full room is dedicated to a series of sculptures of musical instruments by Oldenburg and van Bruggen in a presentation entitled The Music Room. As installed at the Whitney, The Music Room includes both hard and soft instruments of differing scales that range in date from 1992 to 2006. Among the objects included are variations on a viola, saxophone, clarinets, French horns, sheet music, and a metronome. A select group of related drawings hangs nearby. The theme and form of musical instruments proved ideal for exploring physical and material transformations and the resulting shifts in meaning. Metamorphosis occurs here through scale and the way soft and hard forms can playfully transform our everyday perceptions of the function or performance of musical instruments. Although these have been concerns of the artists throughout their careers, The Music Room's display brings these ideas to the fore in a particularly focused way.
The exhibition is organized by Carter E. Foster, curator of drawings; Chrissie Iles, Anne and Joel Ehrenkranz Curator; and Dana Miller, associate curator, permanent collection.
---
---
---
---
---
In the News
Profile: "Going Softly Into a Parallel Universe"
—The New York Times
Interactive Feature: "Claes, A History"
—The New York Times
"For so many in the art world Claes Oldenburg's Happenings . . . are fairly mythic occurrences, known primarily through scripts, photographs and legends."
—The New York Times
"For pure delight nothing in New York right now can quite match the Claes Oldenburg show at the Whitney."
—Daily News
"with a bit of creative staging by the curators--Carter Foster, Chrissie Iles and Dana Miller—a potpourri of a survey is made to reflect Mr. Oldenburg's multifaceted career."
—The New York Times
"the best may well be Ice Bag–Scale C: Tall, grey and silver, it's powered by six fans (hidden under its cloth skirt) and rotates, with an ominous hum, as if seeking out other, alien life forms."
—New York Post
"No one with the least interest at all in the art of the last 50 years should risk missing this."
—A Sky Filled with Shooting Stars
"a wonderful introduction to the soul and spirit of Oldenburg's early work, as well as his later collaborations with his wife."
—Design Arts Daily
Photo Journal
—New York Social Diary
---