Njideka Akunyili Crosby: Before Now After (Mama, Mummy and Mamma)

Nov 23, 2015–June 6, 2016
Over the course of the next five years, a series of public art installations by key American artists will appear across from the Whitney's new building and the southern entrance to the High Line, on the facade of 95 Horatio Street. Njideka Akunyili Crosby is the third artist to present work as part of the series, which was initiated by the Whitney in partnership with TF Cornerstone and the High Line. This is the artist's first solo presentation in an institution in New York.
Njideka Akunyili Crosby (b. 1983; Enugu, Nigeria) is a Los-Angeles based artist who makes large-scale, representational work that combines collage, drawing, painting, and printmaking. Her work routinely fuses both Nigerian and American influences and source material, reflecting on contemporary African life (often her family) along with her experience as an expatriate living in the U.S, and the inherent difficulty of navigating these two realms. The works simultaneously become intimate while more broadly exploring the cultural complications of the dual worlds that she inhabits.
Akunyili Crosby's new work for the billboard, Before Now After (Mama, Mummy and Mamma), continues her ongoing exploration of her relationship to her family, and in this case to her sister, mother, and grandmother specifically. The image is closely based on an existing painting entitled Mama, Mummy and Mamma from 2014, now expanded for this site. Like much of her work, the composition fuses both a portrait (in this case of her sister), photographs of both her mother and grandmother, and an elaborate array of objects arranged carefully on the table, suggesting a still life composition. Additionally, the work's placement at the foot of the High Line seems to implicate the viewer within Akunyili Crosby's composition—now able to peer into this carefully composed and invented world reflective of her complex personal history.
This installation is organized by associate curator Jane Panetta.
Njideka Akunyili Crosby: Before Now After (Mama, Mummy and Mamma) is part of Outside the Box programming, which is supported by a generous endowment from The Jacques and Natasha Gelman Foundation.
---
---
---
---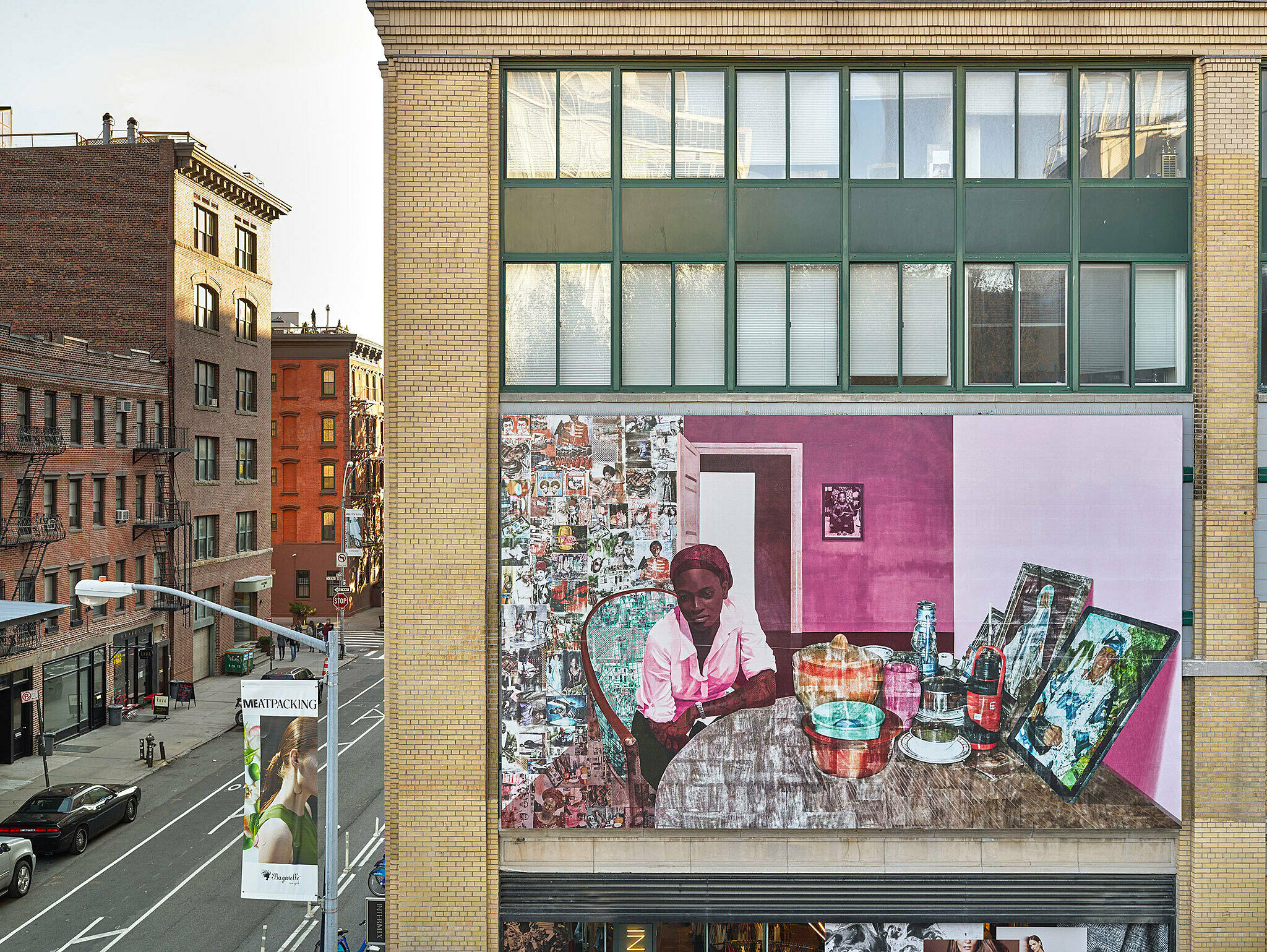 In conversation with associate curator Jane Panetta, artist Njideka Akunyili Crosby discusses the challenge and promise of adapting an intimate portrait to a public site.
---
Installation Photography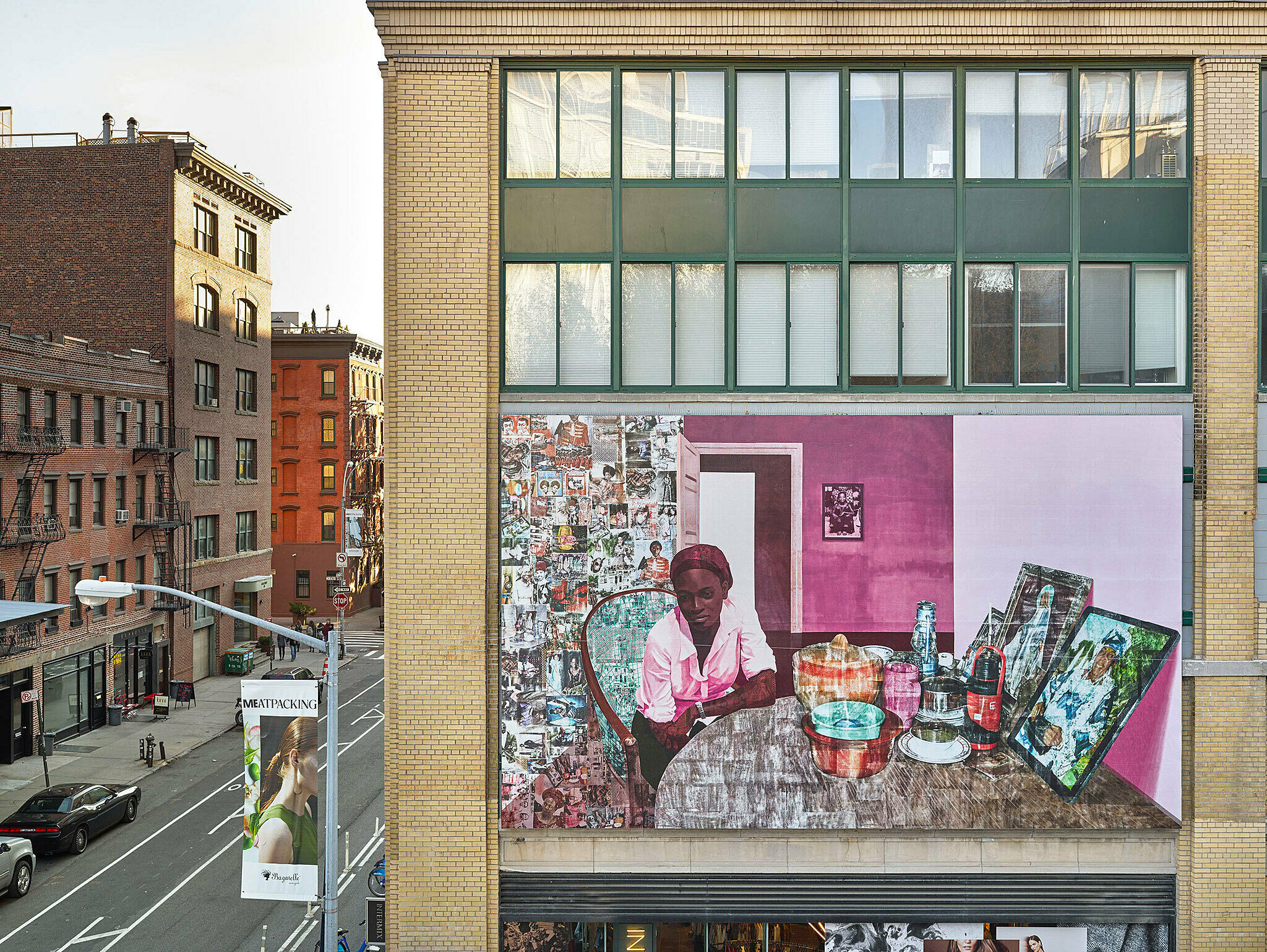 Njideka Akunyili Crosby (b. 1983), installation view of Before Now After (Mama, Mummy and Mamma), 2015. Whitney Museum of American Art, 95 Horatio Street, New York (November 23, 2015–June 6, 2016) as part of Outside The Box programming. Digital print on vinyl, 204 × 348 in. (518.2 × 883.9 cm). Collection of the artist; courtesy Victoria Miro, London. Photograph by Ron Amstutz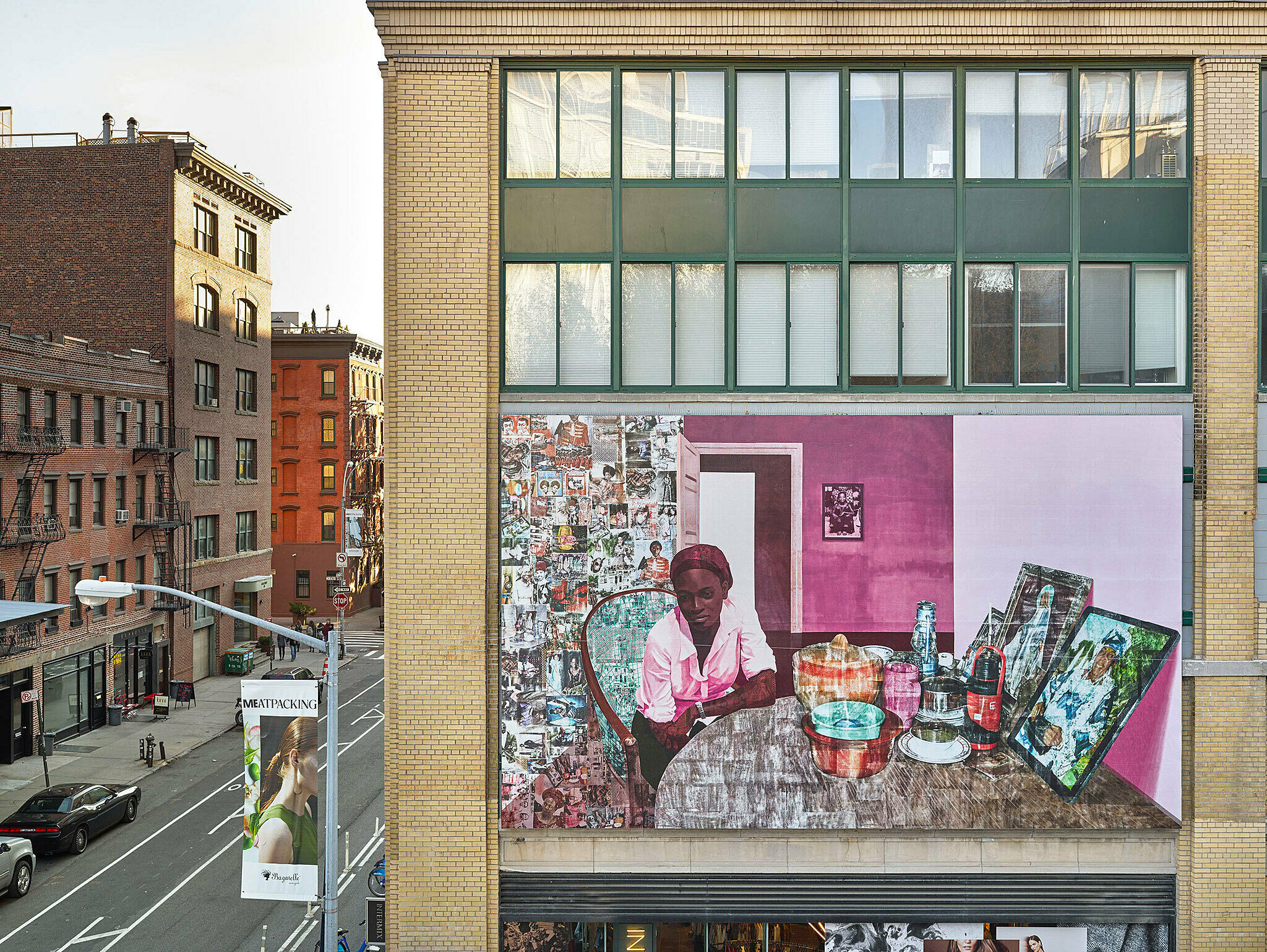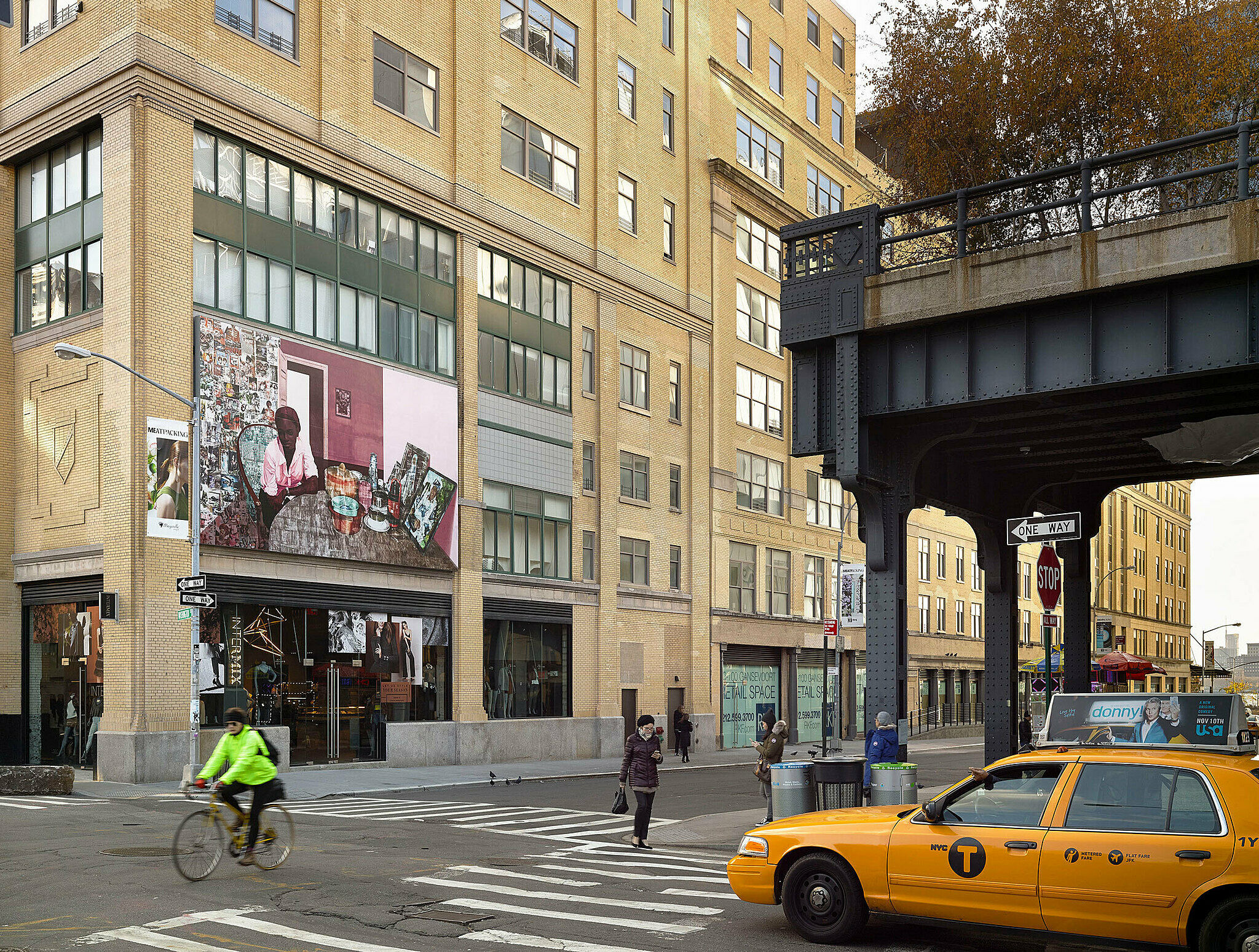 Njideka Akunyili Crosby (b. 1983), installation view of Before Now After (Mama, Mummy and Mamma), 2015. Whitney Museum of American Art, 95 Horatio Street, New York (November 23, 2015–June 6, 2016) as part of Outside The Box programming. Digital print on vinyl, 204 × 348 in. (518.2 × 883.9 cm). Collection of the artist; courtesy Victoria Miro, London. Photograph by Ron Amstutz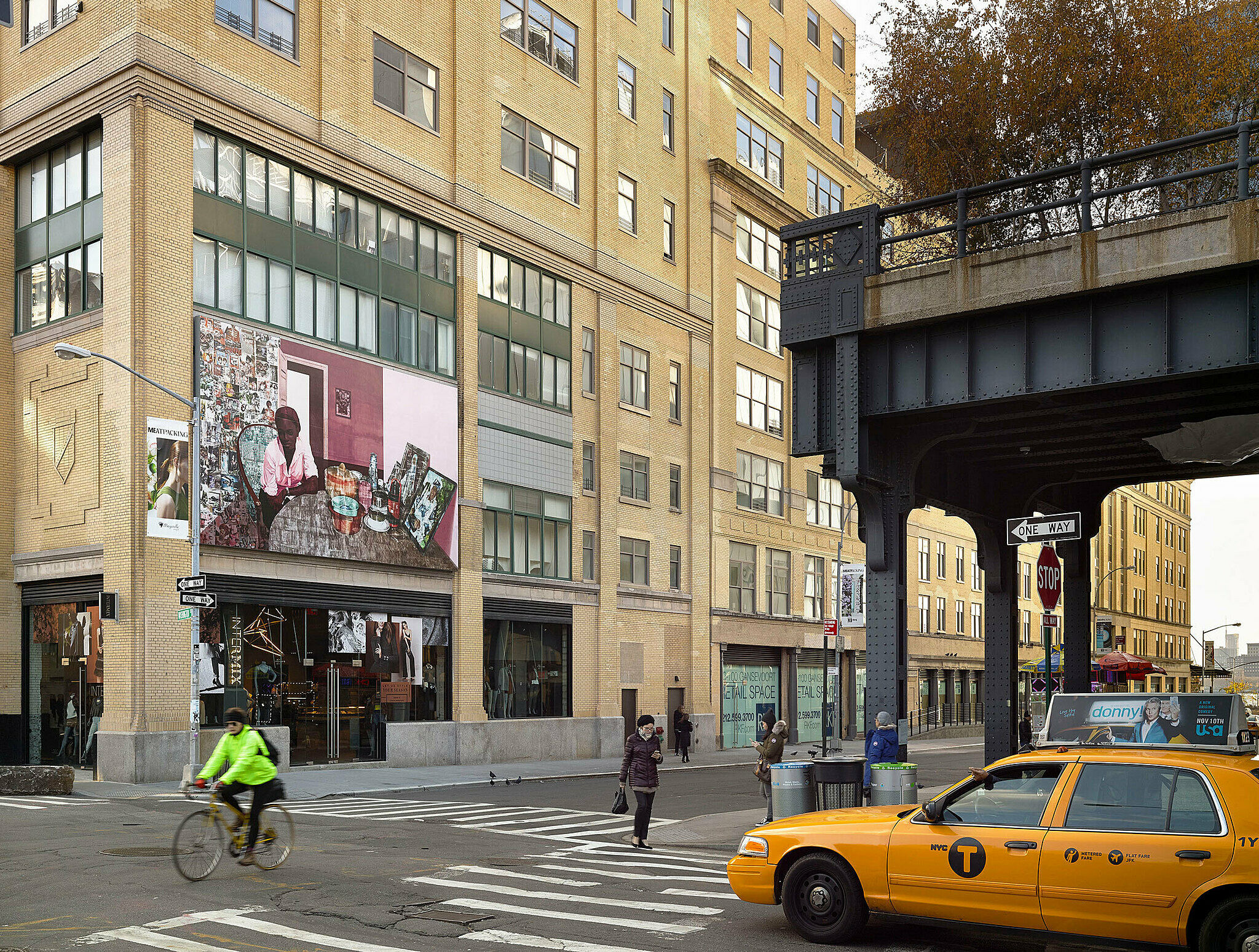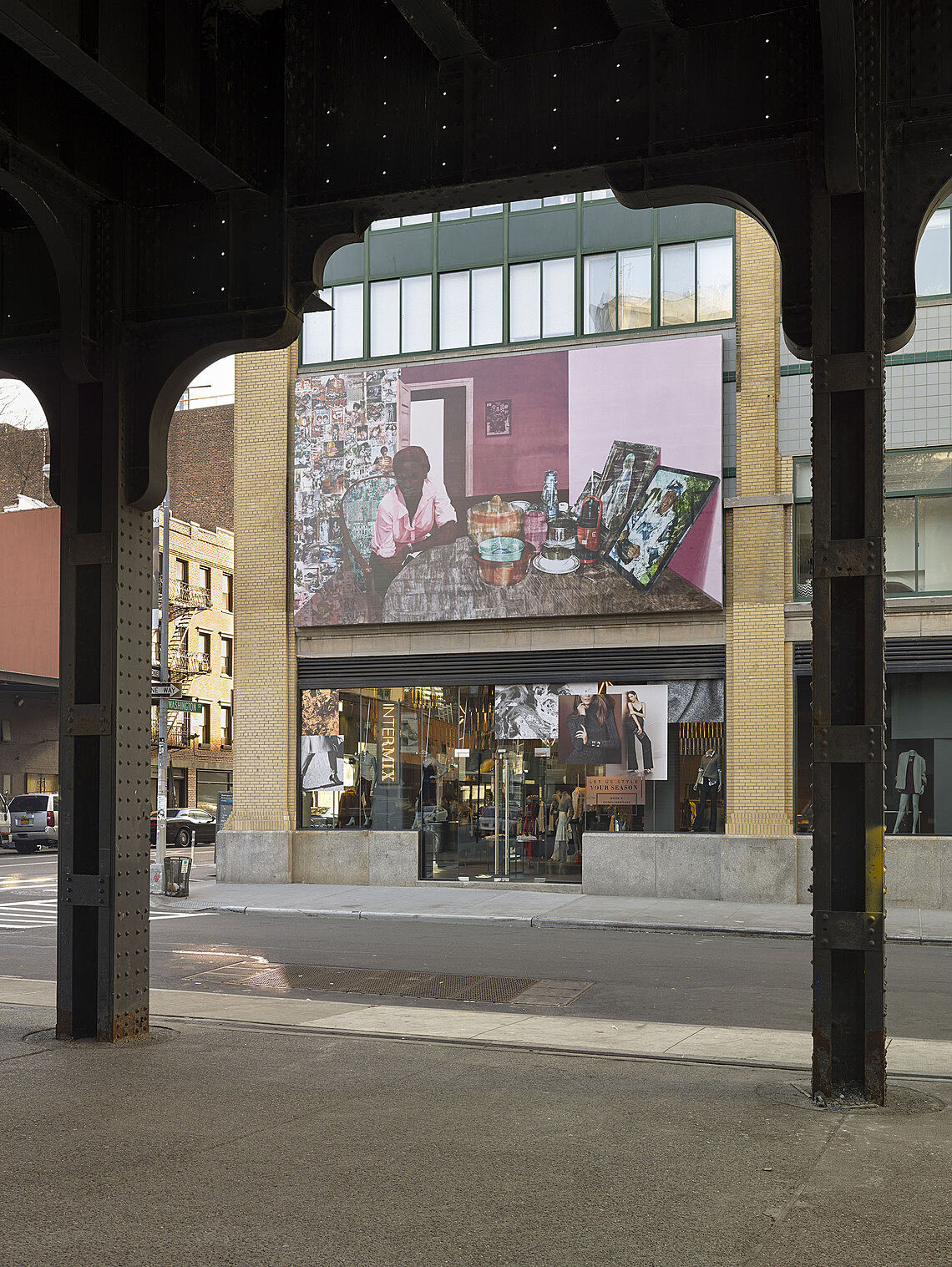 Njideka Akunyili Crosby (b. 1983), installation view of Before Now After (Mama, Mummy and Mamma), 2015. Whitney Museum of American Art, 95 Horatio Street, New York (November 23, 2015–June 6, 2016) as part of Outside The Box programming. Digital print on vinyl, 204 × 348 in. (518.2 × 883.9 cm). Collection of the artist; courtesy Victoria Miro, London. Photograph by Ron Amstutz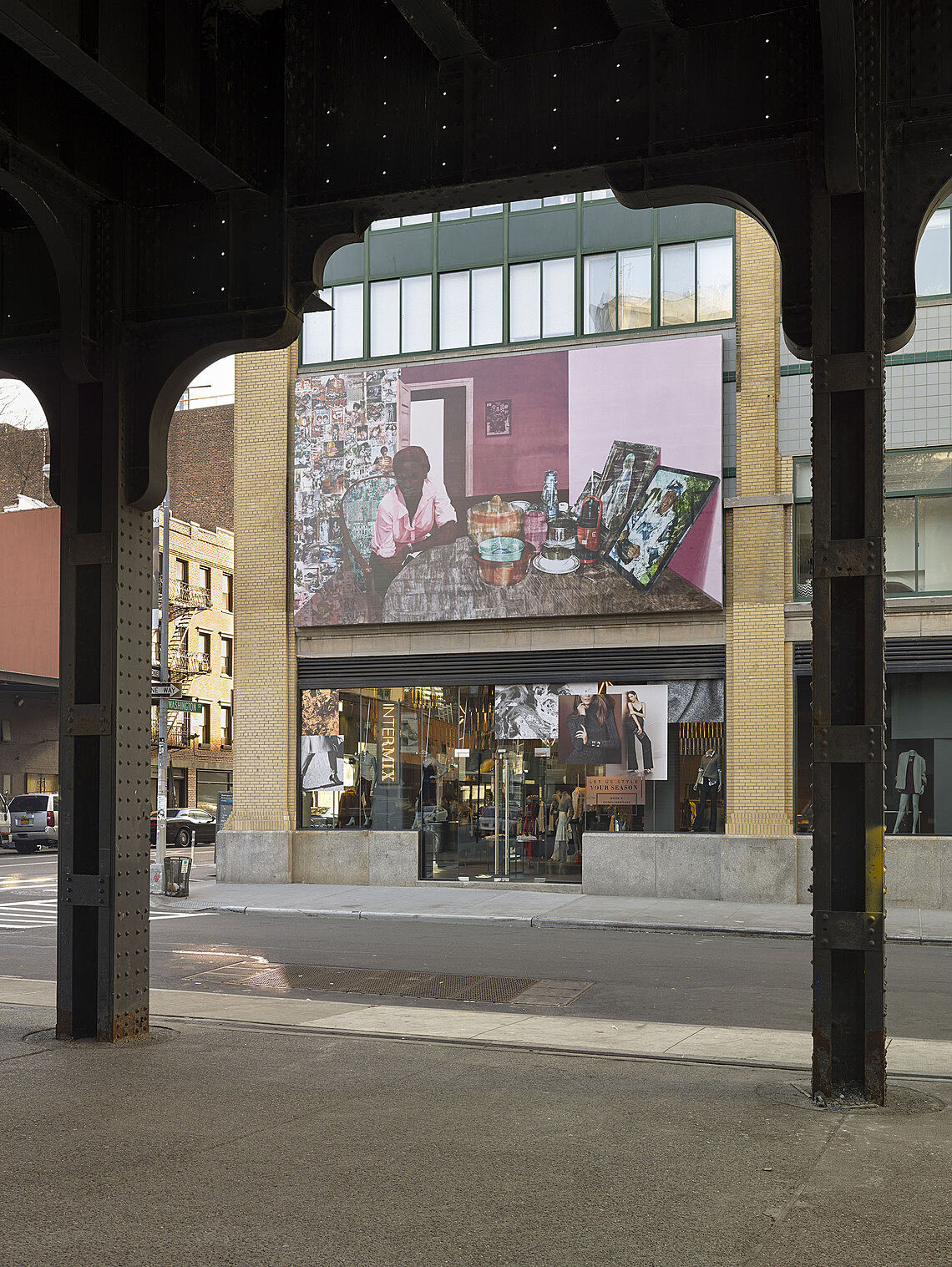 ---
---