Heat Waves in a Swamp: The Paintings of Charles Burchfield

June 24–Oct 17, 2010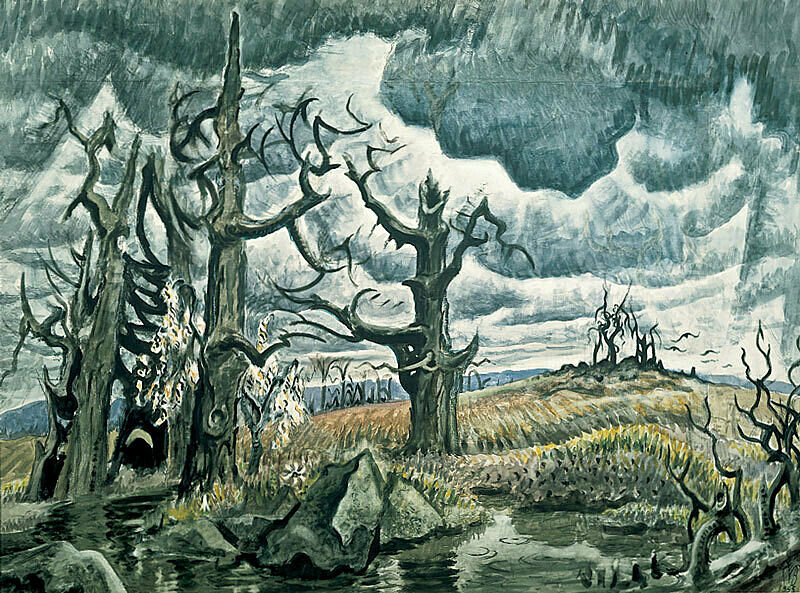 Although he lived next door to Niagara Falls, artist Charles Burchfield (1893–1967) chose to focus his nature-based art on the ground beneath his feet. Curated by artist Robert Gober, this exhibition features over one hundred major watercolors, drawings, oils on canvas, sketches, notebooks, journals, and doodles by this visionary American artist. Acclaimed by critics and known to a broad public audience during his lifetime, Burchfield is curiously under-appreciated today. Working almost exclusively in watercolor, Burchfield's primary subject was landscape, often focusing on his immediate surroundings: his garden, the views from his windows, snow turning to slush, the sounds of insects and bells and vibrating telephone lines, deep ravines, sudden atmospheric changes, the experience of entering a forest at dusk, to name but a few. He often imbued these subjects with highly expressionistic light, creating at times a clear-eyed depiction of the world and, at other times, a unique mystical and visionary experience of nature.
Heat Waves in a Swamp: The Paintings of Charles Burchfield was organized by the Hammer Museum, Los Angeles, in collaboration with the Burchfield-Penney Art Center, Buffalo, New York.
Heat Waves in a Swamp is made possible by The Joy and Jerry Monkarsh Family Foundation. Major support is provided by the LLWW Foundation and Lynda and Stewart Resnick.

It is also realized through the generosity of The Horace W. Goldsmith Foundation, George Freeman, The Straus Family Fund, Rosette Varda Delug, Booth Heritage Foundation, The Fran and Ray Stark Foundation, the Wyeth Foundation for American Art, and the Robert Lehman Foundation.

Significant support for the presentation at the Whitney is provided by Carol and Charles Balbach, Aaron I. Fleischman and Lin Lougheed, and William and Rose-Marie Shanahan.
---
---
---
---
---
Audio
September 28, 2010
Conversations on Art:
Will Work for Art

0:00

September 28, 2010
Conversations on Art:
Will Work for Art

0:00

September 15, 2010
Conversations on Art:
Robert Gober and Donna De Salvo on Heat Waves in a Swamp: The Paintings of Charles Burchfield

0:00

September 15, 2010
Conversations on Art:
Robert Gober and Donna De Salvo on Heat Waves in a Swamp: The Paintings of Charles Burchfield

0:00

Margie Weinstein: Welcome to the Whitney Museum of American Art. I'm Margie Weinstein in the Museum's Education department, and I'm pleased to welcome you to tonight's conversation with Robert Gober and Donna de Salvo on Heat Waves in a Swamp: The Paintings of Charles Burchfield. Hopefully you have all had the chance to see the exhibition, which is currently on view on the third floor. If you haven't, I strongly encourage you to come back and see it. In fact, see it again and again. It is really a remarkable show, and it's on view until October seventeenth. The introductions to the catalogue of the exhibition begin with a quote from Burchfield: "How is it possible to make people understand that artists are not interested in art?" This show, in many different ways, opens up the unique forms of inspiration that Burchfield found. The things that are not art that moved him, from nature outside his door, to sounds and feelings that reveal his artistic process. In a parallel fashion, Robert Gober's curatorial vision in the exhibition opens up the ways in which inspiration, for him, comes from a variety of sometimes unexpected sources. In that, the show encourages close looking, and seeing one artist through the eyes of another artist. Seeing Burchfield through Gober's eyes allows us to understand that small gestures, materials, or the very fact of looking beyond the usual places can themselves be what inspires or stirs us. It's my pleasure to introduce Robert Gober and Donna de Salvo. Robert Gober has been developing work for over twenty years and is one of the most important contemporary artists. A sculptor, he also extends his practice to photographs, prints, and drawings. He has also curated exhibitions, as we know, and Heat Waves in a Swamp is an extraordinary example. His work is in numerous collections around the world. His work represented the United States at the 2001 Venice Biennale, and, a little closer to home, his work has also been included in five Whitney Biennales. Donna de Salvo is the Whitney's chief curator and Associate Director for Programs, and she most recently curated the exhibition Roni Horn, aka Roni Horn. So, please welcome Robert Gober and Donna de Salvo.

Donna de Salvo: Thank you, Margie. You can all hear? Yes? Good, okay. Well thank you all for coming, and as Margie said, please do come back and see the exhibition, even if you've seen it before. I just want to take a moment to thank Margie for all her work and organizing this evening's program, and to my colleague Carrie Springer for her excellent work on organizing the exhibition for its presentation here at the Whitney. Well, it seems like we have a full evening, and somehow I think we should've been doing this when it was 104 degrees outside and we would have really felt heat waves in a swamp, so you'll have to pretend it's hot. We could crank up the heat.

Robert Gober: It's hot up here with these lights.

DDS: Oh is it? Well then, we're in the swamp and you're out in Eden. So I guess I think the thing is that we will literally begin at the beginning, and one of the things Bob and I've talked a lot about because now that we have this shared experience as fellow curators, we will be talking tonight as curator to curator although I will slip in a few questions because he's an artist. I think, why don't we talk about how this project came about?

RG: Sure. If you can't hear me, let me know. It came about in a serendipitous way. Ann Philbin, who is the Director of the Hammer Museum in Los Angeles and has been for the last ten years is a very old friend of both myself and my partner Donald, like thirty plus years, and she was over at our house for dinner, and she was having a glass of wine and looking at what we had up on our walls, (5:00) and there were two Burchfield sketches, pencil sketches up on the wall, and Annie just went off on Burchfield. Before she was at the Hammer, she was at the drawing center here in New York, and she had taken a show in 1993 called The Sacred Woods of Burchfield, and she was able to watch artists' reactions to the work and see how strong it was, but yet when she was at our house, she said "He's under recognized, underappreciated, young artists are influenced by him, and they don't even know it." And Annie, without even trying to, framed an exhibition, a reason for an exhibition. And I sat with it over the weekend, and I thought 'why don't I do some kind of project with Burchfield at the Hammer' because they do have a project space there which is a modest sized space, and they were very enthusiastic about it, and then as I began my research, it just became obvious to me that what needed to be done with Burchfield was a large, chronological exhibition that talked about the whole span of his career, and they were totally game for that. So that's how the exhibition came about.

DDS: And you had a work of Burchfield, this drawing, and when did you purchase that? When did that come about?

RG: I think the price was right. I have two drawings. I don't know if you guys remember Christie's East, which used to be on the East Side in Upper Manhattan, but you could go to the afternoon sales and find just sort of out-there bargains. I used to pay attention to the auctions, and I'm pretty sure that's where I bought both the drawings that I have. I think I paid $800 for them.

DDS: A very good find.

RG: Yep.

DDS: So, one of the first institutional exhibitions you curated was for something at the ICA Boston in 1988. It was Utopia, Post Utopia.

RG: Which was not the name of my installation, but of the exhibition overall.

DDS: The exhibition itself, right. And what was the name of your installation?

RG: Untitled. It's useful. [Laughter] And it was Elizabeth Sussman who was the curator there at the time who was putting together the show and is now a curator here at the Whitney.

DDS: Absolutely. We like to deal with continuities. So tell me a bit about how that came about and the artists who were in it; I think we have a list of the installations.

RG: We do, but first, with this. Elizabeth gave me the opportunity within this much larger, theoretical group show that they were putting together to just create something, and she had seen a show that I had curated at the Cable Gallery here in New York, which is no longer here, but was run by Clarissa Dalrymple and Nicole Klagsbrun, who a lot of you probably know from their subsequent careers, so Elizabeth gave me this opportunity. And, the space at the ICA is really, really, really not a good space. It's an old firehouse, and there must have been some dignity to it originally, but it really was divided up—I don't know when—in a very creative kind of a way. And so I decided that for my installation I would isolate and create a space, and so this is what you saw from the outside, and then inside you entered through a sculpture of mine which was a doorway, which you can kind of see on your extreme right, the door off its hinges, and then in the center of the room was a living moss bed by Meg Webster. On that far wall was a painting of Alfred Bierstadt's of Lake Tahoe that we borrowed from the Museum of Fine Arts in Boston, and on the wall behind you was an early, handwritten joke by Richard Prince, who was just starting to make them at the time, and those were the four artists, living and dead that were in that exhibition. The first institutional exhibition that I curated.

DDS: And then, going from this, I think the next large scale project that you curated, again, for another institution because you've done some projects in galleries, was this one called Meat Wagon in 2005 for the Menil collection in Houston. So can you talk about how that came about?

RG: I was invited by the then chief curator Matthew Drutt to curate a show from the Menil's collection. He also wanted me to include some of my works in with this, and at first I really didn't want to do that. I thought it didn't interest me because I deal with my work all the time. What interested me was the opportunity to get into a museum's collection and see what's there, what's been ignored, what hasn't been shown, what gets me going from that. But I said yes to it because I figured I'd be able to finagle some way to do what I wanted in the long run, but once I got into the storage of the Menil, (10:00) I saw what Matthew was seeing, that we had a lot of thematic resonances between my work and the work that the Menils collected, which was surrealism, race, an interest in the everyday object, and something else very important that I'm forgetting at the moment. But, maybe a word about Menil collection in case people don't know? In Houston, in an extraordinary building, the early building of Renzo Piano, who is now designing the new building for the Whitney Museum downtown, put together by Jean and Dominique de Menil, she was the heir to the Schlumber oil company. They developed the industry to extract oil, and her husband ran the company and they came to the United States because they were in exile from the Nazis from Paris, they were French, and when they were in New York they had a mutual French friend who was here, Father Couturier, who was a Catholic priest, and he's the one who got them interested in collecting art. He told them that it was their moral duty to collect art, and they went from New York down to Caracas for oil, and then settled in Houston in the fifties and assembled an extraordinary collection that is so broad in its breath, from probably the greatest American surrealism collection to Cycladic art, Northwest Pacific, up to Warhol and Johns. A huge collection of Black memorabilia and Medieval art, a huge collection of crucifixes, and you might not think that all of these disparate elements could be united, but there were these threads, oh! Catholicism! That's the other theme that I forgot that we shared. They were devout Catholics. But you can see these threads, thematic threads that run through all these disparate parts of the collection, and so my job at the Menil was to go there and see what was there, and I literally did. I saw every single object and form in the collection myself, and then put together an exhibition from that combined with some of my works, and what I found when I got there was that the storage at the Menil was a little bit famous in that it's upstairs, and if you know someone or you make an appointment, you can see the storage. And it's all out of crates; it's all on the wall salon style. You can see basically everything they own.

DDS: Visible storage.

RG: Yep, visible storage. But, what I found is that there's storage, and then there's storage. And the storage is what really got me going because that's what's in the basement that looks like all of our storage, which is like floor to ceiling, wrapped up, hasn't been seen in years, and I started finding great things down there that nobody knew the Menils collected, and that's what got me going really on the show. So in this slide what you're seeing is a maquette of the first room of the exhibition. Whenever I do exhibitions, also for the Burchfield up here and for my work, I always make a maquette, and maybe this is so wide, about four feet wide, and we make little scale things. I spent about six weeks total down there, but in week long segments. So I'd go down and I'd bring back images of stuff that interested me, and then we'd make small scale maquettes of them, and then I'd rearrange them within the maquette of the room, and that would be—we're talking about ways of working here, as a curator—and this is how I would communicate with them. Like okay, this is what I'm thinking, and these are your numbers, and you can see how many times over their system for cataloguing changed because the numbering system- there was at least four distinct ways of doing things. And then this was the room from that exhibition that came from that maquette. Sometimes it's incredibly close.

DDS: Did you have a specific idea going into it, or was it after seeing the material in terms of what this exhibition was going to be?

RG: No, it came from the material, bit by bit and piece by piece. And there were certain things—oh and this is a piece of mine, I wonder how I go backwards here. Oh, of course. In the center in the floor there is- that's all other artists' work except this piece in the center, that's a fireplace sculpture of mine where children's legs make up the logs of the fire and there's a rotating light behind them. The bars in front of the fireplace are bent in a classic image of escape. Over it was hung (15:00) an oxen yoke, this was one of those things I found down in storage; she collected oxen yokes, and I think I came to understand why, aside from it being a beautiful formal object, they were very, very interested in the underdog. They were just flabbergasted when they got to Houston in the fifties to see how differently the races were treated. And the oxen yokes were on the same shelf down in the basement storage where slave shackles were that she collected and bills of sales of slaves, none of which I used in the show, but I could see her connection, that this was about beasts of burden with the oxen yoke. And this is another object in the basement that started to get me—this is when I knew I started to have a show, when you started seeing these objects and seeing the connections—the poetic connections you could make between them. And this was a wax head of Abraham Lincoln that they had bought from a wax museum in Kansas City many years ago. Next to the head of Lincoln, this is a work of art from the Guerilla Action Group in 1972. Engraved as if it was going and coming from the White House, President Richard Nixon in the White House:

"During your administration the retail price of meat has skyrocketed. During your administration the technology of slaughtering and roasting has been sophisticated. During your administration, would you believe no humans were killed in Vietnam? It is unfortunate the meat is rotting in the fields. Technology must overcome to fulfill the American dream. Eat what you kill."

And this is by John Hendrix and Jean Toche, and the combination of Nixon and the Vietnam War, the uselessness of the Iraq War, Abraham Lincoln, it all started to coalesce into a poetic kind of resonance, and that's back to the room. On one of the other walls, there was a beautiful suite of Delacroix drawings that had maybe resonance with my work, which I didn't think of at the time, but I see now, of disembodied limbs. To me, it was their French-ness that I wanted to communicate with the Delacroix drawings, and they have a huge collection of Black memorabilia. A lot of it, by its nature, is racist, but a lot of it is not; a lot of it is a celebration, and I chose to choose works that emphasized the celebration aspects. This is a potholder from c. 1850 that says "Any holder but a slave holder" and has two African Americans dancing, and it's a well-used potholder, and I just thought it was an extraordinary object. Here's another wall. On the left, there's an Eggleston photo of trash; they had a huge collection of photography, and had a deep connection with Eggleston, and I believe owned every Eggleston photograph that he ever took, at least up until the time that Dominique died. On the center of the wall is a group of drawings by Charles Howard. Now Charles Howard was an artist I didn't know and know a lot more about now, and they had this incredible suite of drawings, like this drawing here. It depicts something that all of us know, a dripping nose, but I don't think I have ever in Art History seen this image, of a dripping nose. These drawings, they were made—here's a woman sitting on or giving forth a smokestack, sitting on a stool—and these drawings were made by Charles Howard but they were given to a curator named Charles MacAgy and Charles MacAgy came down with tuberculosis back when they didn't feel that they knew how to cure it. So he was going to a sanitarium to basically, they thought, to die. And they were good friends, so every day that MacAgy was in the sanitarium, Charles Howard would make a drawing, fold it into thirds, and when you see the drawings you can see the lines, put it in a business envelope and send it to him, so each day MacAgy got a drawing, and the whole thing was called "Letters to an Absent Friend", and he ended up surviving- they developed streptomycin while he was there, and then the letters, when he died, were left to Jermayne MacAgy, who Donna is very familiar with and was kind of the Menil's first curator, and she left her art collection basically to the Menil when she died.

DDS: She was a great influence to Dominique de Menil, and actually really her inspiration I would say for I would say almost for the sort of fantastic way she approached curating: not with an empirical flair, but a more poetic flair, and I think that characterizes, if you've ever been the Menil collection, the sort of poetry. (20:00) It's not as driven by the notion of "-isms" and linearity, but much more about connections that occur somewhat self-consciously I would say.

RG: Here's an image, what I see as a man and a woman taking a bath. And this I think, you tell me, is a picture from inside your head watching your hand feeding something that's about to go into your mouth. I think that's so conceptually incredible, and these drawings had never been seen. No one had ever seen them, and nobody knew them. As a curator, that was an exciting thing to bring forward. And they had a huge collection of Magritte. Every year they would buy one Magritte painting at a dealer in New York, Iolas?

DDS: Yeah, Alexander Iolas.

RG: He would save the best Magritte, and this one is called The Survivor and it's a rifle leaning against a wall that's bleeding. And underneath it a sculpture of mine of a gin bottle, and the connection was that I always feel in America that alcohol goes a long way towards gun violence, so I was kind of putting the two together in a hopefully non-obvious way. And in another room was a pistoletto from the Sixties of a Vietnam peace demonstration that you would see yourself within, and on the floor next to it was this little, tiny Rothko chapel model box, it was about this big, because the Rothko chapel was so famous; I don't really like it, but, you know, it's quite an accomplishment, and it's on the campus of the museum over at the other end. It was there before the museum

DDS: Do you not like the architecture of it?

RG: It's a combination really, and I don't think the lighting is very good on those paintings. It's really—I feel like it sets up, you're supposed to have this experience that's so deep, and I'm never up to it when I go in. So I don't know if it's the "it" or it's me, but I wanted in some way to make a nod to the Rothko chapel within the show, and there were many, many models of it through the years as it developed. It was a Philip Johnson building, but didn't he end up taking his name off of it because of Rothko's participation in the end? Or that's their house.

DDS: That's the house.

RG: The house. Okay.

DDS: They tried to deal with the lighting over time because of this inverted structure, and I think it's been very difficult because of the strength of the light in Houston too.

RG: Yep. And so we showed this crummy little box which was empty which is now, ironically, entered into the official collection of the Menil because it's been exhibited. There were two vitrines in the show that talked about Father Couturier, who I mentioned earlier who inspired them to collect art, you can't quite see it, but there's a life magazine here- Father Couturier's mission in life was trying to reconnect the Catholic Church with great, living artists. His largest accomplishment was Matisse's chapel in Vence, and that's kind of the documentation that's in this vitrine, and here's a stack of Xeroxes, but they originally had all of the original letters, which were letters and drawings from Matisse to Father Couturier about his plans for the chapel. They ended up donating them to Couturier's archive which is at Yale and keeping Xerox copies of them. I'm skipping a lot that was in the show because we're going to get on to Burchfield, but the last thing you saw in the show was this wristwatch, and it was Jean de Menil who collected it. It's Muhammad Ali, and kept it wound and ticking for the length of the show.

DDS: I mean when, during the process of this, I mean, maybe it's a complicated or dumb question, I don't know, were you thinking of yourself as curator, as artist, or did ever cross your mind? Were you just selecting objects? I mean, how did you see yourself during the process?

RG: I felt a big obligation to the de Menils because I was trying to represent their sensibility in all its various facets. In fact I went to one day—I sought out their graves in a cemetery in Houston. And I went and introduced myself and told them about the project I was doing and asked for their blessing to do it. I felt a great responsibility to them to do it, so in that way I did feel a curatorial responsibility, but I was operating very intuitively in the mixing of my work and their works. It's very different from the Burchfield show because I saw the Menil show where I see it in retrospect more as poetry, and the Burchfield show more as prose and telling a story.

DDS: I mean, I think that idea of sort of where being an artist begins, where being a curator ends, it becomes very blurry. I think in that post sixties moment in particular, late Sixties when the Menil Collection, or Mrs. de Menil invited Andy Warhol to do an installation of (25:00) which was called Raid the Icebox, shown in Houston and at the Rhode Island School of Design where Warhol actually came and took things from the storage and installed them as if they were still in storage. So that period when artists were really beginning to question how an exhibition and the juxtaposition of objects creates another level of meaning that goes beyond the individual object itself, and so I think that's where, you know, our overlaps come in, and I agree with you. I think it's an enormous responsibility when you're curating. Whether it's a group show- but particularly when you are curating a monographic show. So let's actually.

RG: One more comment about that. It was actually Jean de Menil who had the idea for Warhol to do Raid the Icebox. Jean de Menil—because he died in '72 and the museum wasn't open yet, and Dominique lived so long and was so beautiful and charismatic, people tend, and she was alive for quite a while after the museum opened, they tend to think that it was her and not him or both of them, but he really had an extraordinary eye, and he had a clairvoyance about contemporary art that I certainly don't have. It takes me a long time to sort out things that are being made today, but he for instance, in the mid-sixties when Warhol was starting to make his experimental films, he had the idea way before the Rothko chapel to make a chapel in San Antonio, and all the art that he wanted in it were Warhol's films. He wanted Warhol to create films, and that's where Warhol came up with the idea for the sunset and sun rising, real time films of the sun. The chapel didn't happen; the work kind of happened.

DDS: The film happened. The film indeed happened. So let's go on to Charles Burchfield, and I think for all of you that have seen the show, it is organized chronologically, which, you know, that was a decision obviously that you took to begin, the beginning so to speak. This group of works, The Convention for Abstract Thoughts, which I must say were not works I was familiar with, and my understanding is that these are still in the Burchfield Penny collection.

RG: They are. They thought they knew all of—luckily none of the works ever sold and so they're all able to be luckily for us brought together. And Burchfield Penny thought they knew all of them until in 2006 the Burchfield family gifted to the Burchfield Center 25,000 things, and what they found amongst these things was a whole booklet, which you can see in the vitrine; it was this cardboard catalogue that Burchfield made to archive and store his work, and they found a whole cache of these drawings that they didn't know existed from the series, and this is the first time that they've all been brought back together.

DDS: We have a couple close ups.

RG: Yes we do. This is called Dangerous Brooding, and there what he was trying to do—you want to take a shot at this?

DDS: [laughter] Well I think this idea of translating mood into pictorial form and his attempt to catalogue in a sense his own emotional responses to things seems to be what he was aiming at. Maybe to pin down his own elusive moods and find form for them.

RG: And they're all semi-abstract, semi-realist.

DDS: This is my favorite.

RG: Imbicility. They tended to have sort of dark, brooding titles. And these drawings he kept secret; he did them for himself, he was trying to make these emblems of emotion that in the next not quite ten years he used a lot, which you'll see in the upcoming images, and then came roaring back in like the last twenty years of his life these shapes, but he kept them secret from everyone in his life until about 1955. Burchfield's first retrospective was here at the Whitney in '55, '56, and that's the first time he showed them to anyone.

DDS: As a retrospective.

RG: He showed them to John Mauer, and they showed I think just one of them in that show.

DDS: But these were also some of the works that MoMA then showed, that Alfred Barr then showed.

RG: Not these. The subsequent work in this room. The next room in the show is to the best of our ability a recreation of MoMA's first one person exhibition. MoMA opened in 1929, and about six months later, Alfred Barr, the founding director-curator, presented their first one person exhibition. It was 1930, but the show was Burchfield's drawings from 1916–1918. And in the vitrine we have, so the drawings we were just looking at are that period, but we decided to keep them as a group (30:00) because they were not in the MoMA show and I was just trying to stay as faithful as possible to what that MoMA show was.

DDS: It's so curious though that—obviously Barr didn't see them—because the relationship to abstraction at that time was going on. I mean, 1913 was the Armory Exhibition and sort of the introduction of certain European artists into the U.S. and Burchfield was never part of any group in a way, and he's really struck me as to what it was that Barr was attracted to in this work. It almost seems to be antithetical to the modernist cannon, but of course Barr was much more open than history has recorded him to be.

RG: I know, and interestingly, MoMA doesn't acknowledge this as their first one person show, and why I say that is because when they reopened in 2004, they published a very thick book called Art in our Time which is their version of their history, and within there are two pages that are titled "Our First One Person Exhibition," and they want it to be known as history that it was Matisse in 1932 and not Burchfield in 1930 because their roots are in European Modernism, and they want very much for it to be seen that way, not with the roots of this quirky American.

DDS: One of their earliest purchases was also House by a Railroad by Edward Hopper.

RG: Yeah, so I feel that it's kind of unfair to Alfred Barr's history.

DDS: I agree. I think Barr was actually quite a—he thought outside the box, and that was his brilliance in many ways was his openness to art in general.

RG: So we tried to recreate it. In the vitrine you have the catalogue, above that a letter from Burchfield to Barr from MoMA's archives, they're very helpful, that basically says "I heard the show looked great, sorry I didn't get to see it," and then a scrapbook that his wife- his wife was his partner in everything, and she was the ultimate archivist, and she kept scrapbooks throughout his life. The scrapbook is open to the reviews of the 1930 show at MoMA, and we were able to locate almost three quarters of the works, I think there were twenty seven, but we could only borrow maybe half of those works and so for the other works we found very close substitutions, like the second from the left Coalmine and Violets, Large Dark Hole, a very close—Cleveland has the one that was in the original show, but we couldn't borrow it, but Albright-Knox had a variation because he (Burchfield) was incredibly prolific and would title things in a very pedestrian way, so you'd have Coalmine with Violets or Coalmine in the Morning, and it'd be the same year, same size, so we could make close substitutions.

DDS: So I mean when Burchfield was making these works, they're really based on direct observation of nature. I mean that was very profound, and there's a quote from him from 1915 where he says "I've never learned to talk and have only listened to trees. So this kind of immersion in nature almost in the kind of spirit of plein air painting of the Impressionists or the American Impressionists later on.

RG: Yeah, but I would overlay even a pantheistic quality on that, like nature was his God. He was a deliberate agnostic when he was young, but he would often say "Nature is my God." By himself in nature, he felt at his best. And that's one of the images from the exhibition called The Insect Chorus, he was very interested in representing sounds through visual means, and you can also see the remains of some of those symbols he developed playing out in images.

DDS: And the conventions for abstract thought.

RG: I believe that's called East Wind, and it's the view from his childhood.

DDS: Night Wind.

RG: Night Wind. He-—a little biography was born in Ashtabula Harbor, Ohio in 1897—no 1893.

DDS: Someone just said that in the audience, very good.

RG: Yes, thank you. In 1893, one of six kids. When he was five, his father died supposedly, and the mother had to bring the family back to Salem, Ohio, which was her home town, because she didn't know how she would support all these kids, and the idea was that she would separate them to different family members, but he had two bachelor uncles, and I am technically a bachelor uncle, although I have lived with Don for twenty seven years, but we can't get married so I am a bachelor, and so a shout out to bachelor uncles in the audience. The bachelor uncles pooled their money and they bought the family a house and let them live there rent free. And he lived in that house in Salem, OH until he was about twenty five years old, and the house is preserved as an artist's house museum. It's about an hour and a half southeast of Columbus, and if you ever have a chance it's a wonderful, pretty terrific place. And the next room, moving forward chronologically, when Burchfield was about to start a family, he knew he needed a serious job, and an art teacher- he went to the- he got was class valedictorian and got a scholarship to the Cleveland Institute of Art, not knowing if he was going to be an illustrator or a nature writer, he knew it would be nature either way, but the idea of being a fine artist I don't think occurred to him; it wasn't such a path then. He had worked as an illustrator and a teacher there when he graduated recommended that he apply for a job to the H.M. Birch Wallpaper factory in Buffalo, and he did, and he got the job and he worked designing wallpaper from '21 to '29, and we've recreated one of the wallpapers from '22 on the wall called Sunflowers, and on the wallpaper up in the galleries we've hung watercolors that he made during those years. It was his least prolific time because he had a fulltime job and five kids. Five kids in six years.

DDS: How curious because it was honest work, as you said, making the wallpaper, but it wasn't his first choice to do, and I'm just curious- as an artist you're now hanging what you would feel like- or I wonder what Burchfield would feel think of it because he never showed his wallpaper as "art", unlike you who've actually made wallpaper as works of art, so it's a bit of a sort of interesting thing to put the two together, almost to resurrect in way, to elevate his artwork to another form. Did you see it as that?

RG: Um, yes and no. In exasperation he one time called it "hack work," but I also know that he really, he valued honest work and I know he took great pride from reading his journals in the wallpaper that he made. He was an excellent designer; he was very bad at managing people, and it took a toll. It gave him anxiety attacks and bleeding ulcers, and in August of 1929, he decided to, with his wife's support and permission to, leave a secure job and take a chance at making a living as an artist, and he did. There was a dealer who was interested in New York—he had been showing in New York—but there was a different dealer, Frank Wren, who was interested in showing his work. He showed other American realists: he showed Edward Hopper, Reginald Marsh, and I'm forgetting at the moment who else, but he showed his work for the next two and a half decades, and he survived supporting a family of five through the Depression with his own work. In the vitrines we have the early rollers that the original wallpaper was made from, another scrapbook that his wife, Bertha, kept of all the wallpapers that he made at the factory, some photos of them in the studio. And in the other vitrine on the left, Christmas cards. He made Christmas cards, and it was a company whose name I'm forgetting, I think we have the—I didn't see them, but you said they were in the gift shop?

DDS: I sent them out as my Christmas cards, yes.

RG: It was a company that during the Depression had this idea to make money for artists they would hire them to make Christmas cards, and artists as diverse as Stuart Davis, Diego Rivera, and Burchfield made Christmas cards, and on the right is a story about the Sunwise Turn Bookshop, which is a very influential place in New York, it's been kind of forgotten about and was very influential for Burchfield. His scholarship after college took him to New York to study at the Academy of Design?

DDS: I thought it was the Art Students' League. National Academy of Design, that's what it was.

RG: And he lasted one afternoon. But he stayed two months in New York and had brought some water colors with him, and befriended these two women who opened this bookstore that was really more like a salon. They showed and sold avant-garde books in their day, and on the wall they had paintings of the moment that were happening in New York, and they both liked each other and took an interest, and they took an interest in promoting his work. And back then it was a very small pool of people that were interested in Modern art in New York, and one of these women- they were both wealthy, very well socially connected women, their unpaid intern was Peggy Guggenheim, who would wrap and deliver books in her furs and jewels, and one of them wrote a book called A Human Comedy of Bookselling: The Sunrise Turn Bookstore, but one of them was best friends with Lilly Bliss, who was one of the founders of MoMA, so we believe that this is how the MoMA connection with Alfred Barr happened. (40:00) Speed it up.

DDS: You're all right on time? No one has dinner reservations, we're okay?

RG: In the next room, there's a reading room and doodles. He doodled from the time that he was a teenager probably until the moment he died; he had a pencil in his hand and was doodling. Each of these boards probably had eight to ten doodles, and you can see through the paper. If you lift them up, each one is doodled on both sides of the paper, and if you took out of the frame the board, him and his wife mounted them all on these boards to preserve them, so naturally we wanted them all saved, if you turned it around, you would see the same thing on the other side. Ten double-sided doodles, and this is the tip of the iceberg of the doodles that he saved.

DDS: But he never showed any of these.

RG: No, not that I know of.

DDS: So they're totally a private language essentially.

RG: Yeah, but he saved them.

DDS: So that's the interesting thing I find, that he actually archived what he was doing and so on some level he was creating his own history for someone to discover.

RG: Yeah, very much, and sometimes- they're not dated so sometimes they seem to presage works that will come, and sometimes they look backwards, and sometimes they're just unmoored from works of art that I could identify, and sometimes there are lists of numbers, which are him and his wife playing Gin Rummy, and he would doodle while they did that, and other times he would add up how much money he was going to make from sales of paintings so the doodles would be comprised of dollar signs and…

DDS: Well this to me is something that is symbolic in a sense of where we come up against how an artist chooses things and what a curator might choose. And we've talked a lot about this because to a large extent your exhibition is elegantly and beautifully curated with an extraordinary sense of connoisseurship and there are these few moments, for me, when it becomes more apparent of what you as an artist might have more freedom to do than I as a curator, in your selection of the book jacket for the cover, but particularly for the back of the jacket where it is a review or an article about the Burchfield Center paying tribute to him, to Burchfield as an artist and a man, and then this other article that while he's there his home has been robbed, which is rather, it's perverse. Can you talk about why you selected that?

RG: Sure, yeah. The front cover, more simply, is a camouflage design. He was in the service briefly, didn't go to battle; he designed camouflage in South Carolina, and this is one of the two extant camouflage drawings, and I wanted to use it because I wanted something very fresh for Burchfield, rather than an image you might know on the cover, but I could also see the connection with the colors and the shapes to the work, especially to the early work and the late work, and I wanted something that got your curiosity for the cover. The back cover, this came to me as a surprise gift in the mail. I had ordered a catalogue on Ebay from someone in the Buffalo area and this was tucked in the catalogue, and it was a full page from the Buffalo evening news. Burchfield died in '67 and he died of a heart attack unexpectedly, although he had a lot of ailments, and a month before he died, he reluctantly allowed the university, the State University of New York at Buffalo, to open a Burchfield center on campus because they were extraordinarily proud that they had this famous artist that was living in Buffalo, and they wanted to make a Burchfield center. And he didn't want it, but then he reluctantly agreed, and the night that it opened, above the fold what you don't see is Burchfield in his tuxedo and Bertha in her gown, and it was a big deal in Buffalo that this opened, but then in the middle of it is this article that his home was robbed during the time that he was at the opening, and it came outlined like that to me in the mail. Now Burchfield in his journals wrote really eloquently about his fame. In the 1930s, which I think we get to next, Burchfield was famous. In the vitrines upstairs you'll see profiles in Life and Time Magazine where he was called one of America's best painters, and he described his fame as a prison; he felt really trapper by it, and so I thought that- and he rued that he had to exhibit his work in order to keep it going. That you had to exhibit it, in order to sell it, so that you can be alone and make your work. He would say, "Why can't I just make my work? Why do I have to exhibit it?" But you know why you have to exhibit it your work (45:00), in order to make a living off it to do more work. So I thought that- and you lose something when you exhibit your work in public. There's something that gets taken away from you as an artist. He talked about it, I intuitively understood what he meant, and so I thought that this article was a kind of literal representation of that; that on the night that they're doing the largest celebration of Charles Burchfield, somebody is robbing something from him.

DDS: We'll get a little later also to talking about Burchfield the man, and the way one can read him through his work. This of course is the group of work of his more "realist" period.

RG: This is what he became very well known for in the 1930s. This is an oil on canvas that the Whitney owns, and he only painted twenty-seven oils on canvas, but he painted untold thousands and thousands of watercolors. He went through a period where he felt that he couldn't take himself seriously, he couldn't be a great artist if it wasn't oil on canvas, and that people wouldn't take him seriously if it was oil on canvas, but it really wasn't his gift.

DDS: I found a quote where he said "I'm going to turn out some good oils or die in the attempt." Luckily he didn't die, but um…

RG: This is a watercolor from the mid-1930s called Black Iron, and this I think is so extraordinary for the draftsmanship. He never worked from photographs; he worked plein air and I just think that the complication of the draftsmanship in the drawing is absolutely extraordinary. This you wanted to include.

DDS: Well yes, it's also in the Whitney's collection. I was quite interested in this period of time where in a sense he's seen as the American scene painter. He has a position; he has a category, but it's not one that he's really comfortable with ultimately.

RG: He grew to hate it. Called it libel whenever someone called him a scene painter. But the term was American scene painting and then it morphed into Regionalism, which is a term we'd use now, which is basically a somewhat negative, pejorative term. He felt like he was capable of so much more, yet here he was with this really big family and being celebrated for his work, so how do you change an experiment when you're in a lucky position like that? And in the mid-1940s, he had a crisis. He really felt he was capable of so much more, and with the advent of Pearl Harbor and our entry into World War II, the art market completely stopped, and it gave him—he had this artistic crisis but the drying up of the art market gave him a chance to experiment and reinvent himself, and how he did this, we'll come back to these, what he was looking for, I believe, is that feeling of inspiration because when you're inspired, you know it. And he was looking for that feeling that he had when he was a young artist, and he came up with this very flat footed way of going about it, which worked. He went back to the drawings from 1917 when he'd felt inspired, and he literally took them and pasted them onto bigger boards, and then expanded them. So what you're seeing on your left is a work that was found in his studio upon his death. And the work on the right is the drawing from 1917, and what he did was take that drawing and paste it on the board, and you might not see it here, but you can see it in the show how was expanding the composition, the factory, the smokestacks, he was going to make a much bigger and more fanciful work with it, but it was found in one piece when he died, and we think what happened here is that his dealer said "Well what am I going to do with this?" And so they cut out the 1917 drawing and sold it, and so I was looking for some way- searching for some way to present visually this technique that Burchfield came up with to get out of his crisis, which is to literally take works from the mid-teens, paste them onto larger boards, and make new compositions. The Burchfield Center had these three cut off boards and this blurry little picture of how it was when they found it, but they said they had no idea of what that is in there, and my assistant, Becky Kinder, who is my right hand person on the show remembered that when we went to a private collection on the Upper West side that she remembered that she had seen it in a bedroom on the Upper West side, and so we were able to borrow it, photograph it, and re-create to show his technique of how he went into these expansion drawings. And these two works, the one on the left is dated 1917–1943 and the one on the right 1934–1943. So, started at very different times, both of the same subject matter of two ravines, but both finished within a month of each other in 1943 (50:00) have not been reunited since they left his studio, and they were the works by his own admission that got him out of his crisis and brought him into the work, and brought forth from him this technique that allowed him to make work for the next twenty five years of his life.

DDS: And a real return to nature, I mean in a sense, because he even talks about those early works as his golden years.

RG: Yep. This I included because it illustrated the relationship with his wife, who, as I told you before was the ultimate partner, in a good way. The painting on the right is called The Constant Leaf and he was suffering, I think it was a prostate operation, he had many, many physical maladies, and he'd drag himself to the studio every morning, feeling like shit, he'd look out the window at a bitter Buffalo winter and there was an oak leaf, and they don't really deteriorate that fast, and the oak leaf stood up through the Buffalo winter, and every morning he'd go out and see if the oak leaf was still there. And if the oak leaf was still there, then there was hope for him. And after he finished the painting called The Constant Leaf, his wife went out, got the oak leaf and framed it, and put it in his studio. And these are shows from the Hammer Museum where the show opened, of the last room, which shows the fruit of that period of experimentation, and you're completely back in nature in these late paintings. There's no sign of people, and there's barely a house. There's none in this iteration of the exhibition. The painting in the middle is called Four Seasons. He became very interested in what happened in those 1940s paintings, of combining four seasons in one painting and different times of day within one painting, which I think is a very interesting, abstract way to think about nature. And the show also includes a couple of unfinished works, like the work here on the left, because I thought that it showed his technique in a revealing way, and in, we're almost done, in the center of the room is a vitrine with his journals. He left 10,000 handwritten pages of journals. Now there's- all I read is a book of 700 pages edited way down, so I've read 700 pages of the journals, and then dipped in to the journals, which are very hard to read because his handwriting got worse and worse as he got older, but they are fascinating, and we were able to borrow two very early ones from his teenage years and two later ones, and then the stack of journals they would not lend to us because they had not been transcribed, and they felt rightly that if something ever happened to them, they would be irreversibly lost. You can damage a painting but still have an image of a painting, whereas there were no even images of the writing, but I wanted—from the very beginning I knew as soon as I saw them in the Burchfield Center that I wanted them in the show, and so my studio went up to the Burchfield Center and photographed, measured, we copied exactly the materials that he used, we made the journals, and then we made the envelopes and copied the labels the same way they are in storage, and then we manhandled them, we put them up on the roof in the sun to bleach them out, and tried to make a virtually identical substitution, or copy, or what would you call it?

DDS: A facsimile?

RG: Yeah, a facsimile for the exhibition. Exhibition copies, I guess, of the journals.

DDS: I guess this would be another instance where it would be a bit harder for me to do that. [laughter]

RG: This is a great, older work called Gateway to September, in the front you have the combined seasons, in the front the florid summer and then the bizarre keyhole shape into a dry, September landscape. It's borrowed from a museum in Chattanooga, Tennessee. This is a work that only came to the Whitney Museum. It was hard to get loans because of watercolors; you know watercolor is the most fugitive medium, and so institutions and collectors are very reluctant lend works, and if a collector or museum was only going to lend to one institution, it was always the Whitney and not the Hammer because the Whitney is associated with Burchfield, and the Hammer really isn't. It's called Autumnal Fantasy, and this is the last slide, and it's called Dandelion Seed Heads in the Moon, and I told you how, when he could, when his health was good, until the end of his life, he still liked to paint outdoors. And so picture what you have here: you have a seventy year old man in ill health. Now dandelions are only what? Maybe that tall? Maybe a little taller, maybe a little shorter? So what you've got is this old man in the middle of the night out in his back garden laying down with his head on the ground, looking through dandelions (55:00). I just think it's the most beautiful, touching kind of moment once you realize where you are in the composition.

DDS: Well in the catalogue you include a quote from him where he says, "It's as difficult to take in all the glory of the dandelion as it is to take in a mountain or thunderstorm." So that kind of all encompassing—one, just quickly before, we're going to open it up to questions—one thing that's always interesting, we share, after you've curated an exhibition, of course then you feel like you really understand it all and want to start all over again, but I'm curious about how this changed your perception. Did the whole process of doing this change your perception and your understandings of Burchfield?

RG: I didn't have a big understanding of Burchfield when I went into it. When I buy an artist's work, I mean, I get interested in their lives, so I had a working understanding of his life, but part of the reason for me to do the show was to delve deeply into the biography of someone else's life and their work and try to understand it and present it, so it's not like I had an idea that then got changed. I had an idea that evolved along with Burchfield, and that included meeting his family, meeting people that knew him at Burchfield, in Buffalo, you know

DDS: It's a bit of an archeological dig in a sense, you begin to uncover these layers, and you know I think the thing is in the essay in the catalogue by Dave Hickey, which I just reread, in which he really talks about how in Burchfield's work there's this sense of being somewhere but nowhere, and you know, when you look at all the images in the show, it really struck me in some way that I never have a sense of being in a specific place. I'm in someplace, but I really can't tell where it is, and he talks about this. He says, "The artist's disappearance into his subject explains their sense of lunar isolation. They seem to be coming from nowhere and everywhere and these are difficult places from which to return." Perhaps Burchfield didn't want to return from those places, and you know we could get into a lot of discussions, and we talked a little bit earlier about how this relates to your own work, and how there's this inevitable desire, and now I'm being the curator here, of trying to read aspects of your work to a certain extent and why you were attracted to it.

RG: Well I was interested in the arcs that a career goes through. In the feeling of success, which brings its own problems to the feeling of being confused or disappointed in your own work and having it not selling, and then coming back and refinding it, and I was remembering as I was looking at this picture an anecdote that a docent told me in Buffalo, and she had lived there all her life and when she was a very young art student, the Albright-Knox, which was right across from the Burchfield Museum, she was in art school, and every year they had a juried exhibition, and Burchfield was used to in the past saying the prize for the exhibition, and being one of the stars of the exhibition, and fortunes had changed, and he was very old, and he was coming back to pick up his painting which did not get into the exhibition, and somehow the class was there, and she remembers very vividly the students laughing at him. I know, isn't that horrible? It's things like that that made me really interested in all the different places your career takes you.

DDS: Well I think that Charles Burchfield was very lucky to find Bob Gober as a curator for his exhibition; I really mean that. [applause] So we have time for some questions. Questions? Please?

Audience member: I love the exhibition. I love Burchfield, and I really enjoyed your talk tremendously. My question has to do with the Catholicism that you mentioned. Are either of you Catholic?

RG: Her question was about Catholicism. She asked me if I was Catholic. I mentioned it in reference to the de Menils because they were devout Catholics, and I was raised Catholic.

Audience member: Okay, then my question becomes, when I went through the exhibition I learned more about Burchfield than I previously knew, and I knew a lot. And one thing I discovered was in the statements of self-torment, and there seemed to be a religiosity or a religious nature to that torment, it seemed quite Christian. So then when I've been listening to you I've been wondering, in terms of this awe of nature and his pagan-Christian kind of collision (60:00), whether that is something that also pulls you into that work, or can you tell me more about his pagan-Christian crisis?

RG: Yeah, it's a complicated question about maybe Burchfield's religiosity, and my reaction to that, and she found a kind of soulful striving in the work.

Audience member: [inaudible]

RG: Yeah, religion played a role throughout his life. His grandfather was a fiery minister, and he ended up reacting against that in his early teen years and was an acknowledged agnostic, and it was very important to him that people knew that, and then, little by little, his wife was a practicing Lutheran and during this crisis in the mid-40s, and he was also turning fifty during that crisis too, he converted to Lutheranism. Lutheranism is hardly what you'd call an ecstatic religion, you know, but he did go on a quest, according to his journals, like a spiritual quest for the meaning of life. He'd always found great succor and inspiration in nature, as I mentioned he said that nature was his God, but he entered into a more structured religion in the last years of his life. Does that?

Audience member: Yeah, and in terms of yourself and your work?

RG: Hmm, she's asking in terms of myself with that kind of arc. Yeah, I mean, I had to reject Catholicism in order to accept myself as a gay man, so yeah.

DDS: We'll take another question.

Audience Member: One day in the gallery there was a big discussion of the use of white in watercolor and how you get it, and no one could seem to come to a conclusion so I was wondering if you know about that?

RG: Oh, yeah. She asked about the use of the color white in watercolor. He was an a typical watercolorist because a lot of the time with white in watercolor, you would utilize the paper, like Winslow Homer, and you would let the paper do, you know, you suspend your pigments in water and let the paper stand for white, but Burchfield used watercolor like oil paint. He used it as dry as he possibly could because he liked to paint on an easel, so that the watercolor had to be kind of dry, as opposed to wetting the paper and doing watercolor that way. So he would use white watercolor pigment, or he would scratch through the paint, there's a couple of paintings upstairs, I don't have an image of them, where he would scratch through the paint that he had painted to bring up the white of the paper after painting.

DDS: Good, we'll take one last question. Could you talk up a little? Sorry.

Audience member: [inaudible]

DDS: You know, it's a hard question to answer. What I've been struck by is a lot of younger artists who've been attracted to his work and discovered, I won't say rediscovered, but are coming to it for the first time, but you know, he's- obviously Hopper admired him, but I don't think he was influenced by Burchfield. He's not a name that comes up frequently in discussions of influence. What do you think, Bob?

RG: It reminds me of a quote, and I forget who said it, I wanna say it's Arbus talking about Walker Evans, saying that a lot of times the artists who are the most influential to other artists, you wouldn't see the influence in their work. They influence them as artists, and not necessarily as a style.

DDS: One last question in the front here.

Audience member: I don't have a question, but I went through the Burchfield exhibition quite recently with my friend of fifty years, who when she was a senior in Buffalo went with four other students and a great deal of professors and local artists to his studio for a semester, and what he said about the white is that he was going to get rid of what he did, and that's why he used the white.(65:00)

RG: Interesting.

DDS: [laughter] That's for Bob's next show. That's for Burchfield part two. Thank you. Well thank you all for coming and do come back and see the show as many times as you can!

June 25, 2010
Backyard Birds: An Evening of Prose and Music Celebrating Charles Burchfield

0:00

June 25, 2010
Backyard Birds: An Evening of Prose and Music Celebrating Charles Burchfield

0:00
---
Exhibition Catalogue
The book includes drawings from his 1917 sketchbook, Conventions for Abstract Thoughts; watercolors from 1916-18 that were the focus of the first one-person exhibition at The Museum of Modern Art, Germany, in 1930; camouflage designs from his tour in the army and wallpaper designs from the 1920s; watercolors from the 1940s showing the artist's unique technique of expanding and reworking earlier works by pasting large strips of paper around them to dramatically increase their size; and finally Burchfield's large, transcendental watercolours from the 1950s and 1960s.
This catalogue is no longer available at the Museum Shop
---
In the News
"It's the last week to see Charles Burchfield's spooky, gorgeous watercolors at the Whitney."
--The Approval Matrix, New York Magazine
Video: Curator Carrie Springer and reporter Dana Tyler walk through the exhibition
--WCBS 2 News
Video: Curator Carrie Springer discusses the exhibition
--WNET/Thirteen Sunday Arts
Audio slide show, narrated by critic Peter Schjeldahl: "Mystical Realism"
--The New Yorker
Review: "An illuminating retrospective of the mystically inclined watercolor realist."
—The New Yorker
Review: "This summer, if you're looking for visionary company in the city . . . he's the artist for you."
—The New York Times
Slide show: "The Paintings of Charles Burchfield"
--The New York Times
Review: "The landscapist swung between reality and hallucination."
--Time Out New York
Review: "extrasensory visions of the American landscape"
--The New Criterion
The Approval Matrix: "Brilliant and Highbrow"
--New York
Review: "Burchfield infused his world with almost unbearable emotion."
--The Financial Times
Review: "So go—experience these visionary paintings before they return to the darkness."
—The Village Voice
"The Whitney Museum's Most Wanted"
--The Wall Street Journal, Speakeasy blog
Review: "Probably the best show to come to any area museum in the past year."
--The Bergen Record
"Burchfield channeled his experience of mystically animated nature into expansive watercolors of hallucinatory, sometimes nightmarish beauty."
—The New York Times
Review: "A breathtaking exhibition"
—Los Angeles Times
"It's hard to imagine two American artists more different than Robert Gober and Charles Burchfield."
—The New York Times

"A new look at an edgy realist"
—Art News
---