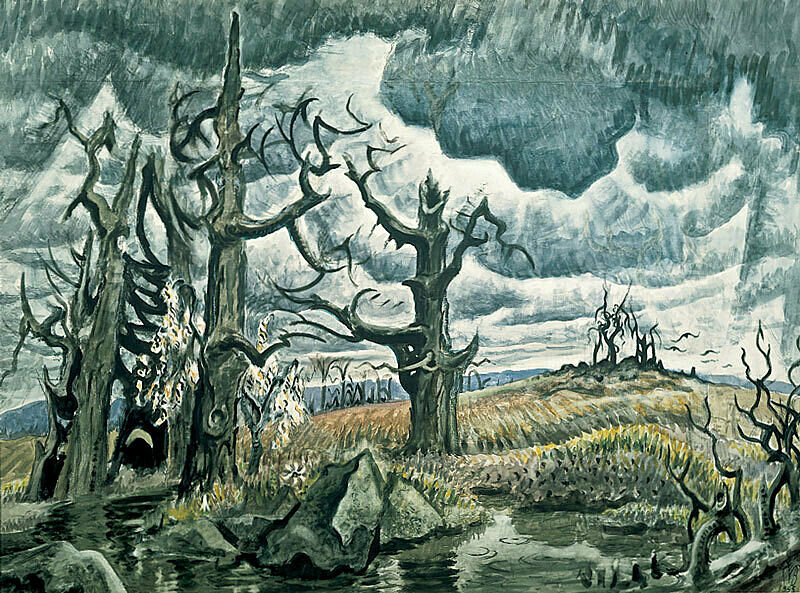 Heat Waves in a Swamp: The Paintings of Charles Burchfield

June 24–Oct 17, 2010
Although he lived next door to Niagara Falls, artist Charles Burchfield (1893–1967) chose to focus his nature-based art on the ground beneath his feet. Curated by artist Robert Gober, this exhibition features over one hundred major watercolors, drawings, oils on canvas, sketches, notebooks, journals, and doodles by this visionary American artist. Acclaimed by critics and known to a broad public audience during his lifetime, Burchfield is curiously under-appreciated today. Working almost exclusively in watercolor, Burchfield's primary subject was landscape, often focusing on his immediate surroundings: his garden, the views from his windows, snow turning to slush, the sounds of insects and bells and vibrating telephone lines, deep ravines, sudden atmospheric changes, the experience of entering a forest at dusk, to name but a few. He often imbued these subjects with highly expressionistic light, creating at times a clear-eyed depiction of the world and, at other times, a unique mystical and visionary experience of nature.
Heat Waves in a Swamp: The Paintings of Charles Burchfield was organized by the Hammer Museum, Los Angeles, in collaboration with the Burchfield-Penney Art Center, Buffalo, New York.
Heat Waves in a Swamp is made possible by The Joy and Jerry Monkarsh Family Foundation. Major support is provided by the LLWW Foundation and Lynda and Stewart Resnick.

It is also realized through the generosity of The Horace W. Goldsmith Foundation, George Freeman, The Straus Family Fund, Rosette Varda Delug, Booth Heritage Foundation, The Fran and Ray Stark Foundation, the Wyeth Foundation for American Art, and the Robert Lehman Foundation.

Significant support for the presentation at the Whitney is provided by Carol and Charles Balbach, Aaron I. Fleischman and Lin Lougheed, and William and Rose-Marie Shanahan.
---
---
---
---
---
---
In the News
"It's the last week to see Charles Burchfield's spooky, gorgeous watercolors at the Whitney."
--The Approval Matrix, New York Magazine
Video: Curator Carrie Springer and reporter Dana Tyler walk through the exhibition
--WCBS 2 News
Video: Curator Carrie Springer discusses the exhibition
--WNET/Thirteen Sunday Arts
Audio slide show, narrated by critic Peter Schjeldahl: "Mystical Realism"
--The New Yorker
Review: "An illuminating retrospective of the mystically inclined watercolor realist."
—The New Yorker
Review: "This summer, if you're looking for visionary company in the city . . . he's the artist for you."
—The New York Times
Slide show: "The Paintings of Charles Burchfield"
--The New York Times
Review: "The landscapist swung between reality and hallucination."
--Time Out New York
Review: "extrasensory visions of the American landscape"
--The New Criterion
The Approval Matrix: "Brilliant and Highbrow"
--New York
Review: "Burchfield infused his world with almost unbearable emotion."
--The Financial Times
Review: "So go—experience these visionary paintings before they return to the darkness."
—The Village Voice
"The Whitney Museum's Most Wanted"
--The Wall Street Journal, Speakeasy blog
Review: "Probably the best show to come to any area museum in the past year."
--The Bergen Record
"Burchfield channeled his experience of mystically animated nature into expansive watercolors of hallucinatory, sometimes nightmarish beauty."
—The New York Times
Review: "A breathtaking exhibition"
—Los Angeles Times
"It's hard to imagine two American artists more different than Robert Gober and Charles Burchfield."
—The New York Times

"A new look at an edgy realist"
—Art News
---