Bunny Rogers: Brig Und Ladder

July 7–Oct 9, 2017
In her work, Bunny Rogers draws from a personal cosmology to explore universal experiences of loss, alienation, and a search for belonging. Her layered installations, videos, and sculptures begin with wide-ranging yet highly specific references, from young-adult fiction and early 2000s cartoons, like Clone High, to autobiographical events and violent media spectacles, such as the 1999 Columbine High School shooting. Rogers's techniques are equally idiosyncratic. She borrows from theater costuming, design, and industrial furniture manufacturing, and often crafts her work by hand. This hybrid approach gives Rogers's objects and spaces a distinct texture; they read simultaneously as slick and intimate, highly constructed but also sincere.
For her first museum solo show in the United States, Rogers creates a new body of work. The exhibition is on view in the John R. Eckel, Jr. Foundation Gallery on the Museum's first floor, which is free and open to the public.
This exhibition is organized by Elisabeth Sherman, assistant curator and Margaret Kross, curatorial assistant.
Major support for Bunny Rogers: Brig Und Ladder is provided by John R. Eckel, Jr. Foundation.

Generous support is provided by Jackson Tang.
---
---
---
---
Essay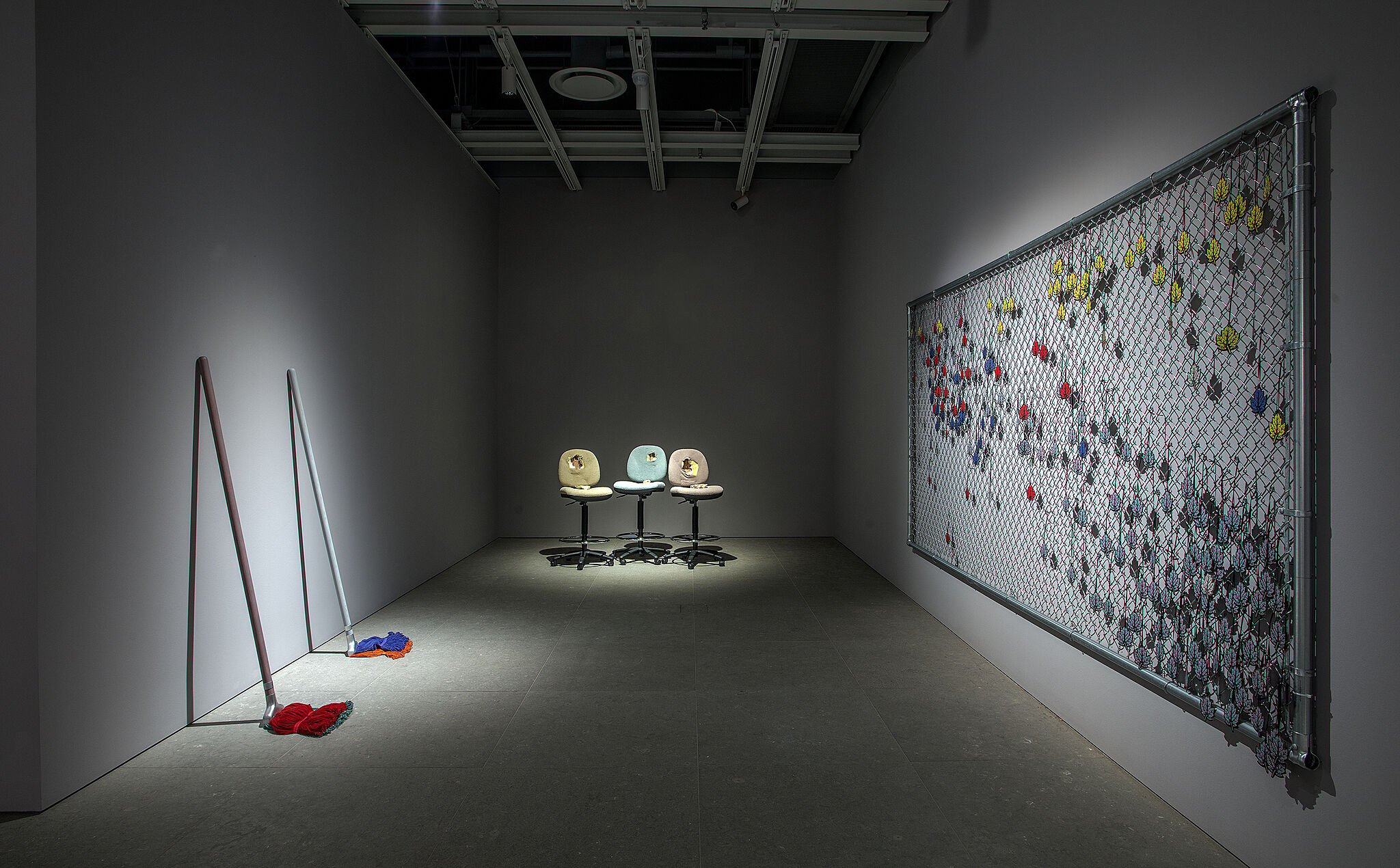 Remnants and Remembrance
By Elisabeth Sherman and Margaret Kross

"Neopets, The Walking Dead, Clone High, totem pole trench trope, Silence of the Lambs, Picasso's harlequins, Tilikum, Flowers for Algernon, Lady Train, The Green Ribbon, The Ice Palace. Bunny Rogers is a collector of cultural artifacts."
Read essay
---
Audio
Bunny Rogers on the exhibition

0:00

Bunny Rogers on the exhibition

0:00

Bunny Rogers: Hi, I'm Bunny Rogers.

So the first room, there will be an animation, it will be a performance by three characters that I've worked with before. They are from the short lived animation on MTV called Clone High. It's a kind of like a sitcom with clones of famous historical figures, the protagonists being Abe, or Abraham Lincoln, and Joan, for Joan of Arc, Cleo, Cleopatra. So I really related to the friendship that Joan is surprised to stumble upon with this character that I call Mandy but is unnamed in the show.

They're together and performing this song from one of my favorite musicals from my childhood, Cats. It's actually me covering the song. And the song "Memory" is the character Grizabella's—the lyrics explain her fall from grace and not being the young attractive cat on the block anymore.

Tillikum, was a famous orca, a performing orca in Sea World and he ended up killing multiple trainers. And he was confined to a very small space for—he lived out his life in a very small container of water and he actually died very recently. I guess I'm interested in him as kind of a tragic figure.

In the second room, there are three ladders, three computer chairs, three mops, and a large train model. The train is Lady from Thomas the Tank Engine stories. I'm interested in Lady in particular because of her character design and that she ends up fitting the girl next door role somehow, which is a complex character type. I'm interested in the way that that happens in media for children. That these adult character tropes and ways of categorizing specifically women trickle down to cartoons and children's books.

There's this theme of threes for me within this show, the color palette is basically a desaturated version of the three primary colors and there's three ladders, there's multiples of three of all the sculpture items. The idea for the show came out of wanting to talk about my relationship with two other people so I guess it is a space for three people to exist. I think the utilitarian quality is maybe my way of anonymizing these people that were once very close to me and aren't anymore.
---
In the News
"Stepping into a Bunny Rogers exhibition has the effect of a teleportation device."
–VICE
"Bunny Rogers grew up on the internet, and her art vividly conveys a childhood lived partly in the real world and partly online."
–TimeOut
"With Brig Und Ladder, Rogers once again exquisitely portrays a troubled mythic realm, quiet in the wake of violence."
–The New Yorker
"There is no denying her skill in creating ambience and mood, her consummate craftsmanship and stagecraft, or her fascinatingly idiosyncratic re-envisioning of iconic images and events."
–VICE
---