Andrea Carlson:
Red Exit

Jan 25–Sept 19, 2021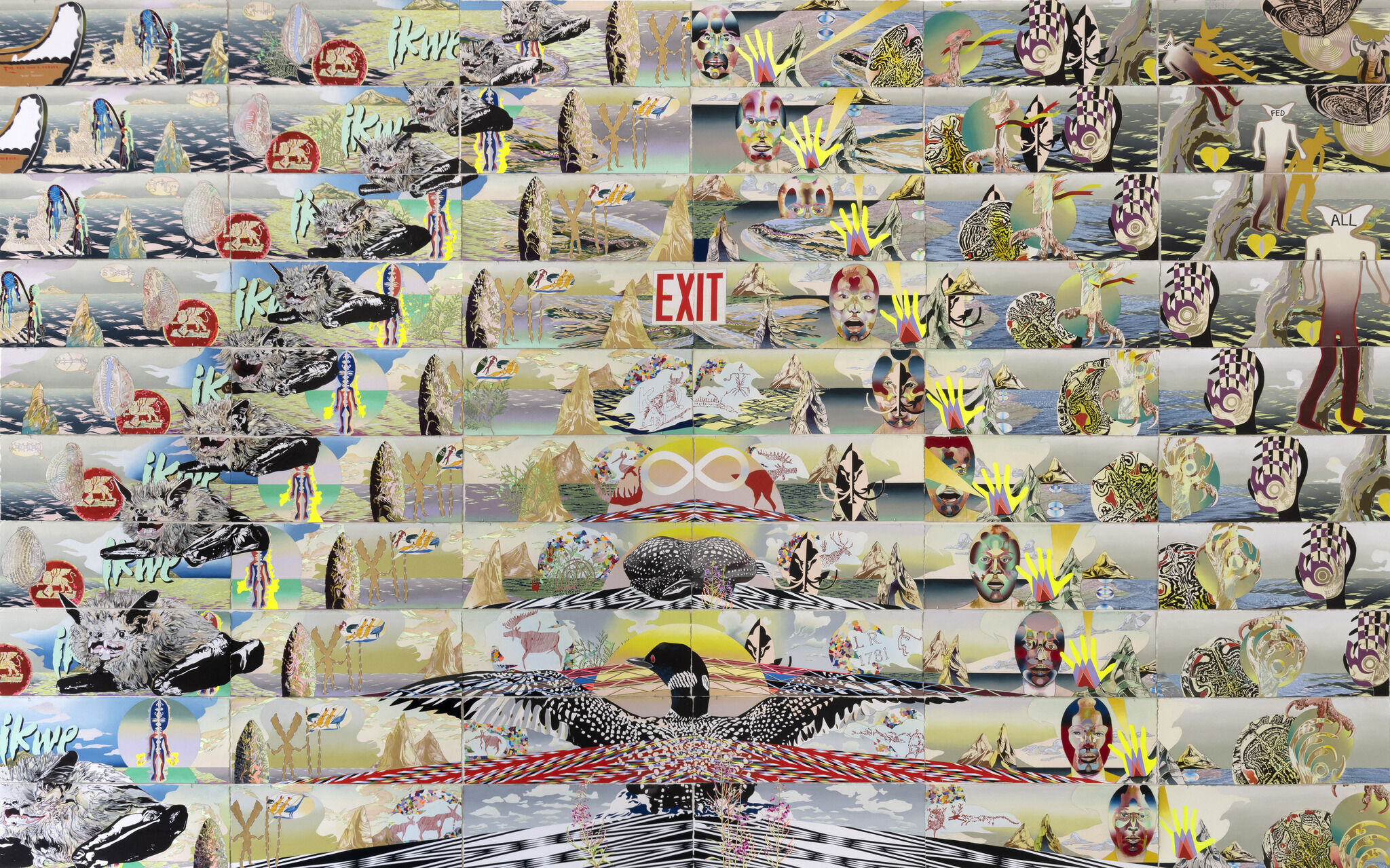 In her new work, Red Exit, Andrea Carlson (b. 1979) presents a panoramic seascape informed by ideas of re-creation and renewal. Vibrant, prismatic motifs—some drawn from the land of the artist's ancestral home, and others from effigies, petroglyphs, and navigational signs—pulsate and collide across a series of horizons. The composition is anchored by a loon, known in the Ojibwe re-creation narrative as an Earth-Diver, who alongside other surviving animals, helps remake the world. Carlson also incorporates the infinity sign from the flag of the Métis People and the silhouetted figure of "Man Mound," a destroyed earthwork—fractured by a road—that appears here to rise up from the land. Through her images, which take shape as a continuous wake pattern, she invokes moments of resistance and empowerment. Symbols of Native advocacy come together in a gesture of reclamation, creating new narratives of Indigenous experience in North America. While Red Exit confronts the ongoing erasure of Indigenous cultures, it is, in the artist's words, a celebration of "the place we (Native People) reserve for ourselves . . . places of joy amidst removal, exclusion, and attempted assimilation."
Alongside prints and multidisciplinary projects, Carlson primarily makes large-scale, multi-part works on paper through a combination of drawing and painting. Highly intricate and graphic, these compositions coalesce into expansive, disorienting scenes that often evoke futuristic and, at times, apocalyptic worlds.
Organized by the Whitney in partnership with TF Cornerstone and High Line Art, Red Exit is the next work in a series of public art installations that has featured works by key American artists, including Njideka Akunyili Crosby (2015–16), Do Ho Suh (2017–18), Christine Sun Kim (2018), and Derek Fordjour (2018–19).
Andrea Carlson: Red Exit is organized by Melinda Lang, Senior Curatorial Assistant.
Andrea Carlson: Red Exit is part of Outside the Box programming, which is supported by a generous endowment from the Jacques and Natasha Gelman Foundation.
Additional support is provided by the Artists Council.
---
---
---
---
View more site-specific artworks outside the Whitney's walls.
---