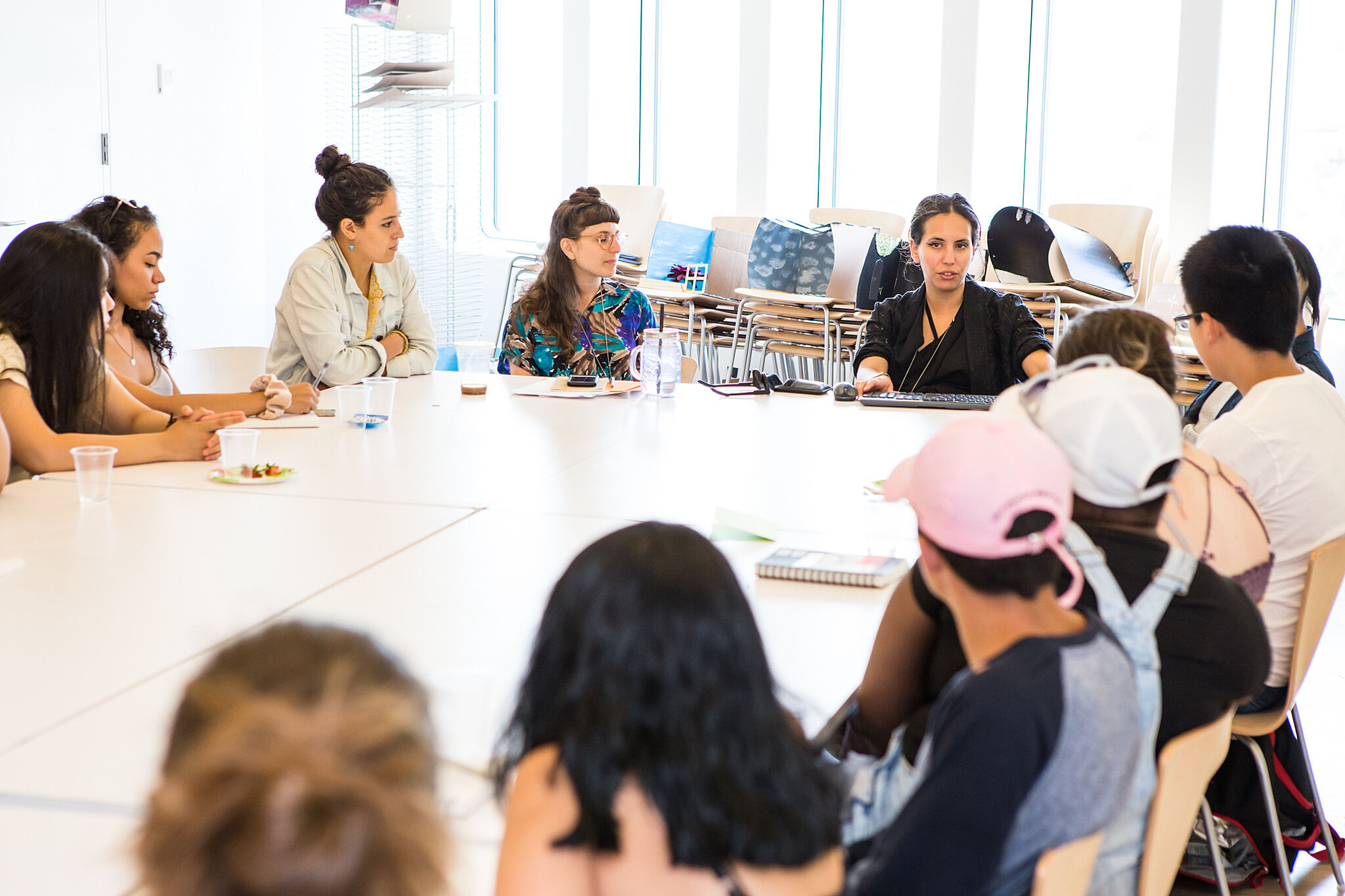 Sophia Al-Maria discusses her exhibition Black Friday with YI Arts Careers. Photograph by Patrick MacLeod.
On July 25, Sophia Al-Maria met with YI Art Careers to talk about her experience as an artist and her exhibition, Black Friday. Her installation shows the experience of being in a shopping mall in the Middle East. Black Friday evokes feelings of fear, discomfort and confusion—yet it is stunning and addictive.
After viewing the exhibition, Al-Maria explained how she recorded all of her footage in the mall while it was closed—so it looks empty and lifeless. There are a few people in the video who help to create the atmosphere of confusion. Who are they? Why are they there? These are the questions that came to mind as I watched.
Charlotte, YI Participant, takes a closer look at Sophia Al-Maria's The Litany (2016). Photograph by Patrick MacLeod
Part of the exhibition was the The Litany, 2016, a mound of sand with electronic devices laying on it. Each electronic device displayed a looped video representing various brands, and chaotic footage with different mall attributes. Additionally, there were cables connecting all of the electronic devices, allowing them to play the videos over and over again. One of the exhibition's main components was the sound which was uncomfortably loud, causing the ground to shake. Additionally, the sound created a cinematic atmosphere, as if we were watching a thriller, yet nothing terrifying was on the screen.
The exhibition will be on view until October 31, 2016. Be sure to check it out!
By Katya, YI Participant