Always, Already, Haunting, "Disss-co," Haunt
May 24–June 15, 2019
The Kitchen, 512 West 19th Street

Opening Reception: Friday, May 24, 5–8 pm
Gallery Hours: Tuesday–Saturday, 11–6 pm
To haunt means to linger past a welcome or to be persistently or disturbingly present. As a noun, a haunt refers to the figure of the ghost—a spectral form that comes from the past to speak to the present about the future—as well as to an oft-frequented locale, the local haunt. Against a backdrop of cultural institutions that are more and more eager to "represent" certain types of "fugitive" bodies, the exhibition understands haunting as a kind of representational illogic. Through a focus on collective memory, and alternative archival practices, Always, Already, Haunting, "disss-co," Haunt lingers alongside those events or bodies who continue to demand attention, foregrounding the inevitability of returns and the necessity of redress.
The exhibition features works by Julie Dash, Minnie Evans, Felix Gonzales-Torres, Green-Wood cemetery, shawné michaelain holloway, Asif Mian, Guadalupe Rosales, Julie Tolentino, Mariana Valencia, and Jawole Willa Jo Zollar.
Curated by Nia Nottage, Gwyneth Shanks, and Simon Wu, the 2018–19 Helena Rubinstein Curatorial Fellows of the Whitney's Independent Study Program (ISP).
---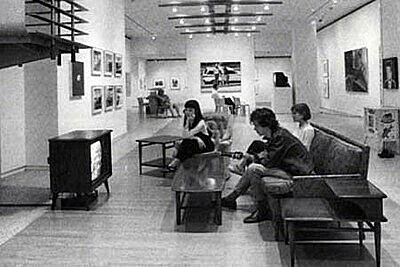 The ISP provides a setting within which students pursuing art practice, curatorial work, art historical scholarship, and critical writing engage in ongoing discussions and debates that examine the historical, social, and intellectual conditions of artistic production.
Performance and Public Programs
Performance by Guadalupe Rosales and Mariana Valencia: All That Can Happen
The Kitchen, 512 West 19th Street, New York, NY
Friday, May 24, 7:30 pm
For the opening of the exhibition, Guadalupe Rosales and Mariana Valencia will perform a sound and dance activation of Rosales's new commission, All That Can Happen, a Go-Go Box vitrine of SoCal '90s rave ephemera.
This program is free of charge and open to the public, on a first-come, first-served basis. Capacity is limited; we kindly suggest an early arrival.
Site Activation: Green-Wood Cemetery
Green-Wood Cemetery, 500 25th Street, Brooklyn, NY
Saturday, June 1, 6:30–8:30 pm
The Green-Wood Cemetery is famous for its elaborate private burial lots and architecturally significant monuments. However, its lesser expensive public lots comprise about half of all burials at the cemetery.
Green-Wood's Manager of Preservation and Restoration, Neela Wickremesinghe, and Director of Programs and Special Projects, Harry Weil, lead a guided exploration of these sites. The tour will highlight the "Colored Lots," seven burial lots on the cemetery's southern border, including one for The Colored Orphans Asylum. These burial lots were recently renamed the "Freedom Lots." Over 1,300 are laid to rest here, making it one of the largest existing burial grounds for African Americans who lived in New York City in the last two centuries.
This program is ticketed. Visit green-wood.com to purchase tickets.
Praise House (1991): Screening and Conversation
Whitney Museum, Floor 3, Susan and John Hess Family Theater
Monday, June 3, 7–8:30 pm
Praise House (1991) is a film collaboration between director Julie Dash and choreographer Jawole Willa Jo Zollar that combines theater, dance, and music to pay tribute to the work and biography of visionary artist Minnie Evans. "Draw or Die" is the divine imperative received by the film's fictional protagonist, Hannah, who is being nurtured by her grandmother but controlled by her pragmatic mother. Dash and Zollar take viewers on a poetic, visually rich interpellation of Evans's continued creative lineage. A conversation will follow the screening.
Tickets are required ($10 adults; $8 Whitney members, students, seniors, and visitors with a disability).
Emergency Ectoplasmic Exodus, Rejected Material (take 4)
The Kitchen, 512 West 19th Street, New York, NY
Saturday, June 8, 2019, 3–6 pm
Exploring the dark matter and ectoplasm of the art world, this labor power séance will take place in the haunted pink slime of free labor, unpaid internships, and rising debts, and try to find ways of poetically climbing out of it together.
This event is free.