Omnipresence
May 24–Jun 16, 2018
The Kitchen, 512 W 19th Street
Opening Reception: Thursday, May 24, 5–8 pm
Gallery hours: Tuesday–Saturday, 11–6pm
Bright white LED lights that never go out. Sidewalk fencing painted an all-too-natural shade of "hunter green." The soul and feelings of a worker plotted in geometric patterns of color. An escape hatch with no exit. This exhibition presents a diverse range of critical strategies that render the infrastructure, media, and iconography of authority in the lived everyday. Through architectural intervention, sculpture, performance, and the moving image, the works displayed explore how control becomes an environmental condition, how "Omnipresence"—the name of New York City's new strategy for a heightened saturation of police presence—calls for hyper-vigilance. In Kafka's words, "there are only control agencies."
The exhibition features works by Peggy Ahwesh, Ei Arakawa and Miho Hatori, Ericka Beckman, KP Brehmer, Olga Chernysheva, Selina Grüter and Michèle Graf, Jason Hirata, Ho Rui An, Alan Ruiz, Carey Young, Jessica Vaughn, and Constantina Zavitsanos.
Curated by Elisa R. Linn, Joseph Lubitz, Ellen Pavey, and Manabu Yahagi, Helena Rubinstein Curatorial Fellows of the Independent Study Program, 2017-18.
---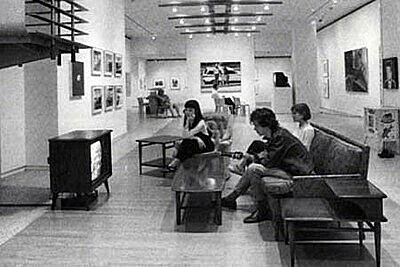 The ISP provides a setting within which students pursuing art practice, curatorial work, art historical scholarship, and critical writing engage in ongoing discussions and debates that examine the historical, social, and intellectual conditions of artistic production.