John Baldessari, What This Painting Aims To Do, 1967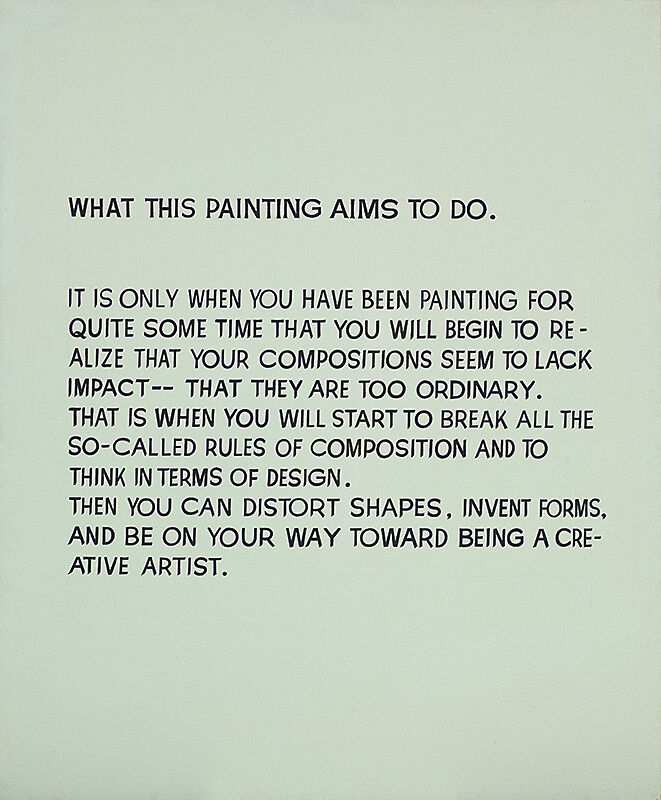 0:00
John Baldessari, What This Painting Aims To Do, 1967
0:00
Narrator: The text featured on John Baldessari's canvas comes from a series of works featuring formulaic advice from "how-to" art manuals. The artist explained in a 2010 interview:
John Balessari: The subject matter is coming out of people's ideas of how art might be taught. And I think that's what I'm getting at. I mean, you can follow all kind of rules, and they're probably all right, but it doesn't mean you're going to come up with anything that we can call art.
Narrator: Baldessari's paintings point out the absurdity of prevailing aesthetic attitudes. He follows the painting's advice to "break all the so-called rules of composition," which, ironically, actually means following the rules. And in another twist, by following the rules, Baldessari has also broken them—since these results certainly aren't what the teaching manuals are calling for.
One of the founders of conceptual art, John Baldessari uses words, images, video, paint, and photography interchangeably in works of art that are witty and self-referential.
John Balessari: Probably in the mid-60s, I was really getting a little bit anxious, discontent, or disillusioned about art. I began to think that art might be more than just painting. You know, certainly painting is a vital part of doing art, but there might be other ways to do art.
Narrator: As a revered teacher at both the California Institute of the Arts and at UCLA, he and his work have profoundly influenced generations of younger artists.