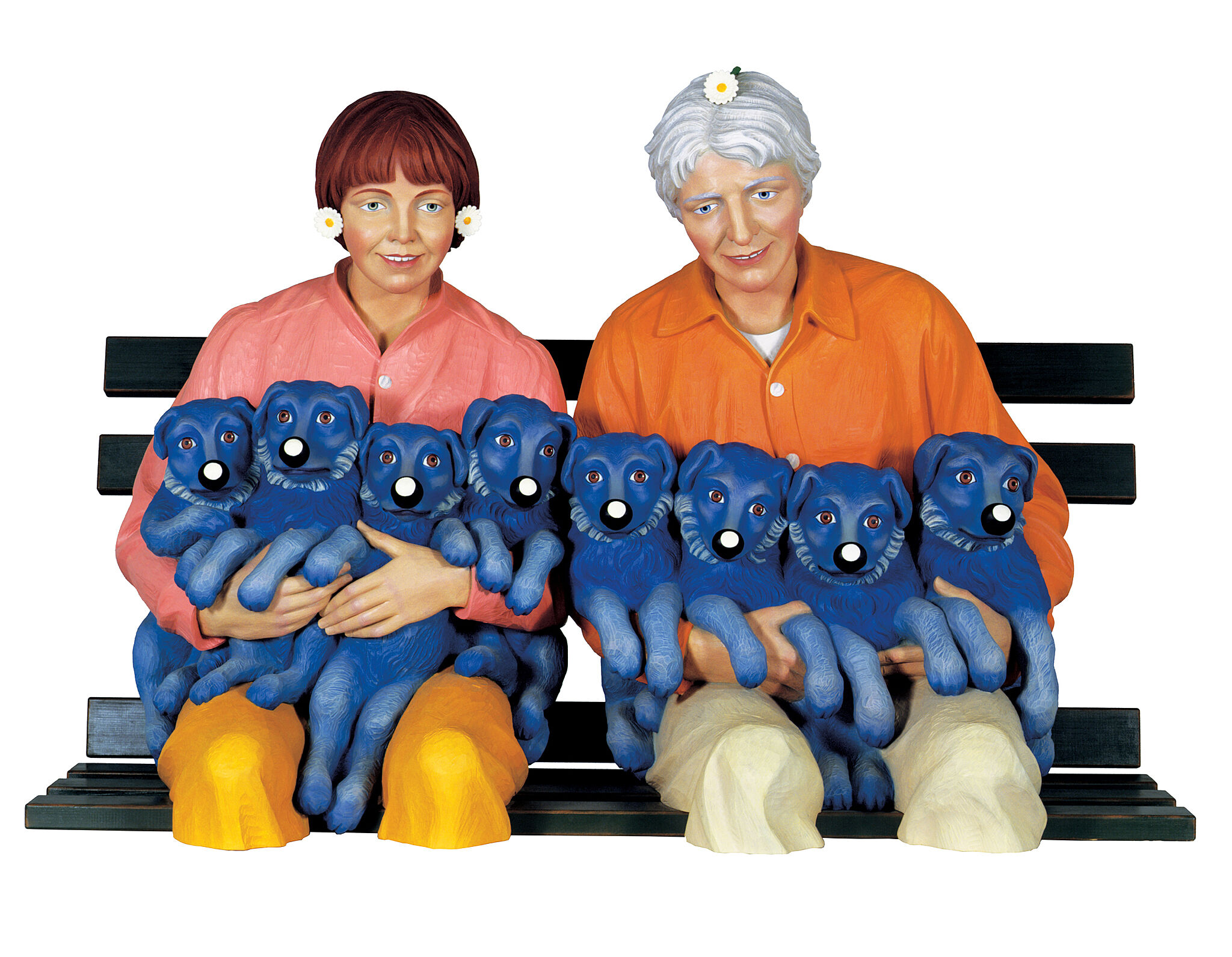 Jeff Koons, String of Puppies, 1988
0:00
Narrator: In Koons's wooden sculpture String of Puppies—on view in the center of the gallery--two people sit on a park bench, holding a row of bright blue puppies.
Like all of the works in Banality, it's not a straight readymade. Koons based these sculptures on photographs and objects that he found and transformed. In the case of String of Puppies, the source material was a photograph by Art Rogers, which was used on greeting cards.
Amy Adler: Art Rogers sued Koons and won successfully for copyright violation.
Narrator: Amy Adler is the Emily Kempin Professor at NYU Law School, where she specializes in art law.

AA: And Koons mounted what's called a fair use defense, saying that yes, I copied your work, but I did so in a way that was fair and that actually promotes the interest that copyright law is supposed to further. Koons lost in the district court, and he also lost in the federal court of appeals. And he lost rather spectacularly. It was a staggering defeat.
There was a great hostility to his work that you could feel in the decision. They talked about him as "sailing under the flag of piracy," they talked about him as "involved in the business of art." They talked about how much money he'd made from the work. And they contrasted that to Art Rogers, who they saw as sort of a sweet, wholesome puppy photographer.
In a sense they understood Koons's work, that kind of sinister frightening quality, and in a way that should have led them to understand that it was quite different from Rogers and should have been fair use under the law.
Narrator: Copyright law has changed since 1992, and Adler thinks that Koons would have won if this case were being heard today.
Jeff Koons, String of Puppies, 1988