Gaylen Gerber With David Hammons, Sherrie Levine, and Trevor Shimizu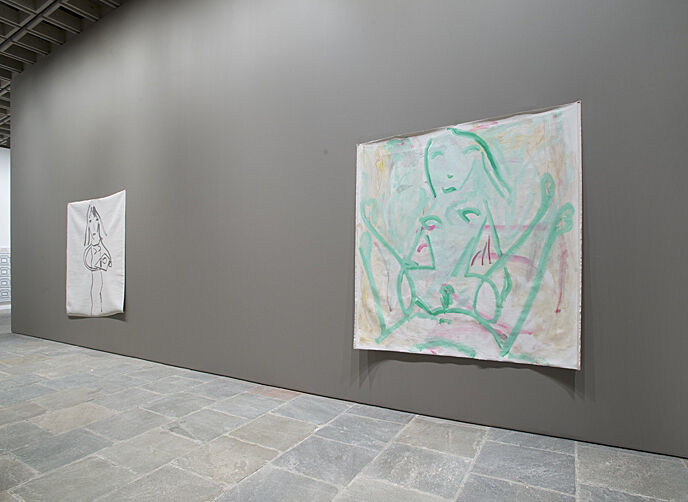 On View
Fourth Floor
Work by Gaylen Gerber, with work by David Hammons, Sherrie Levine, and Trevor Shimizu, is on view in the Museum's fourth floor galleries.
Gerber
Born 1955 in McAllen, TX
Lives and Works in Chicago, IL
Hammons
Born 1943 in Springfield, IL
Lives and Works in New York, NY
Levine
Born 1947 in Hazelton, PA
Lives and Works in New York, NY
Shimizu
Born 1978 in Hawaii
Lives and Works in New York, NY
Gaylen Gerber's contribution to the Biennial is a 40-foot-long stretched canvas, painted a uniform gray, that appears almost indistinguishable from the wall on which it hangs. Upon its surface, Gerber has displayed the paintings of another artist—Trevor Shimizu. In several weeks time, Shimizu's paintings will come down and the works of two other artists—David Hammons and Sherrie Levine—will be installed.
For over two decades, Gerber has been making similar paintings that he calls Backdrops. The gesture implicit in the Backdrops initiates a complex relationship between the work displayed, Gerber's wall-size painting, and the architecture of the gallery. For Gerber, the monochromatic paintings function as the "ground" for other artists' work—or as Gerber often puts it, their "expression." This figure-ground relationship brings attention to the assumed neutrality of an artwork's context, insisting instead that artworks—and indeed, all expressions—are inseparable from the cultural, aesthetic, and temporal contexts in which they appear.