Lisa Alvarado
"Existing in the resonant frequencies between worlds, the paintings imagine topographies of fluid pathways and bridges of regeneration."
— Lisa Alvarado
Lisa Alvarado is an artist and musical performer born in San Antonio, Texas, and based in Chicago. Alvarado studied at The School of the Art Institute of Chicago. Her work is concerned with the history and politics of her identity and experience as a Mexican American. Alvarado describes her paintings as, "rooted in Mexican American art traditions and the histories that ground them: the textile traditions of the Americas; the complexities of the U.S.-Mexico border; my family's own experience with migrant farm labor . . . public mural painting; the Chicano civil rights movement . . . ." In addition to being a visual artist, Alvarado plays the harmonium in the experimental band Natural Information Society composed of multiple performers and led by her husband, multi-instrumentalist Joshua Abrams.
For the Biennial, Alvarado exhibits an installation titled Vibratory Cartography: Nepantla (2021–22). These suspended abstract paintings explore the relationship between geography and the body in a moment of environmental devastation and border restrictions. The installation accompanies musical performances by Natural Information Society. Alvarado's paintings function as mobile stage sets that animate and create shifting contexts.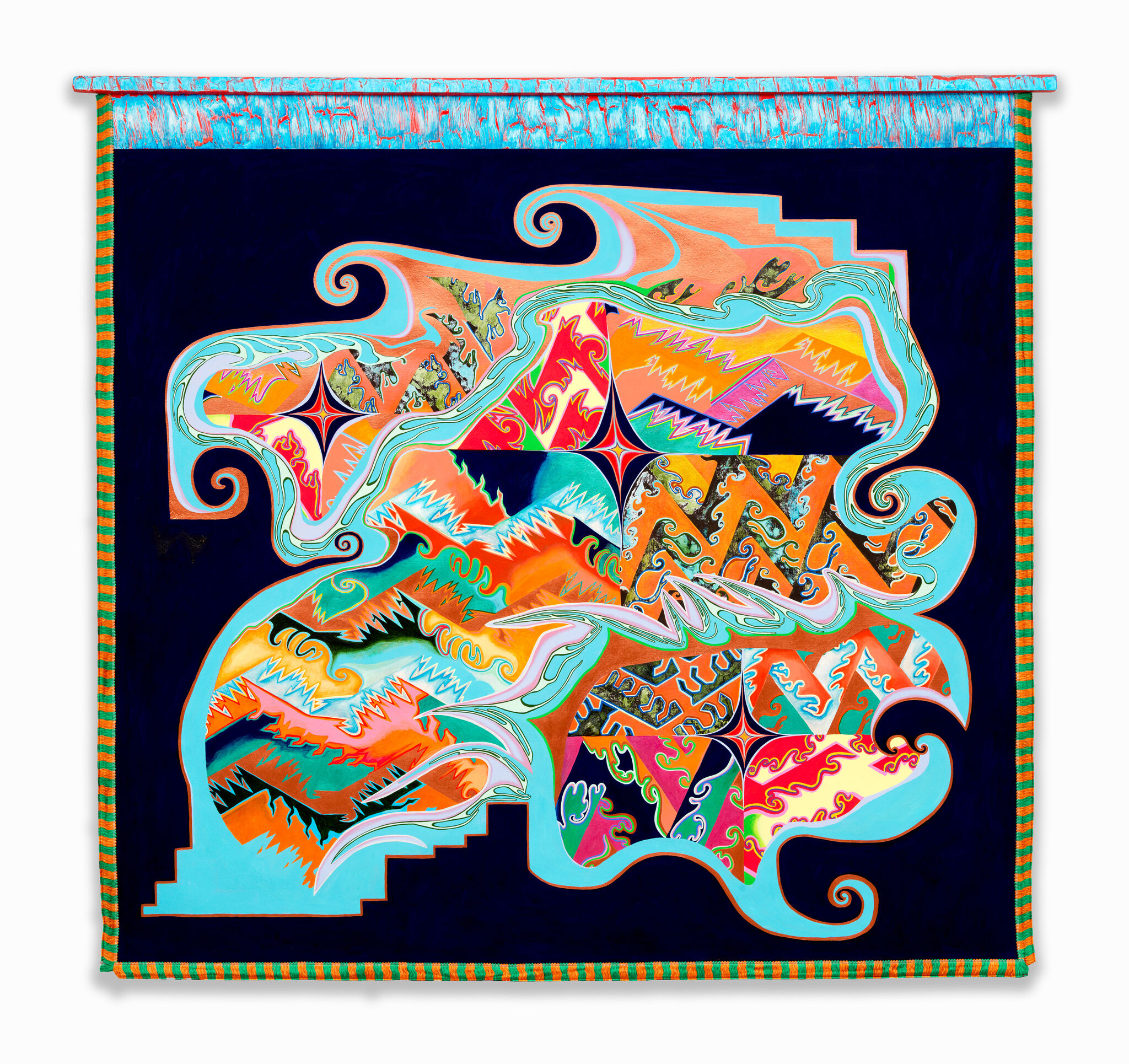 ---
Artist as Observer
How can you represent cultures through patterns?
Lisa Alvarado describes that she is "interested in the history of textiles as a framework to think about painting and abstraction. It's a culturally inclusive history that provides a different trajectory to think about forms and art objects, their histories and uses." Invite students to make drawings inspired by patterns that remind them of their ethnicities and cultures. Have students share and discuss their drawings. Encourage them to combine their patterns to make a larger collective framework of how patterns can represent their communal culture.
Artist as Storyteller
How can we create drawings based on our breathing?
Lisa Alvarado has written that her suspended abstract paintings invoke a "form of navigation that is attuned to the body's pulsation and breaths." Facilitate a guided breathing exercise so that students become aware of their breath. Invite students to make line drawings on a small piece of paper to represent the tone of their breathing. Have students share their drawings in small groups. Then instruct each group to make a collaborative drawing on a large piece of paper to infuse all of their unique breathing patterns.
Artist as Experimenter
How do you choose sounds to accompany a painting?
Lisa Alvarado describes, "I think the pieces are activated through the experience—the experience of sound, the experience of the shared gatherings around them." Invite students to make abstract paintings inspired by their own aesthetics and the work of Lisa Alvarado. Encourage students to think about possible sounds that can accompany their paintings. These sounds can be found or made by the students using their bodies or instruments.
Artist as Critic
How do you transform what is considered art?
"I think about the in-between place of objects, like textiles, that are categorized as artifacts rather than art works. Could an artifact become an art work and an art work become an artifact?" Invite students to choose an object that interests them. This object can be selected from the classroom, public, or living spaces. Encourage students to think about creative ways they could transform their object into a work of art. Have them display their works and discuss their artistic choices.
---