Many-Sided Self-Portrait
All four life-size painted wood female figures in Women and Dog are self-portraits of the artist, Marisol. One figure features her photograph. Two others include plaster casts of the artist's face, and the smaller one has a drawing of her as a child. Marisol also included a real purse, a hair bow, and a taxidermied dog's head in this sculpture.
Think about the things that make up who you are, including the things you love, the activities you enjoy, and the special qualities of your personality. Find an empty cardboard box and some collage materials such as old magazines or colored paper. On each side of your box, draw and collage one part of your personality.
See all Whitney Kids Art Challenges.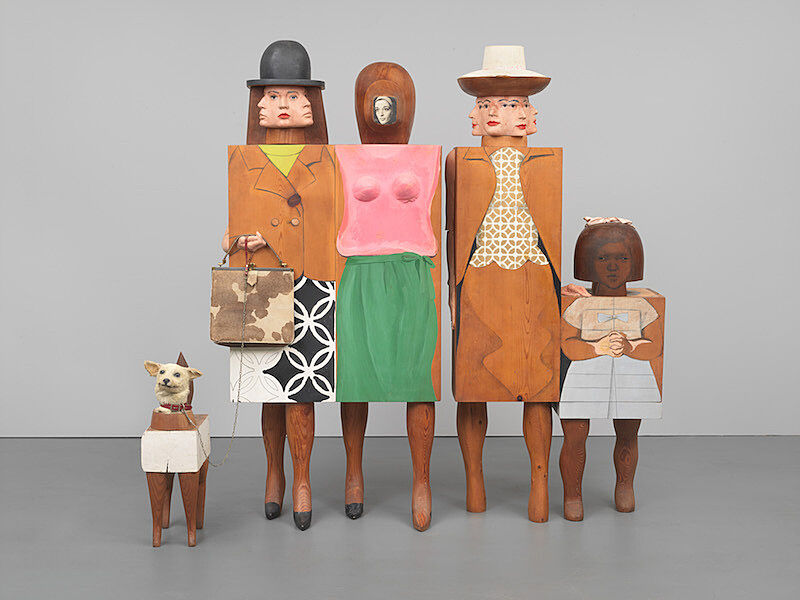 Marisol, Women and Dog, 1963–64. Wood, plaster, synthetic polymer, taxidermied dog head and miscellaneous items, 73 9/16 × 76 5/8 × 26 3/4 in. (186.8 × 194.6 × 67.9 cm). Whitney Museum of American Art, New York; purchase, with funds from the Friends of the Whitney Museum of American Art 64.17a-i. © Estate of Marisol / Albright Knox Art Gallery / Artists Rights Society (ARS), New York