Archives
The Whitney Museum of American Art Archives collects, preserves, and provides access to the Museum's historical records and other primary source collections that further the study of twentieth-century and contemporary American art. The Institutional Archives document the origins, development, and activities of the Whitney Museum, and include records dating back to the formation of the Whitney Studio Club in 1913. The holdings include a wide range of primary materials, providing insight into past exhibitions, programs, and events. As a vital resource for Museum staff and external researchers from a wide range of disciplines, these unique primary sources inform essays, dissertations, books, exhibitions, and numerous other projects each year.
Visit the Whitney Finding Aids platform to search and browse the archival collections.
---
Access to the Archives
Visitor Alert: The Archives remain closed for in-person services until further notice due to the Covid-19 pandemic. When possible, we are currently offering remote reference services. Please email archives@whitney.org with any questions.
The Whitney Museum of American Archives provides access to its primary holdings for research purposes only. Researchers may request to consult archival materials on-site at the Frances Mulhall Achilles Library & Archives in West Chelsea. The reading room is open by appointment only Monday–Friday, from 10 am to 5 pm with a one-hour closure from 1 pm to 2 pm.
To request an appointment, please email archives@whitney.org and include the following information:
Your name and any available institutional affiliation.
A description outlining the purpose and subject of your research.
A list of the archival materials you wish to consult.
When you would like to visit.
Archives staff can assist in identifying materials and collections of relevance to the subject of research. Archives staff will not share your personal information or project description with anyone outside of the Research Resources department at the Whitney Museum without your permission. We strongly encourage researchers to contact the Archives at least one month prior to when they would like to visit.
---
Institutional Archives
The following is a list of collections held by the Whitney Museum Archives with links to available finding aids and digital projects. Finding aids serve to assist the researcher in requesting items from the collection by providing a summary of a collection's history and arrangement, information about its creator, and an inventory of its contents.
Whitney Exhibition Records
Main Branch Exhibition Records, 1931–2004
The collection comprises exhibition records pertaining to the development, planning, publicity and presentation of exhibitions presented at the Whitney Museum of American Art over the span of seventy-three years. Materials include correspondence, photographs, checklists, installation layouts, press releases and other items that document the organizing of each exhibition.
Downtown Branch Exhibition Records, 1970–1992
The collection comprises exhibition records from shows mounted at the Museum's first satellite branch, which operated in lower Manhattan from 1973–1992. Closely aligned with the Independent Study Program (ISP), the Downtown Branch museum provided a space for young scholars in the fields of art history and museum studies. Materials include documentation of early exhibitions organized by ISP Helena Rubenstein Curatorial Fellows, such as "Nine Artists/Coenties Slip" (January 10–February 14, 1974), "The Prison Show: realities and representations" (April 21–June 12, 1981), and "Site Seeing: Travel and Tourism in Contemporary Art" (April 3–June 7, 1991).
Champion Branch Exhibition Records, 1981–1993
This collection comprises exhibition records from the second branch of the Whitney Museum of American Art (1981–1992), which was located at the headquarters of Champion International Corporation at 1 Champion Plaza in Fairfield County, Stamford, Connecticut. The records consist of correspondence, loan agreements, installation plans, photographs, publicity, and ephemera produced by staff members involved in the creation of exhibitions.
Altria Branch Exhibition Records, 1983–2000
This collection comprises exhibition records from the Altria Branch of the Whitney Museum of American Art, which operated from 1983–2008. The records consist of correspondence, loan agreements, installation information, photographs, publicity, and ephemera produced by staff members involved in exhibition planning. Significant material documents the acclaimed "Performance on 42nd street" series.
Equitable Center Branch Exhibition Records, 1986–1992
The collection comprises exhibition records from the Equitable Center branch of the Whitney Museum of American Art's tenure which was located at the Equitable Tower, a 54-story building designed by Edward Larrabee Barnes. The materials include correspondence, installation information, photographs, publicity, and ephemera produced and collected by staff members in multiple departments during the process of organizing and presenting exhibitions.
Whitney Administrative Records
Office of the Director Records, 1936–1996
The collection comprises records produced during the individual tenures of four former directors of the Whitney Museum of American Art: Lloyd Goodrich (1936–1986), John Baur (1967–1986), Tom Armstrong (1967–1986), and David Ross (1990–1995). Records include correspondence, memoranda, meeting minutes, notes, drafts of speeches and writings, itineraries, and research materials pertaining to artists, institutional events, and exhibition planning. Gathered here, the records provide unique insight into the activities of the Office of the Director, senior-level management, and the overall Museum during a span of sixty years.
Early Administrative Records, 1930–1960
The collection encompasses a selection of central administrative records produced by Whitney Museum staff and maintained by the Museum secretary from 1930 to approximately 1960. Records include administrative files, correspondence, board meeting minutes, annual reports, photographs, publications, exhibition planning documents, property records, press announcements, and clippings. The records provide unique insight into the early history and operations of the Whitney Museum of American Art.
Historical Photographs Collection, 1905–2006
This collection of images includes negatives, prints, slides, and transparencies pertaining to Whitney educational programs, performances, special events, artworks, artists, Whitney Museum staff members, Whitney trustees, and Whitney Museum properties and galleries. The collection was originally collected and maintained by the Museum's rights and reproduction department for the purposes of fulfilling image requests from staff members and the external public.
Curatorial Film and Video Department Artist Files, 1970–1998
Created or compiled by members of the Curatorial Film and Video Department, this collection comprises material on a broad range of artists working primarily in film and video. Documents include original correspondence, exhibition brochures, announcements, articles, press releases, questionnaires, program notes, resumes, and other materials. In addition to unique documentary material related to individual artists, the collection provides insight into the origins and development of the Whitney Film and Video Department and the integration of film and video work into curatorial programming.
Curatorial Records, 1927–1999
This collection comprises a selection of records from fifteen Whitney Museum curators. The material includes correspondence, exhibition records, meeting minutes, administrative planning documents, and research materials that provide documentation of the activities of each individual curator within the greater scope of Museum programming.
Communications Department Press Clippings, 1935–1995
This collection encompasses press clippings collected by staff in the department of communications at the Whitney Museum of American Art. The bulk of the clippings are of reviews, listings, and other news articles related to Museum exhibitions, programs, and events. Other significant clippings pertain to key developments in the history of the Museum, the activities of multiple museum branches, and ongoing programming such as the New American Filmmakers Series.
Property Records, 1949–1993
The materials in this collection provide documentation of multiple properties owned or operated by the Whitney Museum from 1949 to 1993. This includes the Museum at 22 West 54th Street, the Marcel Breuer building at 945 Madison Avenue, and the brownstones of the Whitney Studio Club and Galleries on West Eighth street in Greenwich Village. The collection includes correspondence, memoranda, press clippings, special events information, architectural plans, newsletters, and other materials.
Performance Records, 1968–1997
This collection contains records relating to performing arts events held at the Whitney Museum and its branches from 1968 to 1997. Documents include press releases, news clippings, programs, photographs (promotional and documentary), memoranda, budgets, and correspondence. The collection documents programs such as the Composers' Showcase, Tuesday Nights at the Whitney, Summer Concerts, Downtown Branch Performances, the Downtown Drive-In, and Performance on 42nd Street, among others.
---
Research Collections
Edward and Josephine Hopper Research Collection, 1894–2000
The Edward and Josephine Hopper Research Collection documents the long relationship between Edward Hopper (1882–1967) and the Whitney Museum of American Art. It includes voluminous documentation of the artist's life and work compiled by Whitney curators in the course of preparing exhibitions of Hopper's work and the Hopper Catalogue Raisonné, as well as correspondence with Edward Hopper and his wife Josephine, and with collectors of Hopper works.
Arshile Gorky Research Collection, 1920s–1990s
Assembled from various sources—the artist himself, his family, his biographers, Whitney Museum staff, the American Art Research Council, published sources, and museums and galleries—this collection chronicles the life and work of Arshile Gorky.
Resources for Rebels on Eighth Street: Juliana Force and the Whitney Museum of American Art by Avis Berman
These materials include correspondence between writer Avis Berman and Anita Duquette, Rights and Reproduction Manager at the Whitney Museum of American Art, regarding the reproduction of material from the Whitney archives for Berman's Rebels on Eighth Street (New York: Athenaeum, 1990).
---
The Sanborn Hopper Archive at the Whitney Museum of American Art
Donated by the Arthayer R. Sanborn Hopper Collection Trust, this collection consists of about 4,000 items including more than 300 letters and notes from Hopper to his family, friends, and colleagues, twenty-one notebooks in Hopper's own hand, and ninety notebooks by Hopper's wife, Josephine Nivison Hopper, as well as extensive archival material relating to Hopper's artistic career and personal life, such as photographs, personal papers, and dealer records. The Sanborn-Hopper Archive will be open to scholars by appointment after the collection is catalogued, processed, and researched, as the Whitney plans to explore potential exhibitions, programs, and publications making use of the Archive's extraordinarily rich materials.
Funding for the processing of the Sanborn Hopper Archive is generously provided by the Leon Levy Foundation.
The Avant-Garde Reference Files of Barbara Moore
This collection is comprised of printed matter, ephemera, announcements, brochures, artists' books, and editions collected by art historian and rare book dealer Barbara Moore. The collection includes significant materials related to the activities of artists and alternative spaces working across performance art, conceptual art, and mail art; video and multimedia; and artists' groups from the 1960s to the early 2000s. The collection also includes original drawings and handmade objects, as well as media in multiple formats. There is also a light amount of correspondence with artists and organizations and much of the material features Moore's handwritten notes.
Lloyd Goodrich Artists Correspondence, 1917–1978
Forming an illuminating portrait of Goodrich's social world and art interests, this varied collection consists of letters, postcards, holiday cards, invitations, and exhibition notices that the former Director of the Whitney and his wife Edith exchanged with artists, collectors, museum staff, and other friends.
Florence Rubenfeld's Collection of Archival Material for Clement Greenberg: A Life, 1935–1999
Comprising a decade of research, the material in this collection pertains to the writing and publication of Clement Greenberg: a Life (New York: Scribners, 1998) by art critic Florence Rubenfeld.
Francis M. Naumann Research Collection for How, When and Why Modern Art Came to New York by Marius de Zayas, 1910–1936
This collection centers on Marius de Zayas, an influential yet largely behind-the-scenes participant in the new avant-garde art scene in New York and Paris in the 1910s and early 1920s. It was assembled by author Francis M. Naumann for his book How, When and Why Modern Art Came to New York (Cambridge: MIT Press, 1996).
---
Digital Projects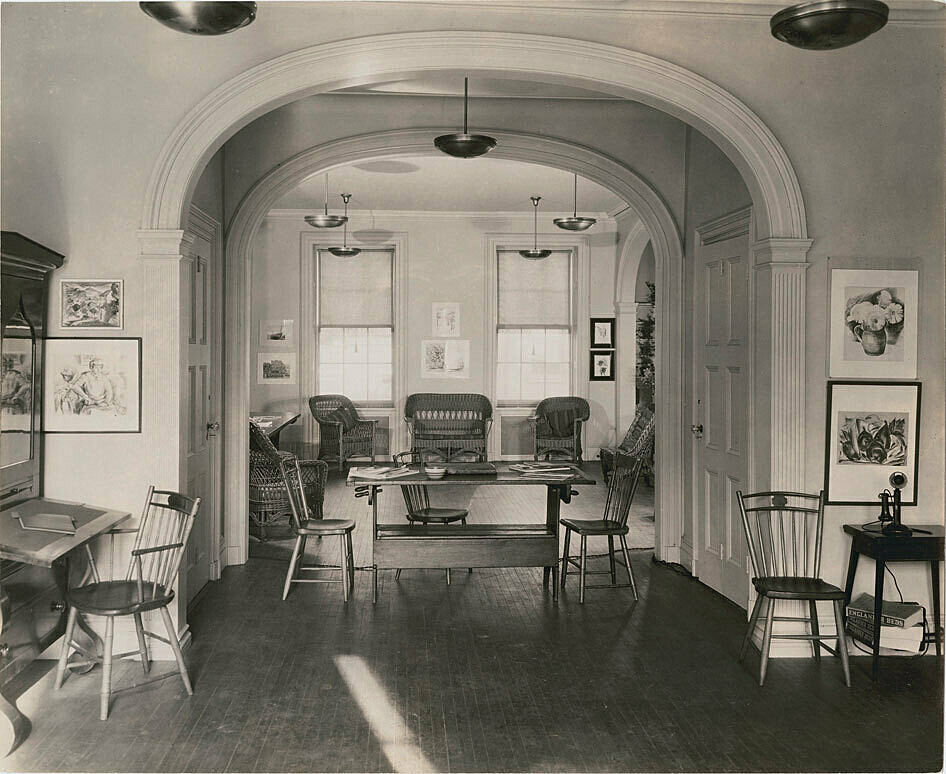 The collection documents Gertrude Vanderbilt Whitney's involvement with the downtown artistic community of Greenwich Village and her early support of contemporary art in the United States. The material traces the activities of the Whitney Studio Galleries and the Whitney Studio Club, two organizations that collected, exhibited, and financially supported the work of American artists during a time when American art was lesser known in comparison to work from Europe. Records include handwritten correspondence, photographs, checklists, announcements, receipts, and catalogs from exhibitions organized by Vanderbilt Whitney and Juliana Force. Records document the planning and implementation of multiple exhibitions, lectures, and classes, leading up to the founding of the Whitney Museum of American Art in 1931.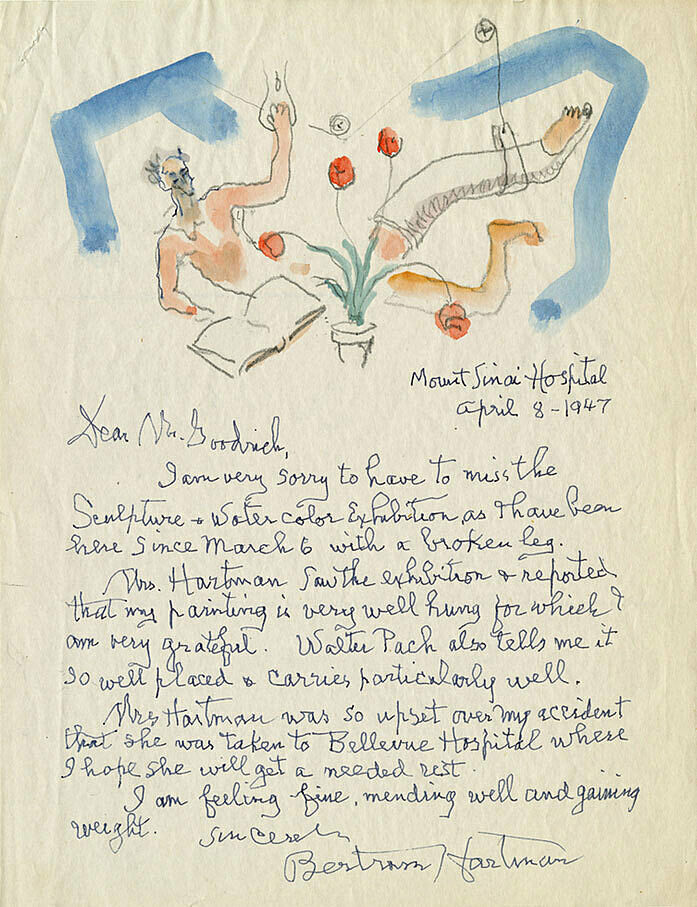 Made possible with generous support from the Leon Levy Foundation, the Whitney Artists' Correspondence and Ephemera project will bring focus to a specific selection of extraordinary material found in the Whitney Archives. These letters, notes, personalized announcements and invitations represent a view of the thoughts and conversations between Museum staff and the artists they represented. Access to this material will make an important contribution to the history of early-twentieth-century American art and the changing tastes of the viewing public and art market.