2010 Studio Party
THE ARTISTS COUNCIL
Co-chairs
Allison Wiener
Cecilia Wolfson

Julie Baraban
Courtney and Ruslan Chilov
Kipton Cronkite
Jonathan and Mindy Gray
Jennifer Slayton Green
and Justin H. Green
Josh Harlan
Ramona and
John C. Lambert
Mike Latham
Michal and Zachary Levison
Dalia Oberlander
Jeffrey Schackner
Ira Wolfson
THE STUDIO PARTY BENEFIT COMMITTEE
Eric Adolfsen
Lily Aldridge
Lisa Anastos
Jackie Astier
Yigal Azrouel
Genevieve Bahrenburg
CeCe Barfield
Byrdie Bell
Justin Belmont
Daniel Benedict
Fabiola Beracasa
Andrew Bevan
Georgina Bloomberg
Hayley Bloomingdale
Marissa Bregman
Nick Brown
Sabrina Buell
Annie Churchill
Jane Bloomingdale
Cisneros and
Henrique Cisneros
Jennifer Creel
Farrell Crowley
Peter Davis
Rickie De Sole
Poppy Delevingne
Agyness Deyn
Becka Diamond
Michelle Dillard
Selby Drummond
Stacey Bendet Eisner
Julia Erdman
Lydia Fenet
Andrew Freston
Nina Garcia
Eugenia Gonzalez
Stella Greenspan
Trisha Gregory
Shoshanna Gruss
Zani Gugelmann
Prabal Gurung
Sabrina Huls
Constance Jaklonski
Cena Jackson
Nur Khan
Patti Kim
Karlie Kloss
Alina Kohlem
Stephanie LaCava
Cobi Levy
Nate Lowman
Allison Lubin
Melissa Ventosa Martin
Karla Martinez
Daniel Motta Mello
Chrissie Miller
Karline Moekller
Sara Moonves
Jessica Nagel
Jon Neidich
Rashaad Newsome
Joann Pailey
Thakoon Panichgul
Annelise Peterson
Sasha Pivovarova
Jason Pomerance
Bettina Prentice
David Rabin
Devon Radziwill
Moises de la Renta
Charlotte Ronson
Anja Rubik
Andrew Saffir
Lisa Salzer
Behnaz Sarafpour
Aki Sasamoto
Aurel Schmidt
Gillian Hearst Simonds
Cynthia Smith
Dani Stahl
Julia Stegner
Luigi Tadini
Peter Tessler
Fiona Thomas
Antonia Thompson
Lesley Thompson
Caroline Trentini
Sara VanDerBeek
Alexandra Vickers
Erin Wasson
Benn Watts
Luke Weil
Kate Werlein
Jeanann Williams
Ali Wise
Arden Wohl
Studio Supporter
$250 each
Artist Sponsor
$500 each
Includes a limited-edition, signed, and numbered print by Cory Arcangel to the first fifty ticket-buyers.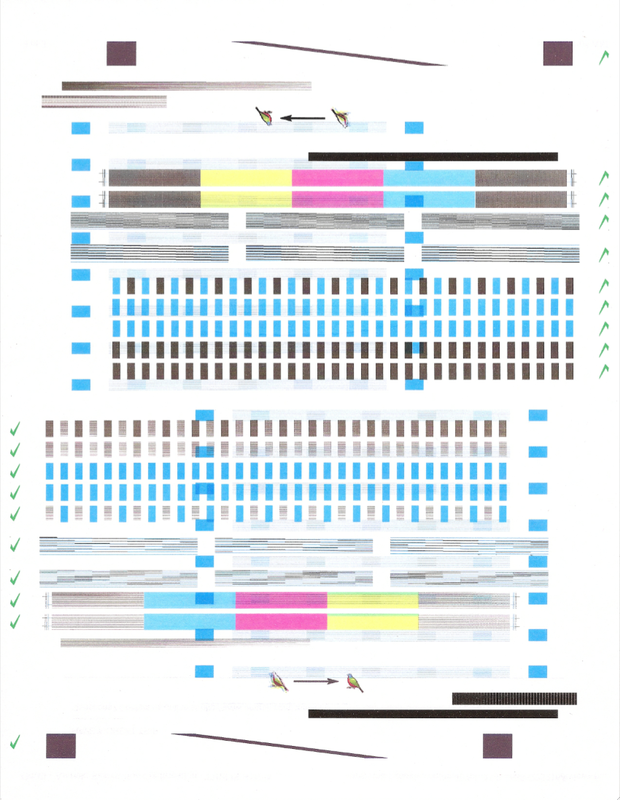 Cory Arcangel (b. 1978), HP Photosmart C3180 All-In-One Test (Forward and Back Again), 2010. Inkjet print, 11 x 8 1/2 in.
Says Arcangel of his work: "There are certain parts of our technological lives which tend to come and go without ever having the chance to be archived. My print for the Whitney is inspired by these missed opportunities. The print consists simply of the default HP Photosmart C3180 ink test pattern printed on a piece of paper twice, once upside down - this latter part being the intervention. The printer makes this pattern upon insertion of a new ink cartridge. To make the edition, ink cartridges had to be taken out and inserted into my C3180 100 times thus forcing the test pattern to print
twice for each print. In the future when printers have different, or no test patterns - or even when there are no more printers - it is my hope that these prints will serve as a reminder of how far we have come and at the same time what little progress has been made."
Tickets to the event are limited and regularly sell out, so we recommend that you reserve your space early. Tickets are nonrefundable and tax-deductible to the extent allowed by law.