For Families
Planning Your Visit
Before coming to the Museum, take a look at our current exhibitions to determine what interests you and your family.
Find directions, Museum hours, ticket prices, and other important information on our Visit page. If you are going to visit us often as a family, consider a Family Membership.
Help us to protect the artwork! Remind your kids not to touch the art because even clean hands can leave a mark!
Depending on your child's age—and energy level—aim to spend thirty to ninety minutes looking at art. You can always take a break from the galleries on Floor Three in the Laurie M. Tisch Education Center or the Museum shop.
Join us for one of our Family Programs over a weekend! Buy tickets and bring your family to an interactive gallery tour before the Museum is open to the public. Register for a Stroller Tour designed for parents with babies. Stop by Open Studio, our drop-in art-making program offered every Saturday and Sunday. Always be sure to check the Family Programs calendar for events taking place at the Museum on the day of your visit.
Your Cool Culture Family Pass gives you free admission to the Museum.
Join us for one of our Family Programs over a weekend! Stop by Open Studio any Saturday and Sunday from 10:30 am– 3 pm for drop-in art-making, or check the Family Programs calendar for special artist-led programs and events. For parents with babies up to 18 months, register for a special Stroller Tour before the museum opens to the public. Remember that children under 18 always get in free to the Museum!
While You're Here
Strollers and scooters
Baby strollers are permitted in the galleries at all times. However, scooters are not permitted in the galleries; please leave them at coat check on Floor -1. For more tips on what to bring to the Museum and what to leave at home, see our Visitor Guidelines.
Restrooms and baby-changing stations
Accessible restrooms are located on Floors -1, 3, 5, 7, and 8. Single user/all gender restrooms are located on Floors -1, 3, 5, and 8. You can find changing tables in all single user bathrooms.
Food and drink
Outside food and drinks are not permitted in the Museum. Visit the eighth-floor Studio Cafe for featured toasts, soups, salads, and other light fare as well as fun views of New York City.
Kids Activity and Multimedia Guides
Pick up one of our free Kids Activity Guides or a Kids Multimedia Guide for selected exhibitions to help you explore the Museum together. Be sure to check with our Visitor Services staff in the Museum lobby for more information when you arrive.
Outdoor galleries
If kids need to wiggle and the weather is nice, head out onto one of our outdoor galleries located on Floors 5, 6, and 7.
Drawing in the galleries
Please note that only pencils are allowed in the galleries for the safety of the artwork.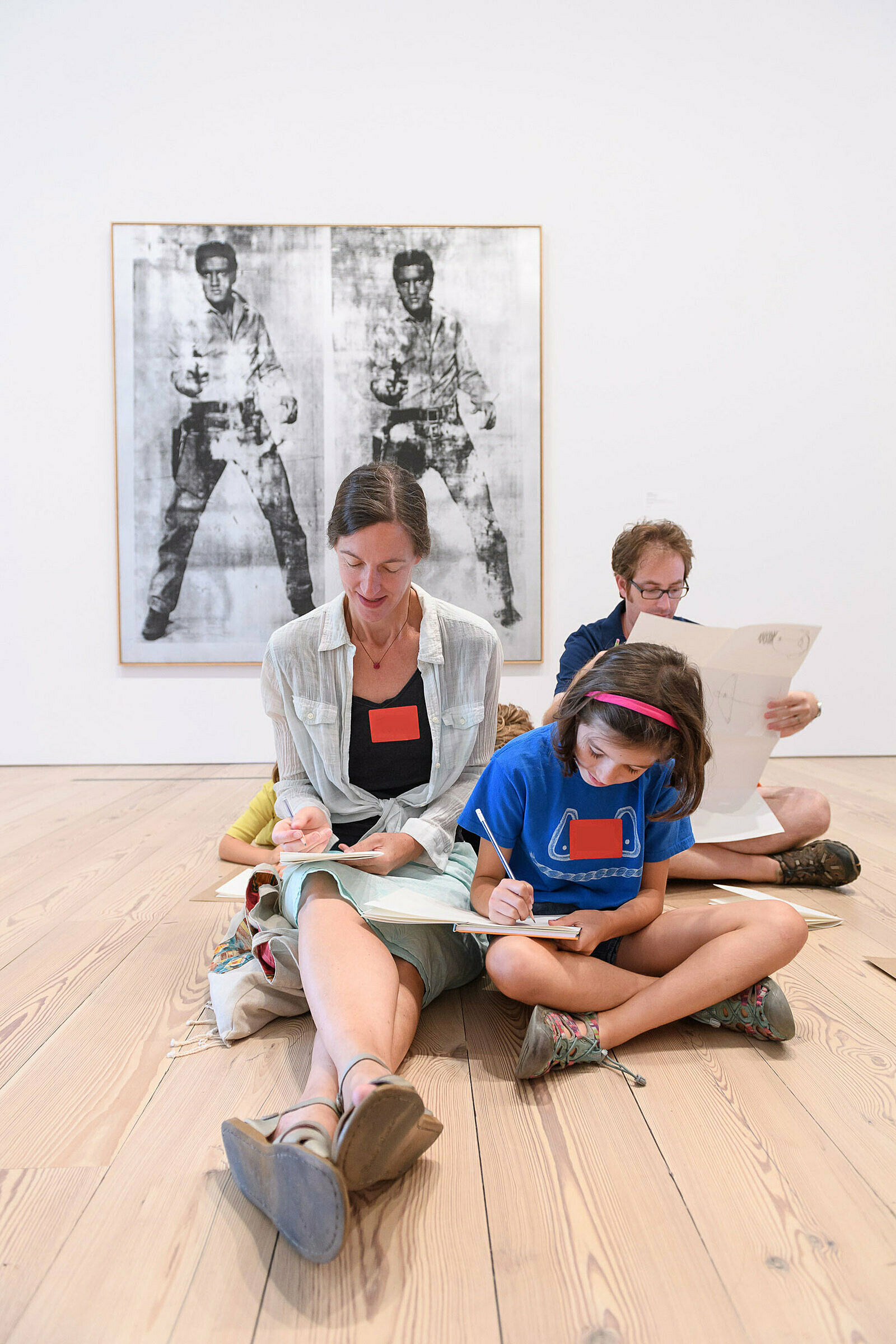 Families sketching in the galleries, September 2016. Photograph by Filip Wolak.