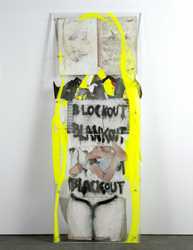 Next Artist
Rita Ackermann, Black Out, 2007.

Born 1968 in Budapest, Hungary; lives in New York, New York

For the past decade, Rita Ackermann has pushed the boundaries of a painting-based practice that embraces a plethora of social roles and an equally catholic range of artistic media, from stained glass to the red ballpoint pen she's applied to runway models' faces in lieu of makeup. She has realized multiform shadow puppet theaters like The Deer Slayer (1997), performed as a band member of the art collaborative Angelblood, and curated exhibitions including The Perfect Man (2007) and The Kate Moss Show (2006, with Olivier Zahm).
An aesthetic magpie, she gained cultish recognition for her seductive, complicative renderings of pubescent girls idling in various states of undress. This all-female alternate reality of syringes and telephones refracted the gritty self-image of 1990s downtown New York City through an otherwordly veneer, prefiguring the complexities of postidentity politics and cyberpunk virtual worlds such as Second Life. Since she first executed paintings of gothic, cat-eyed nymphs on the windows of a downtown squatter bar more than a decade ago, Ackermann has continued to question traditional notions of painting and support, creating oneiric mixedmedia murals and large-scale freestanding collages that alight on similar themes of seduction and violence, such as the phantasmagoric, zebra-curtain-framed Toast for No Fear! (Los Angeles) (2007).
In both her drawings and collages Ackermann juxtaposes characters and narratives, as in Scorpionun (Man on My Breast/Man, Man between My Legs) (2006), which draws on the semiotics of fertility charms and pornography to create an anthropomorphic womanman- child. The superimposed images composing this life-size freestanding collage on plexiglass come from the artist's own sketches—a row of her lithe women, wearing bowler hats and holding tennis rackets—as well as other sources, such as an illustration of the Madonna and Child positioned over the figure's heart. As Scorpionun's content suggests, Ackermann's interest in constructions of gender and the fantasies that subtend and are sustained by them has survived her transformation of scale and material. Indeed, the oversize cruciform Nun/Skeleton/Cross (2006) and comparably large-scale Nun/Mother/Whore (2006) revolve around the bifurcated, simultaneously present identities of these objects of desire. The aggregation in these collages' listlike titles is mirrored in the conspicuous overlay of their images: Ackermann does not negate tropes of womanhood but stages them as acts and processes of becoming to be set into dizzying and conflicting relief with and within one another. Few clear plots emerge despite her utilizations of fairy-tale themes, and irrespective of the ingratiatingly beautiful protagonists who inhabit them, neither are there storybook endings. SUZANNE HUDSON
Rita Ackermann, Black Out, 2007. Plexiglass, fabric, printed paper, bolts, linen, oil stick, oil paint, spray paint, synthetic polymer, graphite, tape, gesso, pen, staple, adhesive, 90 1/2 x 36 x 1 in (229.9 x 91.4 x 2.5 cm). Collection of the artist; courtesy Andrea Rosen Gallery, New York, and Peter Kilchmann Galerie, Zurich